It's not really camping, but it is definitely more adventurous than staying in a lodge, in a comfortable way. In an exciting way, this form of camping, or glamping if you like, spares a traveler a whole lot of packing (and unpacking) time and energy. Each tent provides four beds, perfect for a family or a group of friends, and has a bathroom and a fully equipped kitchen. Although it sounds fancy, it doesn't take away from that real, Namibian camping experience.
Gondwana Collection Namibia offers five Camping2Go facilities across Namibia, and it is steadily growing as more local and international guests find a taste for sleeping in a bed, in a tent, under the star sprinkled night sky. Making a booking is the first step, and it is easy and quick. From checking availability, clicking through a stunning gallery, reading up on information and activities, to finding your destination on an interactive map: The Gondwana web store creates curiosity. Once booked, all you need to pack is your clothes, and the food you want to prepare and enjoy during your stay. Everything else is ready and waiting for you upon arrival.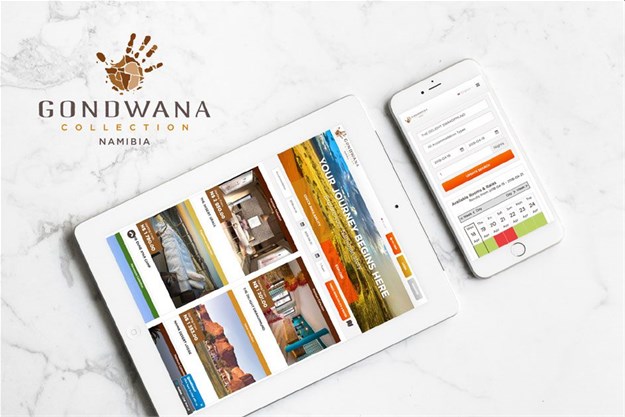 While Etosha Safari Camping2Go, Palmwag Camping2Go, and Namib Desert Camping2Go offer eight permanent tents each, Kalahari Anib Camping2Go and Namushasha Camping2Go offer 4 permanent tents, each. This ensures that you have more than enough privacy and can sit around the camp fire until the sun rises again, without disturbing your neighbours. The kitchen is stocked with everything that is needed for a braai, potjie, or any other delicious dish. There is a braai, but also a gas stove for those who want to switch things up a little. Other than that, there is a fridge, solar geyser, mobile air condition, a sink to do the dishes, bed lamps beside the beds, a safe, camping chairs, and even towels.
All the requirements for a relaxing weekend have been ticked off for you, so that you don't have to do much, except for starting a fire, grilling your steak, and enjoying a sundowner drink with your loved ones as the sun sets and the Milky Way appears. In the middle of nature, there will be wildlife around you, crickets chirping, and jackals calling each other. This is Namibia, this is Camping2Go. No matter if you choose the red dunes of the Kalahari, the view of makalani palm trees at Palmwag, or rather want to be among the fossilized dunes of the Namib Desert, the only question you need to answer is to go or not to go?
One of the best parts about Camping2Go? By the time you arrive back home, you don't have to unpack and clean all of your camping equipment, you literally just need to unpack your bag. This experience alone will leave you longing for your next long weekend road trip away, to explore one of Namibia's many adventurous corners. And maybe you and your friends will scroll through the Gondwana web store and find that once again, Camping2Go is exactly what you need right now.
Don't forget: With the Gondwana Card for Namibian citizens including Permanent/Temporary Residence Permit holders, you receive 50% discount on your Camping2Go stay, as well as 25% discount on dinner at the lodge and 25% discount on activities.
Author – Hi! I am Elke, a born and raised German-Namibian. I love to travel around and explore different cultures and places, but my home country always magically draws me back home again. Oh, and if it involves food, count me in on the adventure.