It's been established, self-drive safaris are the new fan favorite. From eating biscuits next to a watering hole to spotting a leopard in a tree or squirrel gathering food, experiencing unique Namibian moments, are much more appreciable on a self-drive safari. But together with this expedition, comes the responsibility of doing it "the right way". The adventure-packed way.
Here are a few tips on fully harnessing your Namibia2Go self-drive Safari.
Have enough fuel.
With the exception of a few, most safari destinations don't have fuel stations close by. Plan your safari meticulously, before taking off into the unknown. Be assured to have enough gasoline from one destination to the next and to stay informed of fuel station locations.
It's in your best interest to fill the tank as often as many, even when it is half full. This avoids the spectacle of stranding yourself in the Namib desert with circling vultures in the sky.
Take the road less traveled.
Namibia2go has a wide variety of self-drive vehicles for you to choose from. If you're arranging a self-drive safari, it's sensible to make use of a 4x4 vehicle or even better, a fully equipped 4x4.
The greater part of Namibia is only accessible to four-wheel-drives. The last problem you'd like to have is being restricted in where to go and what to see. While it's convenient to stay on the known roads, the exceptional adventure awaits beyond. The "road less traveled" has promising chances to see more wildlife as these roads are likely to be owl. Other than wildlife and a more private road, the four-wheel-drive roads lead to the lion's share of sceneries - this is not to be missed out on.
Get going.
Wild animals don't hit the snooze button and neither should you. Unique and exciting wildlife sightings are often to be found on an early morning- or night drive. At these hours' predators are lively and likely to hunt – the perfect opportunity to catch sight of "the circle of life".
Most safari destinations open their gates moments before sunrise. Be sure to be there, you want to get out as early as possible. It's best to find a suitable viewing spot – watering holes and open savannahs tend to be successful. When approaching a watering hole, remember to drive slowly and keep quiet, with your arms inside the vehicle; you surely don't want to battle a thirsty lion.
Once the vehicle is parked, sip on some coffee or tea, munch on a local biscuit or two, and in the tall grass, try to spot the stalking cheetah.
Pack snacks.
As destinations are far from one another and a "quick drive" easily turns into a four-hour game drive, it's always necessary to have some nibbles close by. Not all destinations have food (or at least good food) at one's disposal. It's in your best interest to always pack your own.
Namibia has numerous designated picnic sites along the national roads and in various parks. One of the best moments on a self-drive safari is to stop and enjoy a few snacks and cool drinks (and don't forget, lots of water) while being surrounded by the most magnificent landscapes!
Interesting: In Namibia these road-side snacks are often referred to as "padkos", translating to "road food".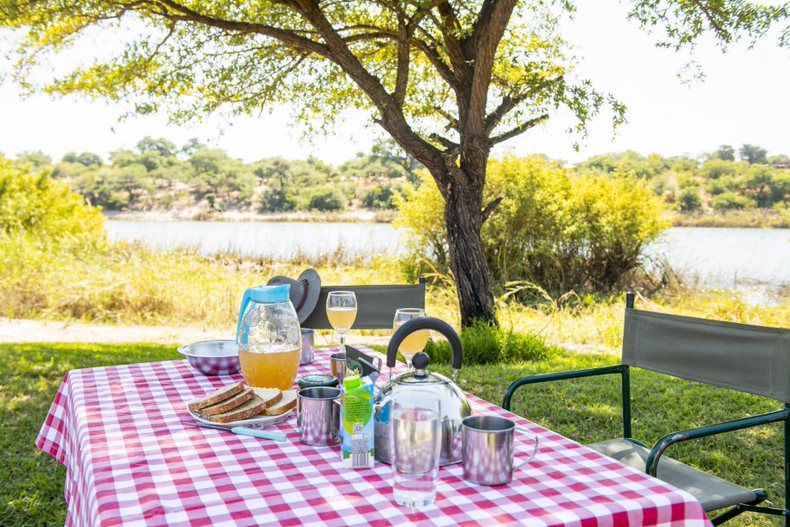 Ready, set, shoot.
One of the greatest mistakes tourists tend to make on safari, is the unfortunate event of not being "camera ready". Sometimes there's only split seconds to capture an image. There's no room for "forgot to charge last night", "did anyone see the memory card", or "take off the lens cap".
It's with great regret that you will miss a winning or even just memorable shot, by being too busy struggling with settings. Keep in mind not to miss the moment altogether – thus ensure to have a clean lens, the right settings and battery life ready the night before.
To be sure of even better camera accuracy, it's advised to invest in a camera bean bag or even just a plain old bag of rice. While gravel roads are unavoidable in Namibia, unsteady images are of great concern. Images will be sharper when making use of this handy accessory, but will also prevent scratching your rental car.
Be brave and wild camp.
When taking on the journey of a self-drive safari, you might as well be as brave to add a few nights of wild camping to your calendar. Wild camping is the term used for camping in an unfenced location. This can't be done just anywhere – but allocated areas should be used. We don't want you ending up in a hyaena den.
If you plan to stay over for only one night per destination, a roof-top tent is the better way to go, as it takes almost no time and effort to set up camp. When staying more than one night, it's advised to rent a separate tent - for the reason of convenience. You'll be able to have more mobility with the vehicle, without having to pack up everything each time you leave for a "quick drive".
While this form of camping is both an action-packed and more affordable experience, this is also a way to get even more closer to nature. A feeling left untouched by many.
It's time to take a safari into the unknown. Contact Safari2Go Namibia to put these tips to the test. You can always thank me later. What are your top self-drive safari tips? Let us know in the comments below.
Author – Hi! I am Marlene, a connoisseur of Southern Africa (I do hope). I've been lucky enough to call Namibia my home for the past 5 years. A fool for anything concerning poetry, plants, or photographs … and I might suffer from some type of addiction to Namibian sunsets.