We have already explained how wonderfully unique Namibia is, so why not continue the journey and find out why you should be asking these questions before visiting Namibia?
As it goes people tend to ask all kinds of questions before visiting a new destination. Because of this we thought it would be a good idea to answer some of the questions and clarify some of the subjects.
The reason we say you should ask these questions before visiting Namibia is simple…we have heard one too many questions that should have been asked long before arriving in Namibia. And of course to help the poor misinformed individuals who hike up Independence Avenue in Windhoek with full safari gear. Herewith fifteen questions that could possibly arise while planning your trip to Namibia!
Where is Namibia?
Let's start off with the basics. No, Namibia is not a town in Mexico. It's actually a country along the south western coast of Africa.
Map of Africa. Image: Profile Safaris
But isn't Africa a country?
Nope. Africa, as most people should know by now, is not a country. It is a very large continent filled with 54 delightfully interesting and unique countries.
Is Namibia a German Colony?
No again. It used to be, way back when it was still called South West Africa. But with the conclusion of the First World War, the country became a province to South Africa. Before you ask, Namibia is no longer part of South Africa. In 1990 the country was awarded its independence and became the Republic of Namibia.
How many people live in Namibia?
Namibia spans approximately 824,292 km2 of land and serves as the world's 34th largest country. This being said, it's interesting to note that the country only has the 142nd largest population in the world with 2,392,370 local citizens. This means that there are approximately 2.9 people per square kilometre within the country, which is the second lowest population density in the world, Mongolia is the lowest.
Is it safe to travel in Namibia?
It's as safe as any other tourist destination. Namibia has a low crime rate and a very stable political system, this allows for the country to enjoy stability and safety. Obviously travellers need to be aware of themselves and their surroundings, as they would if they were traveling to Paris or Rome, but generally travellers can expect friendly faces and an inviting environment.
What is the landscape like?
It's not all deserts or all jungle. The landscape varies depending on the areas you look at. The central parts of the country along with those to the south are dominated by the Central Plateau and mostly arable land. The coastal regions are filled with desert sands as the Namib Desert and the Great Escarpment lines the western regions of the country. And of course along the northern regions and the Angolan border you can find lots of bushveld.
Are there airports in Namibia?
Yes. There are smaller airports all over the country. However the largest, and only international airport is the Hosea Kutako Airport located about 45km east of Windhoek, the capital of Namibia.
Are the roads accessible with a sedan?
Namibia has a fantastic road network and you can easily drive from point A to point B. It is necessary to note, however, that despite most roads being accessible with a standard sedan there are areas that will not be as easily navigated. These areas usually include steep inclines and rough terrain that requires a 4x4 to be piloted successfully.
Will I be staying in a hut during my visit?
If you really want to, we're sure it can be arranged…but it isn't a standard form of accommodation in the country. Yes, some of the local cultures still include tribes that live in traditional ways of their ancestors but as a traveller you can expect lodges, hotels and decent beds. Namibia has fantastic accommodation options on offer that includes all kinds of lodges in the countryside and hotels within the cities. Breathe a sigh of relief – you won't be entering deep, dark Africa.
What currency does Namibia use?
Namibia uses its own form of currency, called the Namibian Dollar (N$). It is linked to the South African Rand and matches it in strength. And both notes and coins are used.
Will I have mobile service in Namibia?
We can't tell you if your current service provider will be able to offer signal in Namibia. However you can easily get a local sim card at any of the stores in the towns, that will give you access to the cell phone signals and internet connections you need to stay connected.
Are there shops in Namibia?
As we just mentioned stores in the previous answer we are sure you know the answer to this question. We also have malls and shopping centres that offer a variety of shops, some of which are internationally known, such as CottonOn or ForeverNew.
Do animals roam into towns?
Nope, well at least not generally. Independence Avenue is lion free and we don't ride elephants to work, although that would be pretty cool. No, in that regard the country is rather normal. However during your travels you might come across a farmer or lodge that has hand reared an animal of some kind that now thinks it's a lapdog. These include lions, cheetahs, zebra and the occasional rhino.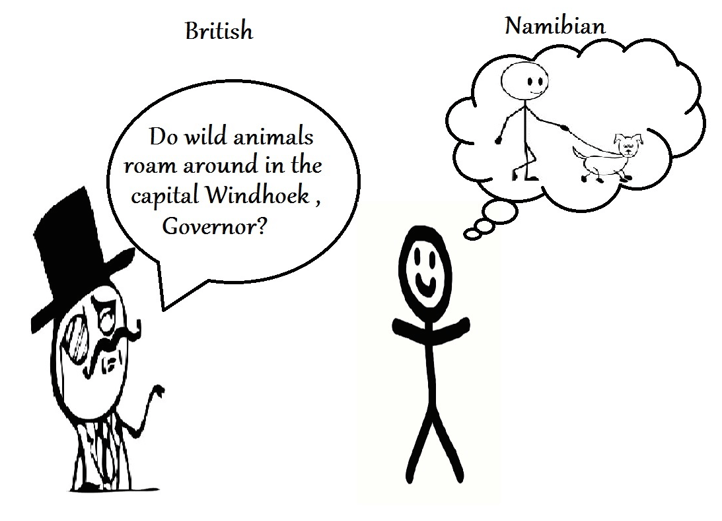 What is the food like?
As in all countries, Namibia does have a few strange items on the menu. But fret not, those are not the only options available. Universal standards such as steak and burgers are available here too, sometimes they just go by different names. For example we call 'french fries' 'chips' or sometimes 'slap chips' (there are two names because 'chips' can also refer to potato crisps).
Do you know so-and-so?
Namibia is a large country and even though our population isn't as large as many other places that does not mean we all know each other. We were born and raised in Namibia, that doesn't necessarily imply that because I live in Windhoek that I know everyone else who lives in Windhoek too.
Namibia is a treasure trove of new experiences and we can guarantee you will experience something entirely new and different during you visit.
If you have any other questions about Namibia, feel free to ask them in the comment section below.
Author – Jescey Visagie is a proud Namibian and is passionate about writing and language. Tag along for the ride as she tries to uncover new insights into Namibia and explores what the country has to offer.