As a sustainable hospitality business, Gondwana Collection Namibia has been making an effort since 1995 to focus on eco-friendly accommodation, nature conservation, sustainable construction of lodges, and staff development through training.
I listed just a few ways below, on how Gondwana is effectively making an impact on our country and how the balance between economic growth and the welfare of society and the environment is maintained, even though the pandemic forced the tourism industry down to its knees:
Park Management and Nature Conservation
With the creation of the first Gondwana Park of 126 000 hectares and the reintroduction of game species into the Fish River Canyon area in 1999, Gondwana's Game Management Program resulted in the healthy increase of animal counts over the years, allowing them to migrate naturally without the restrictions of farm fences.
After that, more parks were formed, including the Gondwana Kalahari Park and the Gondwana Namib Park, the Gondwana Sperrgebiet Rand Park, and since 2019, Gondwana is also involved in managing the Palmwag Concession Area.
Cooperation with conservancies and communities in Namibia
In order to make use of the opportunity to reach into the Northern parts of the country, Gondwana Collection started to form valuable partnerships and joint ventures with small local communities. This allows for a fair amount of profit being handed back to the communities, and offering them a sustainable and secure future through employment and skill development plans. Thus far, a number of Gondwana lodges have been built up in various communal areas, including Etosha King Nehale in the King Nehale Conservancy Area, Palmwag Lodge & Camp in the Concession Area, Chobe River Camp in the Salambala Conservancy, and Namushasha River Lodge in the Mashi Conservancy.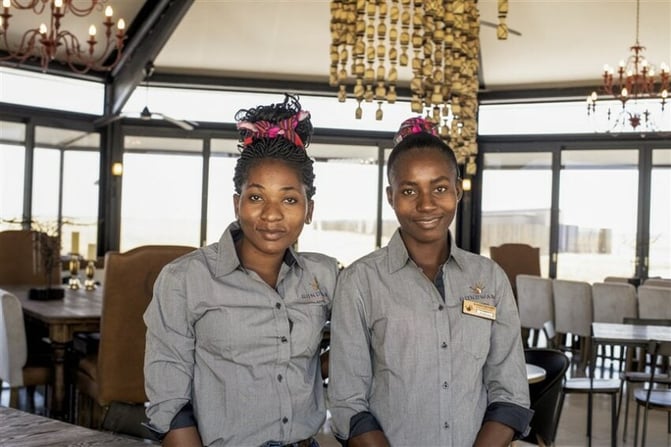 Gondwana Care Trust
Communities across the country, and selected charity organizations in Namibia, are further supported by Gondwana Collection Namibia through the Gondwana Care Trust, which was established in 2017. Apart from food, clothing, school supplies, and money donations, the Care Trust also aims to raise awareness for people in need and provides a medium for other people in Namibia and other countries to support those, who are less fortunate. A beautiful way to support the Care Trust is by visiting The Narrative, our brand new online shop, or by purchasing a gift at any of our Gondwana Collection curio shops.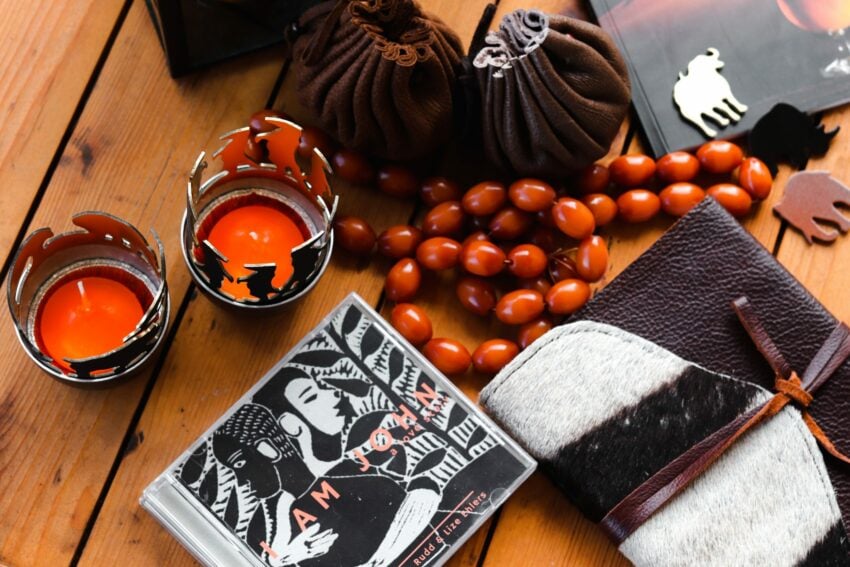 By purchasing local products, you can support local businesses, which are struggling due to the current pandemic, or you can help a school child by providing a school bag filled with stationary through a donation towards the Christmas School Bag project. A little help goes a far way.
Staff Development
Gondwana Collection puts great thought and value into training the employees, who are operating at the lodges all over Namibia. The Gondwana Training Academy was launched in 2017 to offer high quality hospitality and leadership training to employees on all management levels. This program focuses on improving customer service, strengthening communication, and improving marketing skills. Furthermore, in-house training commences on an ongoing bases throughout the year, whereby employees receive training directly at the lodge.
Sustainable Construction
With the building of new lodges and the growth of Gondwana Collection, a new and more sustainable construction method was implemented, in order to be as eco-friendly as possible and to minimize pollution and the harm caused to the Namibian environment. The newest lodge addition is Etosha King Nehale, which is situated just outside the Etosha National Park. This luxury lodge was build with sandbags instead of bricks, whereby the sand originated from the building site directly.
Through the use of glass crushing machines, Gondwana was also able to construct the walkways of The Desert Grace with crushed glass, thus actually recycling 200 tons of glass bottles for this project.
Sustainable Waste Management
Touching on the above topic of recycling, Gondwana formed a partnership with Rent-A-Drum in order to get rid of single-use plastics and to encourage waste separation according to materials. What can't be recycled is used to produce refuse-derived fuel. With the campaign #ItsUp2Us, Gondwana Collection is actively participating in the prevention of non-biodegradable materials being dumped at landfills, which are a big contributor to pollution. Regular clean-up activities and awareness programs are launched at the lodges and the head offices in Windhoek to maintain the efforts of keeping our country clean.
These are only a few measures that are implemented by Gondwana Collection Namibia, in order to be more environmentally conscious and to keep the practice of social responsibility and sustainability active. To find out which other practices and projects Gondwana has put in place, read more here. (https://gondwana-collection.com/about-us/sustainability/)
Gondwana has won a couple of eco-awards over the last years, in acknowledgement of our sustainability efforts in various categories. This year, Canyon Village was awarded with the Responsible Tourism Award. (https://gondwana-collection.com/canyon-village-a-showcase-for-sustainable-use-of-energy/)
If you have questions about Gondwana Collection's social responsibility and sustainability practices, please contact Quintin Hartung: enviro(at)gondwana-collection.com or leave a comment in the comment section below.
Author – Hi! I am Elke, a born and raised German-Namibian. I love to travel around and explore different cultures and places, but my home country always magically draws me back home again. Oh, and if it involves food, count me in on the adventure.