This festive season has turned out to be a bit different than we imagined it would be just a year ago in December. So much can change in one year. It made us appreciate our ability and privilege to travel within our beautiful Namibia and to explore places nearby our home towns that we would usually skip in order to drive longer distances, and to stay somewhere for a longer period.
At least the breathtaking scenery of this country didn't change with the pandemic. It is still as alluring and stupendous as we left it, and now with the start of the rain season, Namibia will soon be turning into a green wonderland. So if you are yearning and itching to leave the city and to become one with dust and grasslands again, now is the time to search for your roadmap (or connect your GPS).
Here are five places you should consider staying at over the festive season, because Christmas is the time to remember and celebrate love and friendship, to eat delicious food, and to spoil your soul with refreshing views of the land of the brave.
The Delight Swakopmund
A majority of Namibians usually spend Christmas as the coast, and like this year again, accommodation facilities are fully booked to during December. If you don't book in advance it might be a tough one to find a place to stay, but one of the top must-tries is The Delight Swakopmund. Sleep in a delightfully decorated en-suite room, and enjoy a steaming cup of Nespresso coffee on your balcony as you watch the sun rise and the birds start to chirp to greet the day. Or, choose to sleep in and enjoy a slow oyster and champagne breakfast, before heading to the beach to indulge in ice-cream.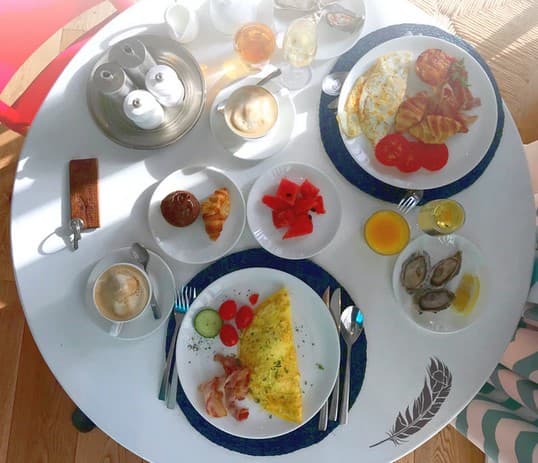 We will assist you with booking various activities in and around Swakopmund, whether it is a boat cruise, a dune drive, or sky-diving, and you can spend the evenings walking to the close by stores for some window shopping and to watch the colorful Christmas lights along the main street of Swakopmund.
Canyon Roadhouse
In the Southern part of Namibia, the Canyon Roadhouse awaits you only a few kilometers away from the well-known Fish River Canyon. If you like to day dream about the good old days, and how life was before, you know… then the Roadhouse can soothe your tired soul and guide you to relax amongst reminders of younger days and good memories.
Spend a classic Christmas with a rustic touch under the star sprinkled sky, as you fill up on smiles, not worrying about what surprises 2021 might offer to you.
Wind down at the pool or take part in a sunset nature drive into the Gondwana Canyon Park with a knowledgeable guide. You will be amazed at what the Canyon area has to offer you.
Etosha Safari Lodge
You haven't been to the Etosha National Park in several years and you want to see the trees and springbok come alive after a good rainfall. Now, if you only knew where to stay with all the options around? Etosha Safari Lodge has been freshly renovated and offers an amalgam of traditional, mysterious and magical tales, and modern and luxurious rooms with a stunning view across the bush land where you might just spot a giraffe passing by.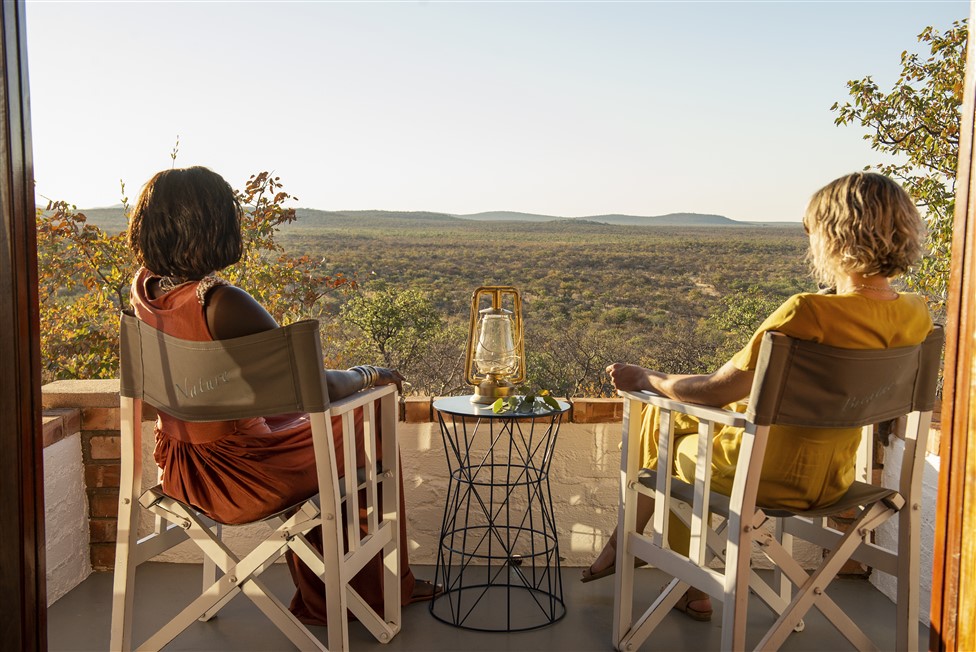 The sprouting grasses and trees will bring back memories of the smell of freshness and rain on a Christmas morning, and the Place of the Legends will charm you with blood-orange sunsets on the lodge deck, while you sip on a crisp white wine in the company of your favorite people and friendly Gondwana staff. Capture photographs of the famous striped zebras, eland antilopes, oryx, elephants, and lions during a half-day game drive, or spend the day escaping the heat by the private infinity pool, with a refreshing cocktail in one hand and a book in the other.
Namushasha River Camping2Go
Crackling campfire and a babbling river. Two opposites are said to attract each other and in this case the brand new Camping2Go tents at Namushasha might just tickle your interests and lure the camper within you to the northern regions of Namibia. Don't worry if camping is not your favorite way to spend a Christmas getaway. Namushasha Camping2Go offers a fully equipped kitchen, braai facilities, oven plates and a fridge, as well as a bathroom with hot water, and four comfortable beds with charging points at your bedside. No need to sleep on a stretcher or search for your torch in the middle of the night. Here you get the opportunity to have a little bit of river and nature just for yourself, but you can always make use of the facilities at the Namushasha River Lodge, such as swimming in the pool, dining at the restaurant, and having your laundry taken care of.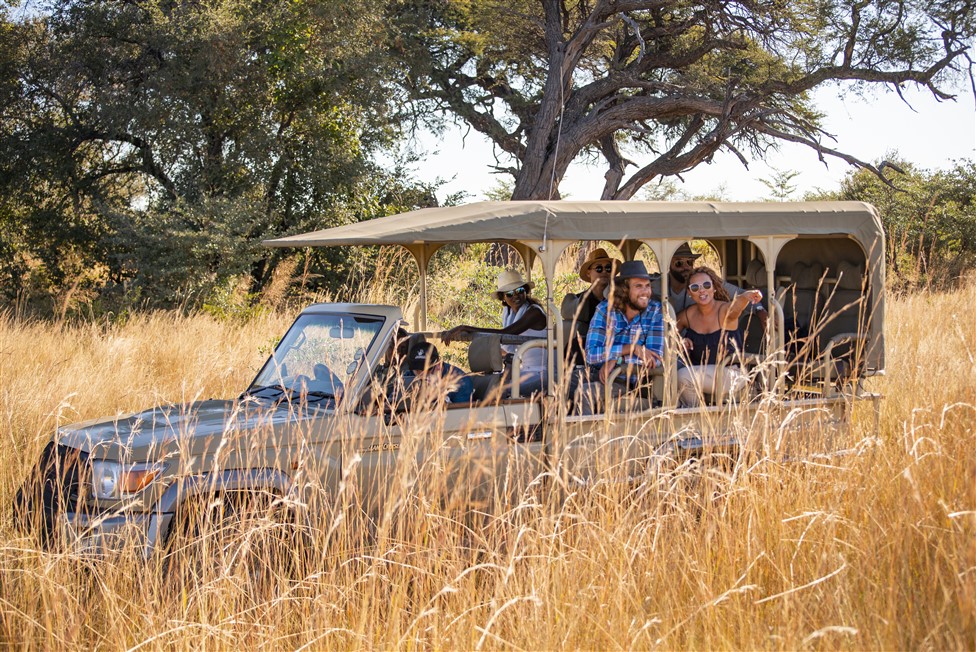 Go on a half-day guided drive into the Babwata National Park and experience the presence of wild and free roaming elephants, hippos, and buffalos while they curiously watch you from a distance, wishing you a Merry Christmas and a happy New Year.
Palmwag Lodge and Camp
Have you ever considered trading your plastic Christmas tree from Game for a giant Makalani palm tree at Palmwag? Travel to the place, where the rhythm of life slows down and you come to rest after a year full of ups and downs. Palmwag Lodge and Camp is known for the surrounding concession area, where a large number of free roaming black rhinos can be seen on a half-day rhino tracking activity. You can also see wild elephants, and you won't even have to search for them. Jimbo, the lodge resident, is a big elephant that visits the property regularly and does not impose a threat as long as a certain physical distance to him is maintained, as he is still a wild animal and his personal space needs to be respected at all time.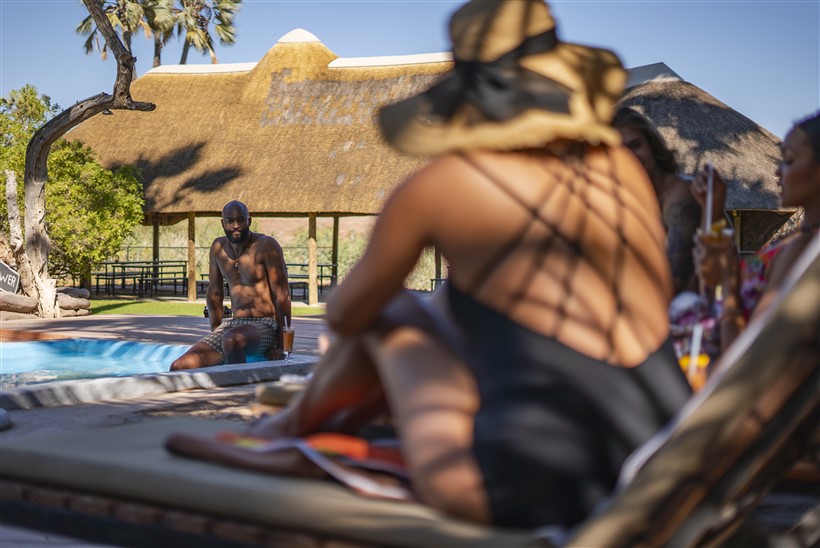 The pool bar offers legendary Palmwag burgers and you can carelessly dose by the pool and read a book, with the bar and waiters just being a stone throw away to fill up your ice cold beer.
If you are planning to travel to any of our Gondwana lodges, remember to apply and make use of your Gondwana card to qualify for a major discount of 50% on accommodation, if you are Namibian, or 40% if you are from a SADC country. Dinner discounts of 40% now also apply over the Christmas period, until the 31 January 2021.
Safety is a priority this festive season, so drive safely, arrive before dark, respect nature, and adhere to all covid-19 regulations. All our lodges have the correct covid measures in place to ensure your stay is as safe and enjoyable as possible. Book online now, to avoid visiting physical booking offices, but we are open during the months of December and January and will gladly assist you with your booking, should you have caught the travel bug. If I managed to inspire you to celebrate Christmas a little bit differently this year, start packing because adventure is right outside Windhoek, and travelling always soothes the soul and heart, so that you can return to your normal life in January with energy, optimism, and in good health.
Leave a comment for us below and let us know where you will be spending Christmas this year.
Author – Hi! I am Elke, a born and raised German-Namibian. I love to travel around and explore different cultures and places, but my home country always magically draws me back home again. Oh, and if it involves food, count me in on the adventure.