2020 is the perfect year to be a tourist in your own country. Wow, "2020" and "perfect" in the same sentence? Yes, be a rebel - pivot the needed number of degrees and tune into a summer kind of lifestyle.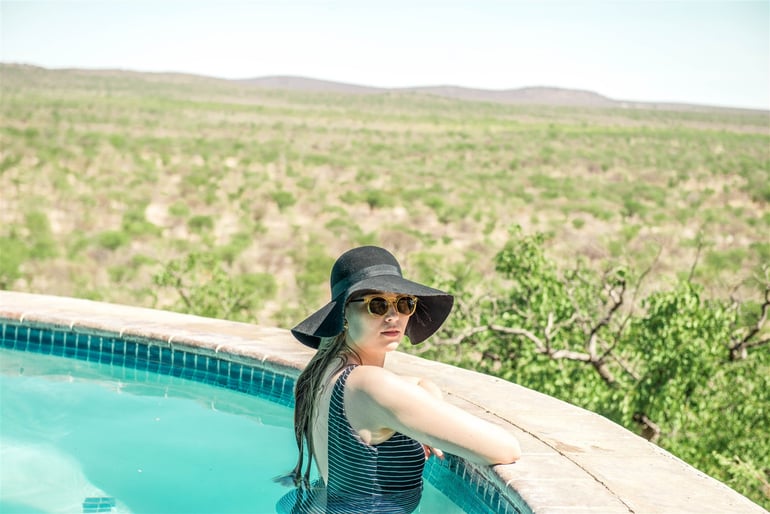 Adventure doesn't have to start in far-flung places where we've never been before. It's so easy to fall into the trap of becoming apathetic to our surroundings. There is so much to be grateful for in beautiful Namibia.
How is it possible to enjoy a country you've lived in year after year for years and years through new eyes?
Go to a place you haven't been before.
When the clock strikes December, a lot of Namibians start their big trek to the coast. Swakopmund and Henties Bay written backwards, spells "every single December". Okay, maybe not. But you get the gist. A primary reason for this escape, is dodging the inland summer heat, but exploring other places during this time is one of my best travel "secret". It's my favourite time to explore other parts of the country!
I often skip the overcrowded coastal towns in December. Although one can't be out hiking or gallivanting during the hottest part of the day, you can still enjoy the pool, get a tan, take a much-deserved nap, dust off a book you've been meaning to read forever... Or be creative with whatever low-energy vacation project you'd like to keep yourself cool and busy with. If you're doing a road trip, plan it in a way so you'll be driving during the hottest time with the air conditioner (AC) on full blast.
Imagine vast landscapes without the crowds. Whether it's 2020 or not, December is low season and perfect for national travels.
A lot of places are offering special deals right now to get locals exploring. And most of you don't need an introduction to the Gondwana Card – which will take you places.
Dinner discussions
This one could be fun for the whole family. At the end of every day during your trip, ask each other a few questions, like:
What was your favourite part of the day?
Did you see or experience anything for the first time ever?
Did you learn anything new today?
What is the funniest thing that happened today?
If today had a theme song, what would it be?
Come up with questions as you go. This way all of you relive your trip and you might become aware of things that you've been missing before. It's a really great way to supercharge your senses and to bond with others, because you realise (or realise once more) what's important to your , children, parents or friends.
Flex your photography muscles
Make a list of categories to photograph during your trip, for example, people, wildlife, flowers, plants, rocks, architecture, food, road, car, sunset... And get creative with it! Turn it into a competition with everyone travelling and decide on a winner for each category after the trip. You don't need a fancy camera – phones are perfectly sufficient to have fun with it. You can even add more abstract categories, like music, fun, literature... the list is never-ending... And hold your breath for the final products! It's guaranteed that you will see your country from all kinds of different angles.
The Desert Grace flauntingly lends itself to photo creativity in Namibia, with The Delight Swakopmund following shortly behind.
Pro tip: Decide on a timeslot for the competition each day, so you'll make sure that you put away your high-frequency devices to tune into the frequency of nature and your company.
Talk to strangers while travelling
Yes, yes, the number one thing of utmost importance that your parents teach you not to do as a child. Understandably. But now you're all grown up and you have common sense and perhaps a more practiced intuition. I've met the most interesting people while travelling – a famous French actor (whom I haven't heard of before... oops), a lovely old lady (90 to be exact) who lived to see both World Wars and all kinds of intriguing historic German events.
Everyone has a story to tell. We become so comfortable travelling past them absentmindedly, especially when travelling as a couple or in a group. We tend to be a lot more open when we travel solo, but we can always make an effort to be open to powerful encounters. A bonus is of course to make new friends, perhaps even a resourceful business contact – who knows? And if not, you'll still come back to your hometown with newly awakened senses. (Take a look at the Padlangs series posted regularly on Facebook for all kinds of beautiful encounters in Namibia.)
Have you been to every corner in Namibia? Do you enjoy being a tourist in your own country? What does that look like to you? We are looking forward to your tips and advice in the comments below.
Author – Annelien Murray is an avid wordsmith who turns her pen to all things travel, culture and lifestyle. She was born in a small town called Otjiwarongo and grew up on a farm nearby. Creativity, nature, animals and travelling make her happy.