'Home is where the heart is', and today it was time to explore my temporary home at Klein Aus Vista.
Over the years, it has become one of my favourite spots. I have loved camping under a camelthorn tree surrounded by an amphitheatre of rock and will never forget the excitement of watching a storm from their Eagle's Nest bungalow. Part of the Gondwana Collection, the lodge is family-owned and –run and it's always a pleasure to see the various members of the family from Oom Willie to the Swiegers brothers, Piet and Willem, and their wives and children (&dogs). It's a real family affair.
Piet is the Reservations Manager and veteran Namibian cross country mountain-bike champion. He has been working towards making Klein Aus an activity destination. As a result of his efforts, the Klein Aus Vista Mountain Bike Challenge has become an annual mountain-biking event. He has also created a network of mountain-biking and hiking routes, varying in difficulty and duration, through the Gondwana Sperrgebiet Rand Park.
Looking through their well-presented activity booklet, I decided on the three-hour Schutztruppe route through the granite hills, following, in part, an old Schutztruppe (German colonial forces) support road and passing WWI ramparts. The Germans built fine fortifications in the hills around Aus in 1914 and were prepared to make a stand here. Hopelessly outnumbered, however, they were forced to flee when Union troops approached from two different directions.
Klipspringer danced away on their tippy-toes or stopped stone-still and watched me. Dassies ran into crevices, a soft smattering of clouds floated through the sky, a cool wind blew and a mountain chat led the way. In the world of the granite hills, baboon and kudu tracks marked the path, and bleached butter-coloured grass stems and small delicate flowers were accentuated against the pink-orange soil and granite boulders.
Eventually, I reached the point where I looked down onto Geisterschlucht (ghost valley), the cabin and an old rusty Hudson riddled with bullet holes. As the story goes, two diamond smugglers escaping from the forbidden diamond mining territory – the Sperrgebiet – were apprehended and shot by policemen in a gunfight at this very spot. Their ghosts are said to still wander through the valley in the moonlight looking for their lost diamonds.
Springbok watched me warily and the Pro-Namib plains touched a chord somewhere deep inside with their subtle and soft beauty as I made my way past the stone ramparts and circled back towards the campsite.
This is where my heart was today.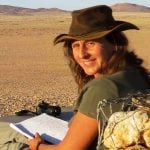 Ron Swilling is a freelance writer, based in Cape Town, writing for Namibian and South African publications. She is a regular contributor to Gondwana's History and Stamps&Stories columns and documented the intriguing information of the Wild Horses in Namibia for Mannfred Goldbeck and Telané Greyling. She invites you to 'Follow her footsteps' on her journey from the Orange River, exploring the Gondwana routes through the intriguing country of Namibia.