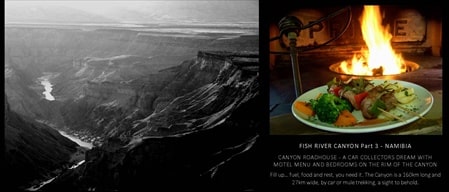 The Fish River Canyon is an area abundant with geological significance, fauna and flaura and the Canyon Roadhouse is abundant in vintage automobiles and hospitality. Fill up on fuel and food, cool of in the farm style pool and rest in Motel model bedrooms.
From the well known entrance, to the table next to a car with a warming fire burning in it , to the campsite with large shadow giving trees… this is an adventure, it is a transgression of any traveler not to stop here. It is an automobile enthusiast's playground and a child's delight.
The food can be taken straight out of the best Arizona road restaurant and yes the trend factor has been recognized with annual visitors returning again and again. It is the only place in the vast area with a petrol station, a good old plate sized burger, chips, sosaties (kebabs) and an ice cold draft. For the more discerning palate the menu offers a host of alternatives… a subtly flavored salmon roulade comes to mind.
Personally I cannot decide which is more interesting, all the different cars and old signs or the guests that's viewing them. Exclamations and "come and have a look at this is" commonly heard here and the long distance one has travelled falls away and road weary sighs are replaced with smiles.
The Roadhouse adventure is the perfect interlude to perhaps one of the top lists in the world's adventures… The magnificent Fish River Canyon which we find a few kilometers down the road…
"Our task must be to free ourselves... by widening our circle of compassion to embrace all living creatures and the whole of nature and it's beauty." - Albert Einstein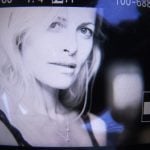 Tanja Meyer is a South African Travel and Food writer and photographer whose principal motive is to inspire all to travel, to embrace different parts of the world, diverse cultures and cuisine. Her book called "A Passion for Travel and Taste – The Swahili Coastline and Islands (Zanzbar, Pemba, Mafia, Lamu and Kiwayu)" are in final editing stages and quick to follow up she has now embarked on her second book, "A Passion for Travel and Taste – Namibia – The Brave Land."
Contact Details:
email: meyer.tanja@gmail.com