Ombetja Yehinga Organisation Trust or OYO's dance performance on 22nd August 2019 at the Warehouse Theatre– "Ilithyia gone mad" – addressed the topic of teenage pregnancy and illegal abortion. Under the direction of Philippe Talavera, the dance troupe comprised of eight permanently employed dancers, four trainees, and an international guest from the Netherlands, Eveline Castelein, uses physical theatre to convey messages about important matters to Namibia's youth.

Ilithyia is the Greek goddess of childbirth. Abortion is illegal in Namibia, yet abortions are performed more often than we think, and shockingly amongst many teenage girls who fall pregnant unwillingly. Some procedures are highly questionable and can put the mother's health at risk. Abortion is not an easy topic to address. In many cases, the father of the child disappears, and sometimes a girl's parents and community abandon her and the unborn baby. Yes, the girl made a mistake, but should she be the only one to face the consequences? And in the end if she undergoes an abortion, should she be sentenced to jail?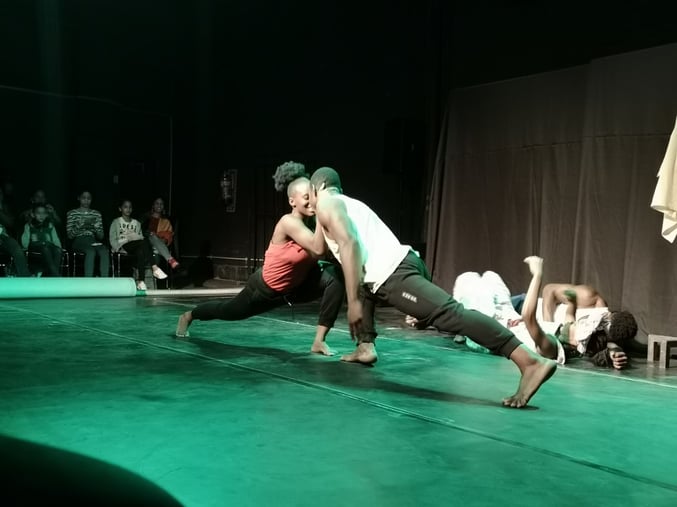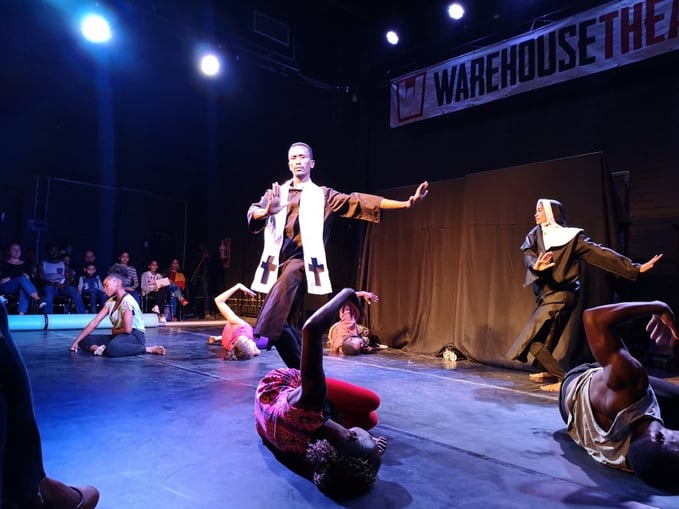 OYO's performances aim to incite discussion about important problems in society. The audience is encouraged to think further and to place themselves in that situation. The OYO troupe is tasked to dance the message into the hearts of Namibian youth.
Where did it begin?

Philippe, Director of OYO and choreographer of "Ilithyia gone mad," was asked to take on a project addressing AIDS in the north of the country. The Himba culture is polygamous and allows adolescent marriages, which made the task of spreading awareness of the illness and how it could be prevented daunting. OYO therefore opted for theatre as a form of communication that would speak to the heart instead of the mind. Philippe explained that a presentation with a lecturer or a teacher standing in front of the class will speak to the mind, but when watching a dance show, it speaks to the heart. People experience emotions and that is what will ultimately bring about change.

After the great success of the first project, OYO started addressing other problems in the community. Himba children who go to school usually leave between the ages of 12 and 14 to look after their families' livestock. At that age, girls are expected to get married. Moreover, girls who reach puberty do not have access to sanitary products, which creates problems of a different dimension. Projects were aimed to tackle the problem of keeping children in school for longer, and how to get children to attend school regularly as opposed to in one-month intervals interchanged between school and taking care of livestock in the bush.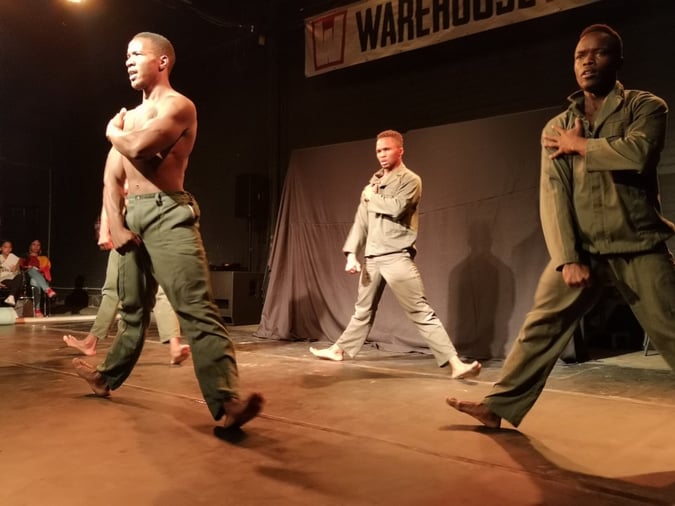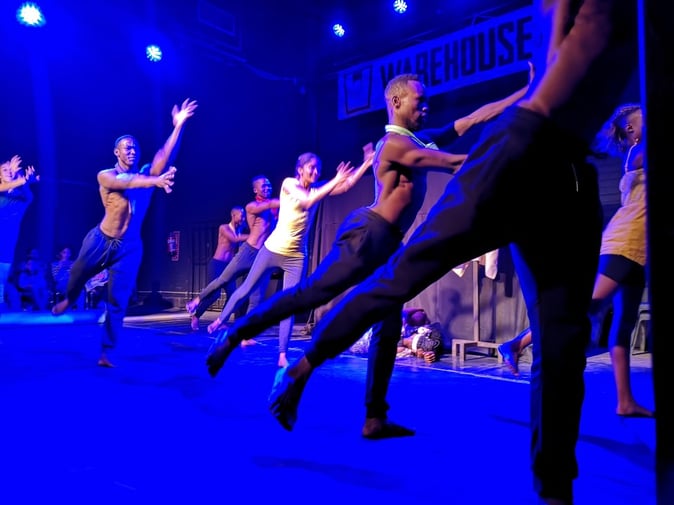 OYO then started to spread out to the east and took on new projects with the San people. In the San community problems could start even sooner. Parents take the great first step of signing their children up for school, but many of them soon drop out because they become victims to stereotype-driven taunting by fellow learners. OYO steps in to mitigate hostility in schools by spreading cultural awareness. Children work together in small groups to learn about cultural differences through theatre and music. Children who do not belong to the San community are encouraged to learn traditional San music to be more informed about this culture, which could then translate into respect.
OYO's first dance project
OYO did its first dance project in 2008, introducing physical theatre, which means that there is no verbal dialogue. Since then the organisation has been in high demand to perform dance projects all over the country. Between 2009 and 2011 OYO took on various dance projects, which led the Trust's management to the decision to employ dancers on a full-time basis.
Currently OYO is the only organisation in Namibia that employs full-time dancers. Dancing, as well as other art forms in Namibia, is usually a sideline job. Pursuing an artistic career in a developing country presents a different kind of challenge.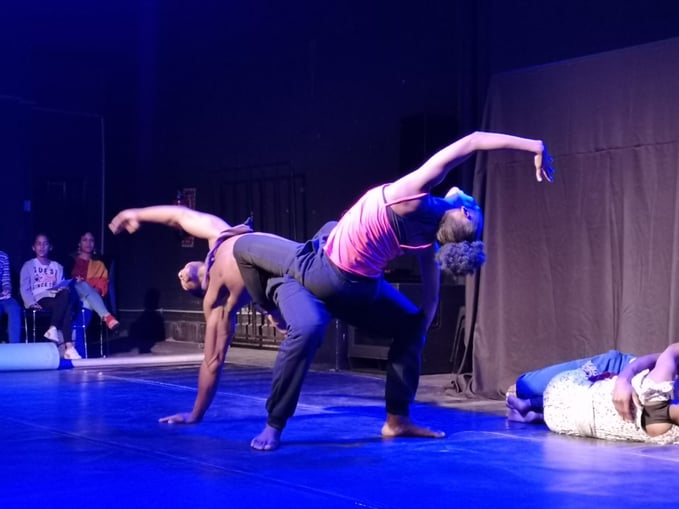 In addition to its vital role in Namibian communities, OYO supports dancers to develop their individual skills.That is also why the organisation often invites international dancers to come and share their expertise. Eveline Castelein from the Netherlands is currently working alongside local dancers from all over Namibia – be it Rehoboth, Swakopmund, Rundu or Tsumeb.

When the dance troupe is not performing in schools and prisons all over Namibia, they do performances in Windhoek for the general public. Entrance is free, so that it is accessible to everyone.

The next performance will be on the 18th October 2019. Follow OYO on Facebook to stay up to date.
Annelien Robberts is an avid wordsmith who turns her pen to all things travel, culture, and lifestyle. She was born in a small town called Otjiwarongo and grew up on a farm nearby. Creativity, nature and animals make her happy.