What a day! The second fundraising golf day organised by the Gondwana Care Trust, in conjunction with DZ Golf brought the participants lots of fun and some surprises at the different holes - from wine tasting to cheerleading and gin & tonic refreshments.
A Gondwana Village at the halfway point contributed to the golfers' further well-being on the 18-hole course with boerewors rolls and free beer. But not to worry, a 'Go Home Shuttle' ensured that all eager golfers made it home safely after a successful day at the Omeya Golf Course on 23 September 2022.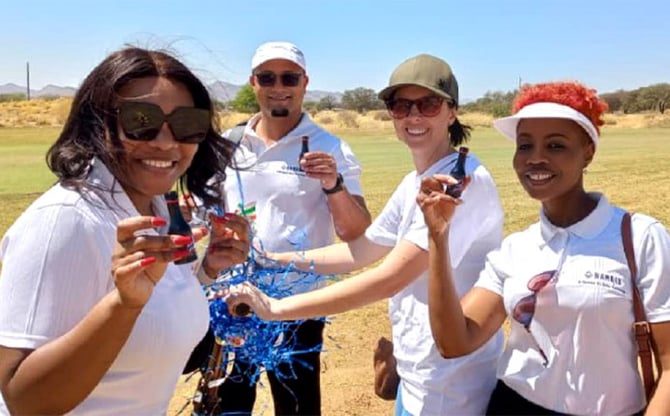 This fundraising event was under a lucky star right from the start. Once the registration opened, the maximum number of 20 teams was quickly reached. Thanks to all the sponsors and golfers who also participated in our live auction, the Gondwana Care Trust was able to raise N$180,000!
"We are very grateful that so many companies and individuals immediately and enthusiastically agreed to participate and co-sponsor this golf day for the benefit of less privileged members of our Namibian society," says Quintin Hartung, trustee of the Gondwana Care Trust. "Their contribution will go towards charitable projects that aim to make a difference in our fellow Namibians' lives."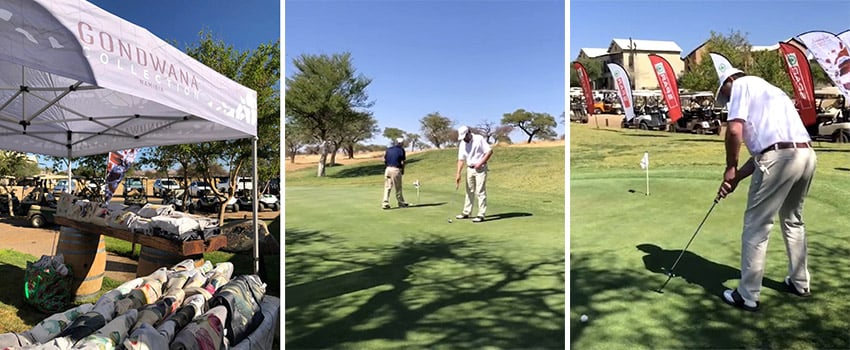 The funds will be used for social initiatives such as the MealForTwo and the Back-to-School Christmas Bag Project; which include the donation of food, educational products and stationary for schools, as well as the support of important environmental causes.
Founded in May 2017, the Gondwana Care Trust aims to sustainably improve the lives of Namibians, especially those in need. The Trust is an independent initiative that partners with Gondwana Collection Namibia to ensure that the various social and environmental projects are handled transparently and fairly. It also aims to provide a channel for other like-minded people and businesses to get involved and enhance the good done within Namibian society.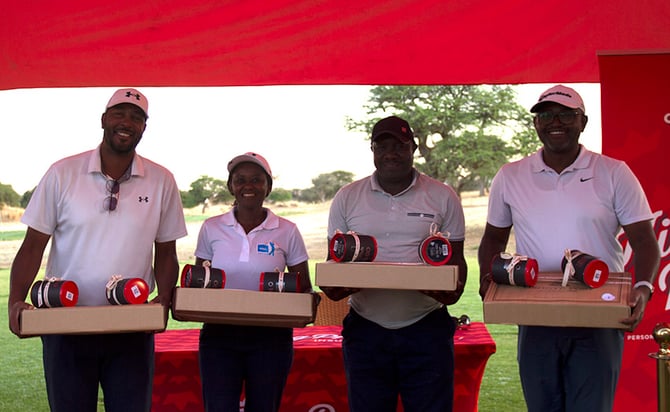 Meet the winning team 'The Late Entries' with Dignity Moyo, Michael Hoeseb, Justine Shikulo and Monty Rukoro. Congratulations!
The Gondwana Care Trust would like to thank everyone for their contribution to this successful day.
The main sponsors include:
Gold Sponsorship (N$20.000): King Price Insurance

Silver Sponsorship (N$10.000): AfricaOnline, Namdeb, Deep Catch, SPAR Namibia, West Valley Armed Response, and FlyNamibia

Bronze Sponsorship (N$2.500): Renaissance Health Medical Aid Fund, Neuras Wines, Smith's Distributors, Edelstahlbau CC, Namib Laboratories