Attention all coastal residents!
Are you ready for a comfortable vaccination experience? Get in your car and visit our vaccination station. Walk-ins are also more than welcome.

The first Drive-Through and Walk-in Vaccination Station at the coast will open its doors on 17 August 2021 at the Jan Wilken Stadium in Walvis Bay, and move over to the Rugby Stadium in Swakopmund on 31 August 2021. Please find detailed information below.
This initiative is powered by the Office of the Erongo Governor, Gondwana Collection Namibia and the Gondwana Care Trust, Seawork Cares Foundation and supported by several private companies listed below under the umbrella of the Ministry of Health and Social Services. All health and Covid-19 protocols are implemented and managed by OSH-Med international and E.M.A. Rescue Service. Westcare Medical Centre is availing nurses. Namibia Health Risk Solutions (NHRS) and NHP medical aid fund enable logistics for walk-in vaccinations and contribute to the nursing services.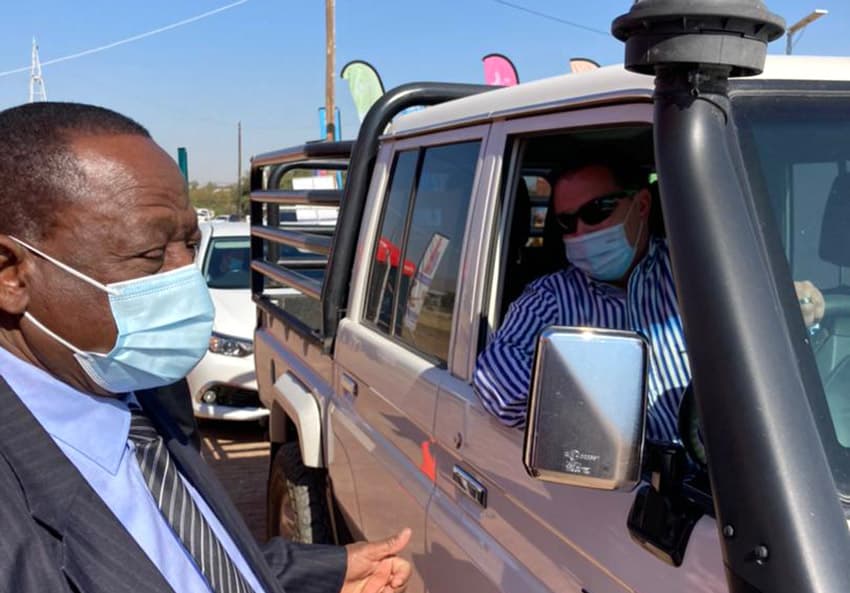 The Honourable Minister of Health and Social Services, Dr Kalumbi Shangula, visited the Drive-Through Vaccination Station in Windhoek. Photos: Gondwana Collection
"We are humbled by the reaction of the Namibian public to our vaccination drive through in Windhoek", says Gondwana Collection's Managing Director Gys Joubert. "The reaction of the coastal community has been tremendous in terms of support to bring this initiative to Walvisbay and Swakopmund. Let's stand together and help each other for a better future for us all."
Vaccines are provided by the Ministry of Health and Social Services; currently Sinopharm and Astrazeneca (only for second dose) are available. The public is requested to download vaccinations forms prior to their visit to the Drive-Through and Walk-In Vaccination Station. Vaccination forms are available here.
The Vaccination Drive-Through Station will grant frontline workers preference to jump the line and get vaccinated if they arrive in uniform or an official vehicle (police, medics, firefighters, etc).
All partners in this initiative were more than prepared to contribute through voluntary work of their employees, professional services, donations in kind, or financial resources.
Sponsors include the Office of the Erongo Governor, Ministry of Health and Social Services, OSH-Med international, E.M.A. Rescue Service, Westcare Medical Centre, Namibia Health Risk Solutions, Namibia Health Plan (NHP), Namibia EMS, Seawork Cares Foundation, Namibia Breweries Limited, Baywash, Rent-a-Drum, Gondwana Collection Namibia, Gondwana Care Trust, Slowtown Coffee Roasters, Paratus Namibia (Walvisbay site), Konica Minolta, Food Lover's Market, Barco Namibia, Cancer Association of Namibia, Seapride Walvis Bay, Marsh Namibia, Bank Windhoek Capricorn Group, Community Warriors Namibia, Gegen Covid für Namibia, Artisan Bread
Contributors are Agra Limited, Walvis Bay Self Service (Multisave)
Interested individuals or companies, who would like to support this initiative financially or in kind are welcome to contact the Gondwana Care Trust. Volunteers for administration and parking welcome can also contact us via email. A beverage and meal will be provided per 4-hour shift. Kindly contact vax@gcnam.com
DETAILED INFORMATION ON THE VACCINATION PROCESS
17 – 25 August 2021 | Walvis Bay | Jan-Wilken Stadium
Access from Sport Street
Mon–Fri 10:00–18:00
Sat 10:00–14:00
Sunday & Heroes Day (26/08) closed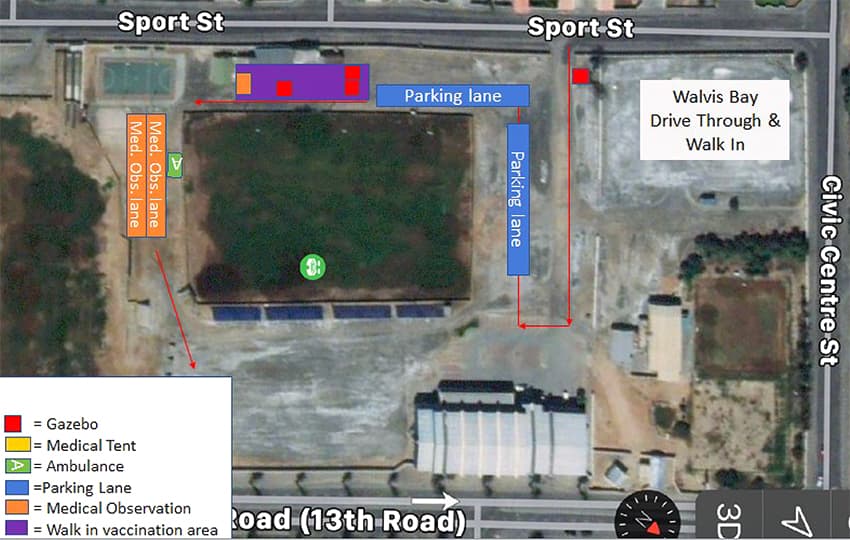 31 August – 03 September 2021 | Swakopmund | Rugby Stadium
Access from Welwitschia Street
Mon–Fri 10:00–18:00
Sat 10:00–14:00
Sunday closed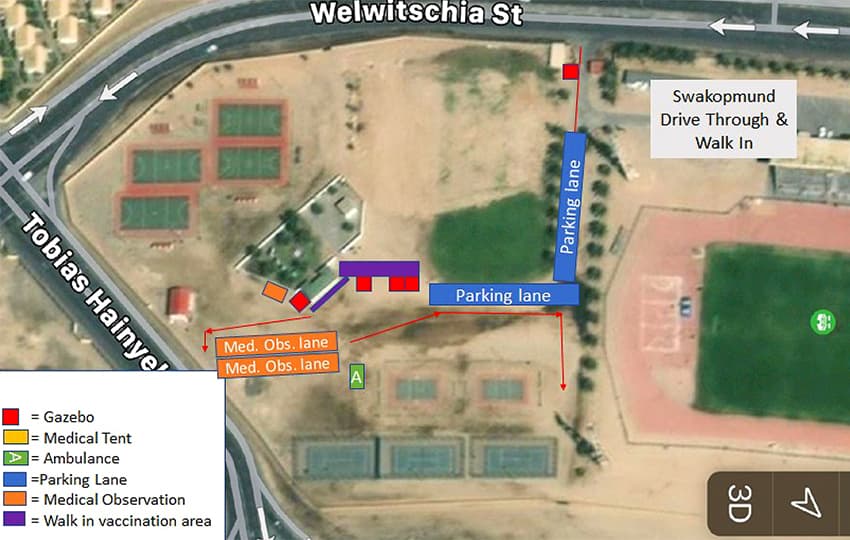 Members of the public, who join us on foot, will be directed to a separate waiting line. Seating is available in the waiting and observation areas. All other procedures remain the same.
Arrive and line up. Please bring your ID or passport along and if you come for your second jab, your vaccination passport.

During your wait, relevant forms will be filled out and submitted. This procedure applies to 1st and 2nd vaccinations. If possible, kindly download the vaccinations forms prior to your visit at https://gondwana-collection.com/en/about-us/covid-19-hygiene-measures When it's your turn, your vehicle will be directed through a gate to the first station.
Station 1 caters to the testing on blood pressure, temperature and pulse/heart rate. Should your blood pressure be high, there is a space to pull off and wait, following which pressure will be tested again and then proceed to station 2 or depart, if necessary.

Station 2: Vaccination choice as applicable. Health care professionals will explain Sinopharm and AstraZeneca vaccines, as well as the potential side effects of each.

Station 3: Get the jab and proceed to Station 4.

Station 4: An attendant will direct you to vaccination dept A or B. Park your car in allocated areas and wait the required time. You will receive a card with a time allocation to indicate when you are allowed to leave following the mandatory observation period - 30 or 15 minutes, depending on which vaccine was injected. On the back of the card all necessary emergency numbers are listed for ease of access. An ambulance is on site in case of emergencies.

Once your mandatory observation period has passed, you can leave the Vaccination Station equipped with your vaccination passport. If it is your first vaccination, you will receive the date for the second jab. Don't miss it!
In the meantime, stay healthy and adhere to Covid-19 protocols. Wear your mask properly, keep your distance, wash and sanitise your hands, and avoid gatherings.