Dear loyal readers. This week you are in for a treat.
I know this is a very cliche statement but Namibia is a photographers dream. It's the playground of the lenses. Thus, I thought it would be a great idea, or rather a fantastic idea to share some photography tips with you. When you are out and about on your next adventure, you can snap away like a pro.
I have compiled my own personal list of tips and ideas, but as I am not a professional, I have asked the photographers of Namibia to share their ideas and tips.
1.If you currently own a camera, and want to master the art, don't go buying the most expensive equipment on the market. The same applies if you currently do not own a camera. Start small and learn to master what you have before you move on to bigger and better. To take beautiful photos, you need to practice and a bigger and more expensive camera does not guarantee better images. It takes time.
2.Experience and learn. I can assure you your camera has much more to offer than an ON/OFF and shoot function. Get to know your camera and its functions and buttons. There is an endless amount of information readily available online. Most importantly, enjoy the learning process and successes. Don't be afraid to experiment.
3.Be out and about regularly by taking photos of beautiful things around you.
4.Team up with other photographers or join a community online. It's a great source of inspiration and a good way to boost your self confidence. Be active in such a community by also complimenting other photographers and not only expecting advice or compliments. When you comment on another photographers work, be kind. A photograph is a reflection of the soul that and should be treated accordingly.
5.Do not compare yourself to others in a better or worse context. (Oh sorry, think I mixed up my personal diary and the blog entries today) I'm joking. It's important to focus on your own style and worth and don't give up just your photos aren't as flashy as other photographers. (No pun intended) Keep on trying.
6.MOST IMPORTANT RULE: Find your own style and never ever copy another photographer.
7.Make sure you keep your camera and its equipment clean.
8.When you are taking photos of people, please ask their permission. It is rude to just randomly snap photos of strangers. It makes sense if you are at a function and have been hired as the photographer. When you are traveling in the country, it is important to respect people when taking photos.
9.Make mistakes. This is the best way to learn.
10.Not everybody will like your style or method of photography. Make peace with it.
Here are some tips from our very own talented photographers in Namibia.
Anja Denker
The term "back lighting" refers to the fact when light - like the sun - is behind an object or scene, thereby illuminating said object or scene from behind and separating the subject from the background. It is a very effective way of showing silhouetting and is one of my favorite practices in photography and underexposing can add to the dramatic effect.
This works especially well in the so called "golden hour" of photography, namely the first warm light of the morning and late afternoon light.
The photo of the young lioness in Etosha was taken at around 6.00 pm in December, when the sun was directly behind her and fairly low on the horizon.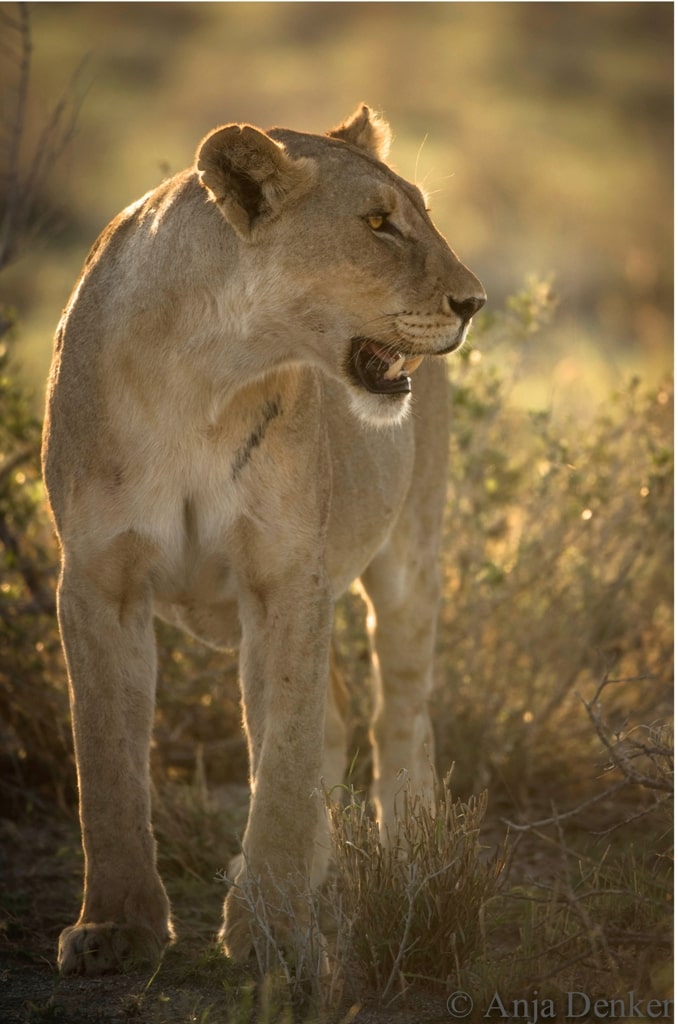 The photo of my daughter was taken in the Khowarib River Damaraland, just before the sun was setting in the evening; once again the sun is behind her, particularly effectively illuminating the droplets of water and creating a silhouette around her face.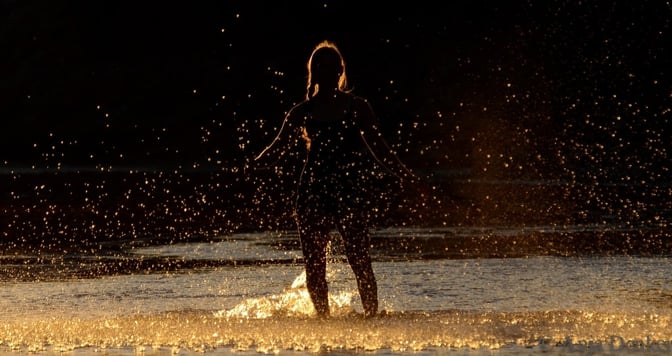 Michael Swartbooi – Michaels Photography Studio
Get to know your camera.
Read your surroundings you will be using and learn to understand the different types of light. It doesn't help you have an expensive camera and equipment and you simply shoot out of automatic mode.
Most importantly, photography is an art that captures moments in life for a lifetime remembrance.
Johnco van der Linde Through My Lens Photography
Always wait for the right light.This is what photography is all about. You need to think about the light in terms of its quality, quantity and direction, and how it suits the subject.
To reveal detail and reduce the contrast of a scene, shoot when the light is soft and diffused. When it comes to landscape as well as portraiture I mostly shoot during golden hour which is the hour after sunrise or before sunset. The rich, raking light at sunrise (and sunset) adds warmth and texture to the subject as well as to the background.
Georg Erb
"Most modern SLR cameras have wonderfully bright viewfinders. Use them as such, as viewfinders. Compose your picture; roughly do your framing in the viewfinder. You can always do closer cropping later.
Modern SLR camera has fantastic high resolution screens, with information relating to your exposure settings. You can also leave it all to sophisticated automatic exposure modes.
Most modern SLR cameras come with a vast range of fantastic zoom lenses, but understand that your zoom lens cannot ever change your perspective.
To alter the perspective in your image requires a completely different tool; you have to use your feet...."
Scott Hurd
Naturally - first tip . . . Get out there and take millions of photographs! When you get home process the best ten carefully and only show people one!
Second tip! Join one of my photography courses! Click here to find out more.
Are there any tips you would like to add? You are welcome to leave a comment in the comment box below.
Jessica Thomas is a local freelance writer. She is an eccentric young lady who has a love affair with writing. Get on board her journey of discovery.