Namib Dune Star Camp is a unique lodge located in Namibia and part of the Gondwana-Collection Namibia properties in the country. The Namib is a famous coastal desert of Khoekhoegowab origin. Its name means "vast place" and that is indeed what guest might expect when visiting this amazing region. In total, the Namib spans an area of more than 2,000 kilometers along the Atlantic coasts of Angola, Namibia, and South Africa.
The Namib Desert is famous for being the oldest desert in the world (about 43 million years old), and for its raw and sheer beauty. It got its present form about 2 million years ago and today it is an immense area of moving gravel plains and dunes of all shapes and sizes. It is one of the planet's most extreme wildernesses and hides plenty of wonders of nature.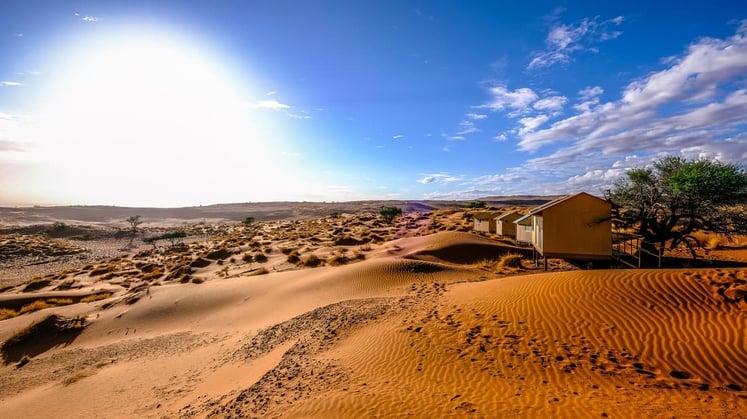 Namib Dune Star Camp is an intimate camp that only features nine chalets or cabins, with quite some distance between them. This is important, as one of the main "attractions" at the lodge is… sleeping under the Namibian stars. Indeed, all rooms have a double bed designed to be wheeled out for a night in the desert. And do not worry about the the cool desert nights, as extra bedding is supplied for those sleeping under the stars.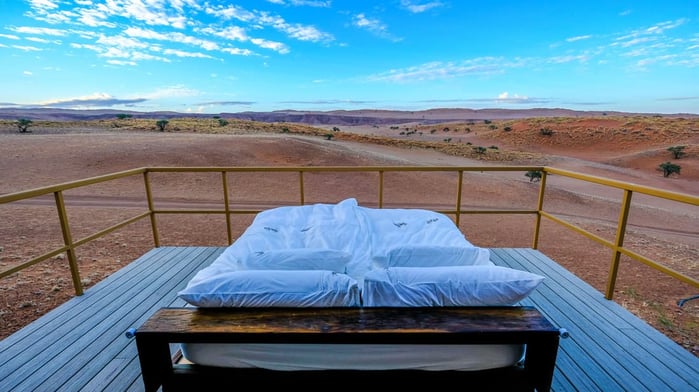 Each cabin has an en-suite bathroom, a large bedroom and a spacious outside deck. The interior is minimalistic but very cozy, with beige, grey and brown colours that blend in with the surrounding nature. After a day of exploring the Namib Desert, guests can enjoy amazing views of the breath-taking scenery from the wide central deck. A sundowner while the sun slowly transformers the landscape in gold and red is an experience you will not easily forget.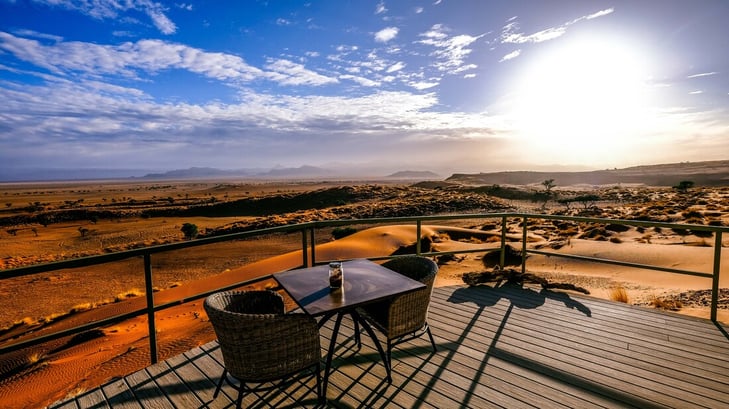 Read more about the Namib Dune Star Camp and its unique Namibian features that lure guest to experience an once-in-a-lifetime adventure here, and find out how Ellen and Sven rate this Gondwana-Collection Accommodation on their website https://www.wbpstars.com/ .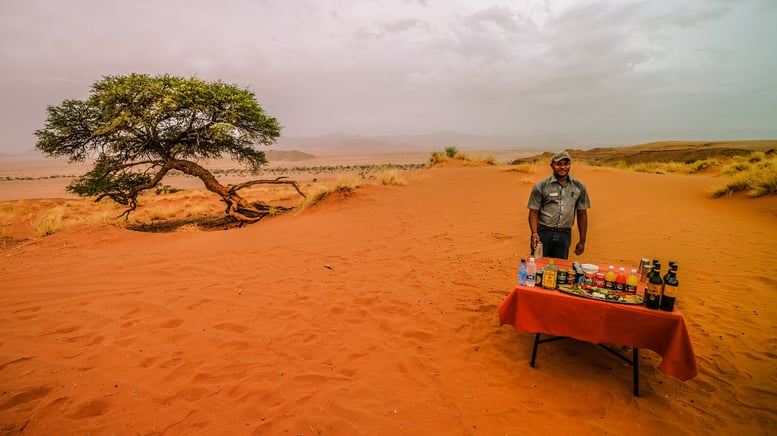 Writers: World's Best Places is the ultimate content guide by Sven and Ellen, for food lovers, travelers and hospitality experts. ? It is a multi-channel platform about the very best restaurants and hotels in the world. An easy to use collection with many images of the best places in the hospitality sector. ?