Somewhere at the beginning of my road-trip, and I can't remember where, I looked into a shop window and saw the message: 'Expect nothing, appreciate everything'. This comes to mind now when trying to describe the unusual town of Lüderitz.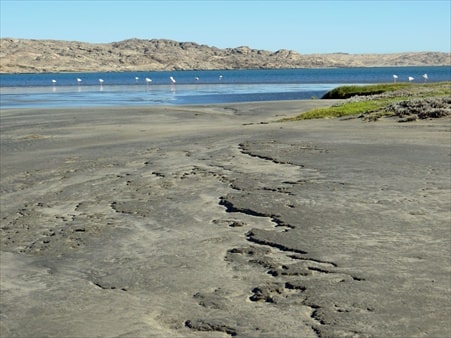 It's a place that opens up to you like a flower in spring (well, here it would have to be some kind of desert-adapted bloom, perhaps a bushman's candle or hoodia). It is essential though that you arrive without expectations and preconceived ideas. Lüderitz is on the sea, yet not a seaside town; is not tourist oriented like Swakopmund, and although in the desert, it doesn't hold the glamour of Sossusvlei. Here, the annual snoek derby and crayfish festival (complete with hotly-contested Miss Crayfish contest) are highlights of the year. It's so out-of-the-ordinary that without an open mind it is possible to pass through without gaining a sense of its charm. This is a town that will appeal to the adventurer in you ... the part of you that is open to the new and unknown.
Bartolomeu Dias was one of those intrepid Portuguese explorers who sailed the oceans in the their caravels looking for new sea routes, sometimes being away for years and often never making it back home. He planted a cross at this rocky point on the desert coast in 1488. Having no fresh water, it was not an appealing destination to those who passed the barren shores after him, except as a whaling ground and guano treasure trove. Adolf Lüderitz (and the Germans) would change that in the late 1800s and many of the houses here still bear dates from the early 20th century. Some Buchters, as the locals refer to themselves, have dipped their paintbrushes in the pot and have painted these old beauties in bright colours giving them a facelift. Although these structures appeal to us Africans, who don't get to see many historical buildings, it may not mean much to foreigners who are familiar with old German architecture. But, it is more than the architecture of the buildings that matters, it is the history of a place that was the centre of a diamond rush, when people were paid in diamonds, women flaunted the latest European fashions and champagne was even said to be sipped from ladies' shoes. This is Lüderitz's legacy.
But, back to the adventurer. Lüderitzbucht (Lüderitz Bay) is a series of promontories where a rich-blue sea glitters between rugged rocks and flamingos search for tasty morsels in lagoon waters. A drive to Dias Point is the introduction to this interesting topography and if you have a 4x4 vehicle, a series of bays surrounds it begging exploration. But, begin with Dias Point, and cake and coffee (and oodles of character), then brace yourself against the wind to visit the replica of the original cross. You can even rent out the house (don't be deceived by exteriors) or camp in a bright blue-and-white boat. (That appealed to me!) Regina runs the coffee shop and will happily share her wealth of information about the area.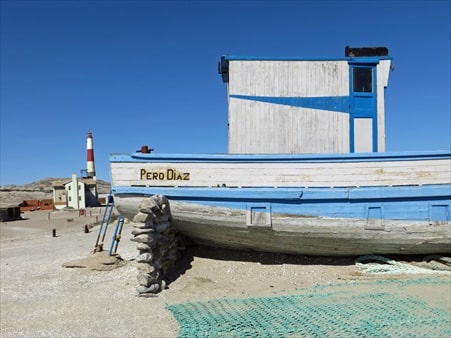 Explore. Discover. Appreciate everything.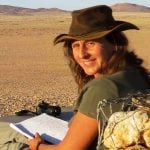 Ron Swilling is a freelance writer, based in Cape Town, writing for Namibian and South African publications. She is a regular contributor to Gondwana's History and Stamps&Stories columns and documented the intriguing information of the Wild Horses in Namibia for Mannfred Goldbeck and Telané Greyling. She invites you to 'Follow her footsteps' on her journey from the Orange River, exploring the Gondwana routes through the intriguing country of Namibia.