The end of the road ...
... for now.
Well, I didn't get to Namib Desert Lodge and its fossilised dunes near Sossusvlei; Damara Mopane Lodge and Twyfelfontein; or get to traverse many of the interesting gravel routes which make their way to these interesting destinations. But, I know I will return to this country of space and soul - again and again, I'm sure. It will always call me back.
I am now heading back over the waters of the Orange River and southwards to the Cape of Storms, where I started out more than a month ago. Thank you for 'following my footsteps' and sharing my journey. Here's hoping that it was an enriching experience for you as well and that some of the joy, shine and the wonder of travelling through 'the land of big sky' also rubbed off onto you.
Until next time, happy travels and keep smiling – after all, it's the passport and currency of travel.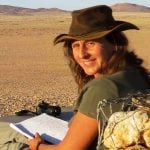 Ron Swilling is a freelance writer, based in Cape Town, writing for Namibian and South African publications. She is a regular contributor to Gondwana's History and Stamps&Stories columns and documented the information on the Wild Horses in the Namib Desert for Mannfred Goldbeck and Telané Greyling. She invites you to 'Follow her footsteps' on her journey from the Orange River, exploring the Gondwana routes through the intriguing country of Namibia.