Cape Cross (and its seal colony), about 130km north of Swakopmund, was my destination for today. (Before I did anything though, I needed to stock up on food and take up the generous offer of moving from my tent to a room. A bit of quiet and an electric socket would be much appreciated. There are pros and cons to staying at a backpackers. The pros - besides the cost - include meeting interesting folk, like Steve Bailey, a retired man from the UK cycling from Cairo to Cape Town. The cons, include them sometimes getting too busy, making it difficult to cook a meal in the small kitchen, never mind scrumming for the bathroom facilities.)
The road through the desert edging the sea is a salt road, kept in good condition by the prevailing sea mist. On either side are flat gravel plains dotted with small hardy salt bushes. This is Mad Max territory if there ever was. It's a surprise to find a small settlement of colourful houses (with water tanks) called Wlotzkasbaken alongside the road. Could or would anyone want to stay out here in the desert sands? But, this coastline is fishermen's haven and signs to fishing spots line the road north, from 'Mile 4' to 'Tolla Se Gat'.
Lichen fields are fenced off on the eastern side of the road north of Wlotzkasbaken, to protect them from vehicles and quad bikes. Contrary to appearances, the desert is an extremely fragile environment. Vehicle tracks can remain on the gravel for decades and lichen populations are easily destroyed. Lichen, a combination of an algae and a fungus living symbiotically, depends on the sea mist for its survival in the desert and is vulnerable to disturbance.
I was happily walking between the lichens when I stopped in my tracks, just as I was about to put my foot down on a horned adder! That woke me up quickly. The little guy didn't move and made no sign that he had nearly been trodden on by a dirty boot and 60kg of human. I said a quiet thank you to my angels and continued northwards past Henties Bay to Cape Cross. The flat plains gained shape and then evened out again, and rustic tables with blocks of salt crystals from the Henties salt works lined the roads. The entrepreneurs worked on an honesty system. The prices were painted on the table and a buyer was required to put the amount in a bottle with a slot in its lid. I couldn't resist this charming system - or salt, a commodity that once held the power of gold.
At Cape Cross, I first paid a visit to the graves of the guano collectors and those who once lived in this barren area, and afterwards continued to the replica of the cross erected by Diego Cão in 1486 and the bustling cacophony of Cape fur seals. The smell reaches you first, then the sound of braying, barking and bleating. Some seals are fast asleep, some are wanting to joust with all and sundry (or so it seems) and others are swimming in the waves, while lost little ones call for their moms. It's wonderful mayhem out there.
The cold and the hour of the day forced me back into my vehicle and onto the salt road. Smelling like seal and with my car heater on to thaw my hands, I drove back to the misty town with my headlights on and my heart full.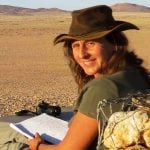 Ron Swilling is a freelance writer, based in Cape Town, writing for Namibian and South African publications. She is a regular contributor to Gondwana's History and Stamps&Stories columns and documented the information on the Wild Horses in the Namib Desert for Mannfred Goldbeck and Telané Greyling. She invites you to 'Follow her footsteps' on her journey from the Orange River, exploring the Gondwana routes through the intriguing country of Namibia.