I sped westwards towards the Namib Desert on the long straight road between Klein Aus, home sweet home for the next few days, and Lüderitz. The apricot colours of the sand and bleached yellow of the grass extended to the horizon interrupted by a few purple rocky outcrops, a goshawk flew next to my car veering off at the last moment in a flurry of soft wings, Robbie Robertson and the Red Road Ensemble sang of the power of the earth, and the caution signs changed from 'wild horse' and 'gemsbok' to 'sand' and 'brown hyaena'.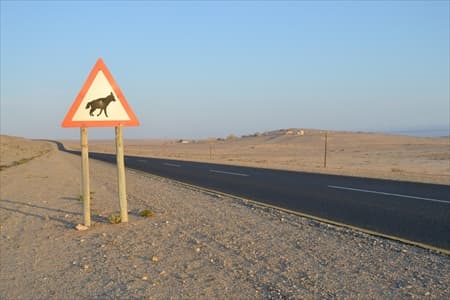 Kolmanskop, the old diamond-mining town, was my destination for the morning and it appeared in the desert sands on the outskirts of Lüderitz as if the gods had just dropped it from the heavens into the vast sand-pit of the Namib Desert. It amazed me that a century ago people chose to live on the waterless desert sands, and in such grand style nogal. But, it was for good reason, or so they thought, diamonds!
I joined the 11am guided tour, beginning in the old recreational hall where Christo, our guide, sang an unexpected 'God bless Africa' with piano accompaniment so we could hear the excellent acoustics in the building that was shipped from Germany in the early 1900s. Everything here seemed to come from somewhere else, even the water. Maybe that wasn't too much of a problem because when Zacharius Lewala found that sparkling stone while sweeping the railway in 1908, champagne flowed in the south-west. Water, on the other hand, had to be shipped from the Cape and rationed to 20 litres per day.
The increase in diamonds meant an increase in smuggling and workers tried all kinds of cunning strategies to hide the gems. The X-ray machine at the Kolmanskop hospital was well used, and if they discovered a stowaway, it was nothing that a good dose of castor oil couldn't cure.
The town of Kolmanskop, or Kolmannskuppe as it was then called, was relatively short-lived, however, with the outbreak of WWI and the discovery of larger diamonds further south. Most residents had moved to greener pastures by 1938 and when the hospital closed its doors in 1956, Kolmanskop became a ghost town.
Its attraction today is the fascinating history of diamonds (and ice!) in the desert and the picturesque scenes of dilapidated roofs creating dappled patterns on the desert sands.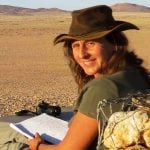 Ron Swilling is a freelance writer, based in Cape Town, writing for Namibian and South African publications. She is a regular contributor to Gondwana's History and Stamps&Stories columns and documented the intriguing information of the Wild Horses in Namibia for Mannfred Goldbeck and Telané Greyling. She invites you to 'Follow her footsteps' on her journey from the Orange River, exploring the Gondwana routes through the intriguing country of Namibia.