... will you bless my life?
These Juluka oldies provide some of the best travelling music and Johnny Clegg belted out African sunshine and blessings as I drove westwards. I turned up the volume: AFRICAN SKY BLUE flew out of the windows into the warm day with love for Africa and all its seasons.
It's always sad to say goodbye to the elephants, hippos and wildlife of the Caprivi, but I quickly rectified the situation by planning another overnight stop at Hakusembe for a last taste of river peace and a day's drive through Etosha, before heading south back to Windhoek. That should help me survive a few days in the city!
It was good to be on the road again. I paused at the beginning of the entrance road to Hakusembe on the outskirts of Rundu to deflate my tyres for the stony gravel road. A group of children watched me, giggled and ran away. They finally realised I wasn't an ogre from the West and came a bit closer. I hadn't had an encounter like this for a while, and was amazed that these children (unlike those I had encountered in the Caprivi) hadn't as yet been negatively affected by tourism. It was lovely, innocent and refreshing – and I definitely wasn't going to ruin it by giving them anything!
Once again, the Hakusembe river paradise was appreciated. I sat listening to the sound of a man paddling his wato and singing softly, cows mooing, the water lapping and watched a pair of fish eagles flying over. As the red sun left a golden trail on the water, South African children fished enthusiastically for tiervis (tigerfish), swamp boubous called and painted reed frogs began their melodic chiming. Life was good.
The cold weather from the south arrived as I left and made my way back through the African atmosphere of the Kavango and then the towns of Grootfontein and Tsumeb. I made time for the museums and the 40km detour to see the 60 ton Hoba meteorite that is thought to have fallen to Earth 80 000 years ago. Large signs point the way to a special site constructed for tourists. The large lump of rock is definitely the 'star attraction' here, and although unimpressive, it's not every day you get a chance to see, let alone touch, a shooting star.
With my sense of history satisfied and acknowledging our celestial connections, I had one thing on my mind – wilderness and wildlife!
Etosha was calling. Johnny Clegg and Juluka were still singing "African sky blue will you see me through" when I returned to the tar and pushed play. But, I didn't need to ask, I knew Africa was blessing my way.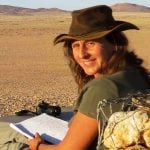 Ron Swilling is a freelance writer, based in Cape Town, writing for Namibian and South African publications. She is a regular contributor to Gondwana's History and Stamps&Stories columns and documented the information on the Wild Horses in the Namib Desert for Mannfred Goldbeck and Telané Greyling. She invites you to 'Follow her footsteps' on her journey from the Orange River, exploring the Gondwana routes through the intriguing country of Namibia.