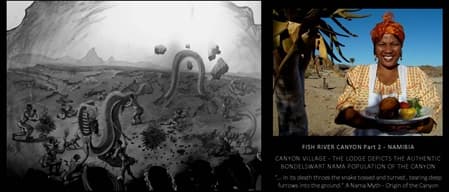 "Once upon a time a giant snake dwelled in southern Namibia. Every so often it devoured the people's sheep and goats and so finally they decided to kill the snake. Armed with spears and accompanied by their dogs the men set out for the hunt. They encircled the snake, keeping it at bay with fiery torches, shooting arrows at it and thrusting spears into its body. Even though it was a giant snake it stood no chance against their superior numbers. In its death throes the snake tossed and turned, tearing deep furrows into the ground." Quote: Stamps & Stories – 50 Stories on Namibia's postage stamps. Gondwana Collection and Nampost.
The above Nama myth about the creation of the Fish River Canyon is a prime example of the story telling nature of the Nama people. Expressive and creative their distinct culture also shines in their colourful clothes, embroidery and appliqué work. Here at Canyon Village the staff embraces their heritage and they shine proudly amongst the Quiver Tree garden and boulder formations. For ages their only form of transport has been mules and donkeys and guests can enjoy a similar experience by joining a mule trekking adventure through the canyon. In fact upon arrival at the Village your luggage is mule carted to your room…
Canyon Village is situated nearby the vast Canyon and proudly display the rich heritage of the place and its people. Colourful mural paintings outlines the Bondelswart Nama history and guests can enjoy the snippets on the walls throughout their walk along the expansive thatched main building where we find the dining room, shop and linger longer lounge and bar area.
Stone built Cape Dutch Cottages with views of the Canyon provide warm and comfortable accommodation and the swimming pool act as a cooling alternative. The staff are warm and welcoming and the food… a tasty assortment of authentic and fusion dishes. The General Manager, Anja leads with passion and an undeniable love for the Canyon, the nature and its people. Perfectly equipped to welcome bus loads of groups, the Canyon Village sets a high benchmark when it comes to hospitality and honoring culture.
It reminds me of the following quote… "Cultures can only realize their further richness by honoring other traditions. And only by respecting natural life can humanity continue to exist." ?
Daisaku Ikeda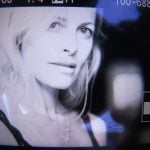 Tanja Meyer is a South African Travel and Food writer and photographer whose principal motive is to inspire all to travel, to embrace different parts of the world, diverse cultures and cuisine. Her book called "A Passion for Travel and Taste – The Swahili Coastline and Islands (Zanzbar, Pemba, Mafia, Lamu and Kiwayu)" are in final editing stages and quick to follow up she has now embarked on her second book, "A Passion for Travel and Taste – Namibia – The Brave Land."
Contact Details:
email: meyer.tanja@gmail.com