Our journey on the Fish River Canyon Mule Trail continues. To read about the first few days where five girls decide to hike this majestic Namibian attraction, click here.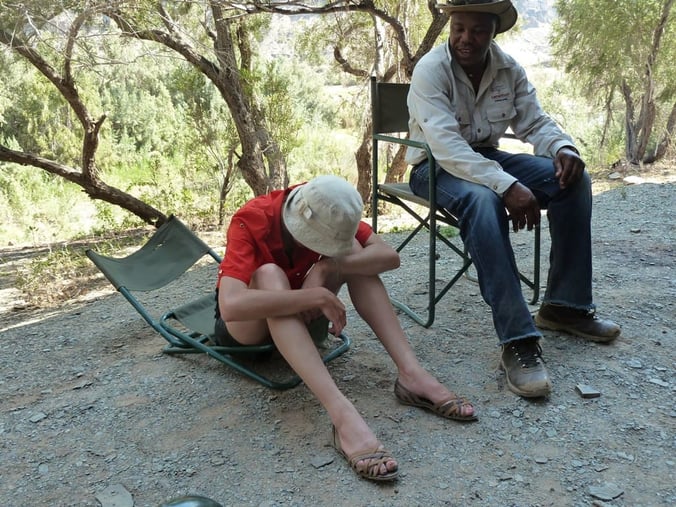 After a very long day of hiking, with typical Namibian temperatures, the most normal thing to do is grab a chair, have a cold drink to quench your thirst and relax.

This plan didn't go very well for me. You see, sometimes the stubborn streak I have, gets the better of me. There was a little hole, really little, in the middle of the canvas of the chair. Our guide Frans warned me that the chair will eventually bring me closer to mother earth, but I disagreed. Let's face facts here, I think that chair weighs more than me, how can I possibly break it. Needless to say, I made contact with the earth below.
We took to the resting quarters for the remainder of the afternoon and a refreshing shower with a view.
Dinner was a relaxing affair with delicious food and good wine – the perfect ending to this day. (I did not change the color of the photo as I am trying to portray the ambiance).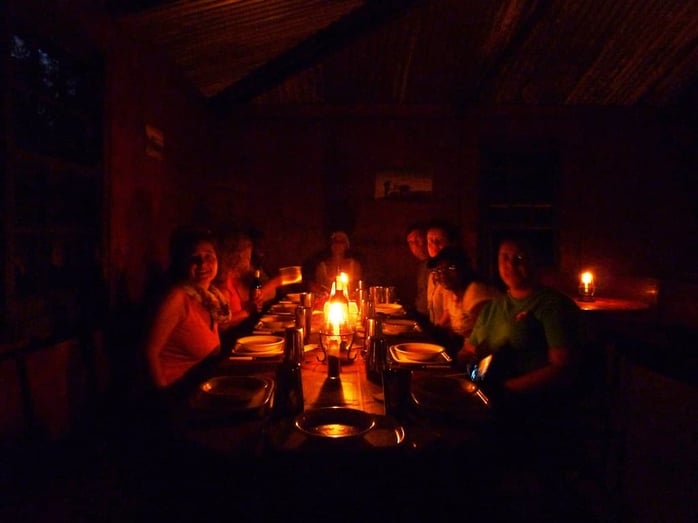 Sigrid and I decided to join in on the fun of sleeping outside: the weather was ideal and the stars were inviting us to keep the moon company. Who needs spa's when you can have this kind of tranquility?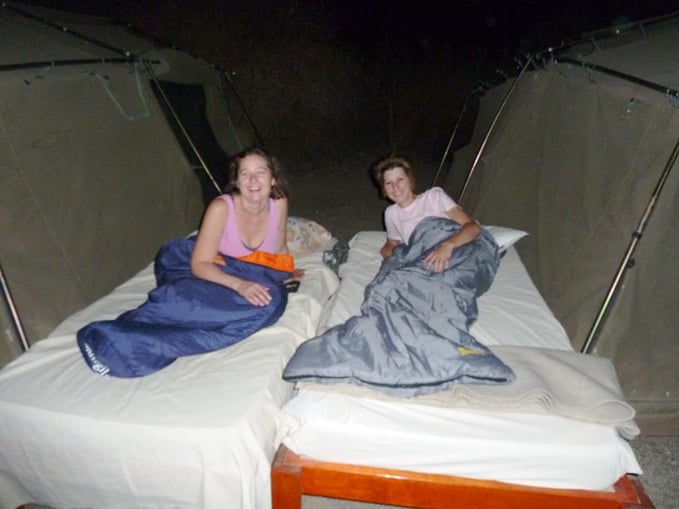 The next morning we were ready for another day of hiking with snacks packed, water bottles filled and enough energy.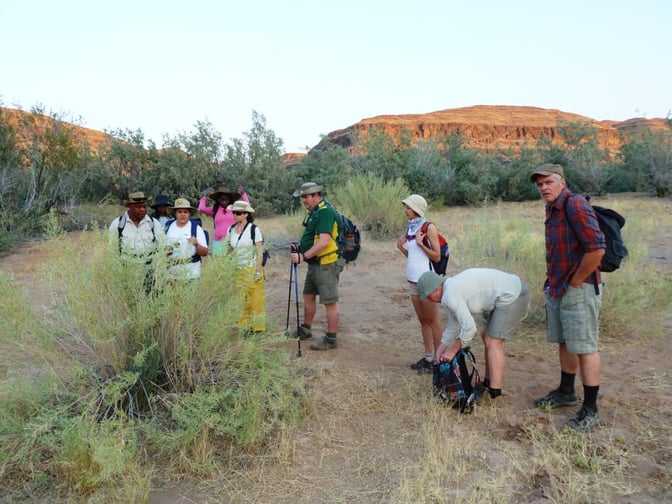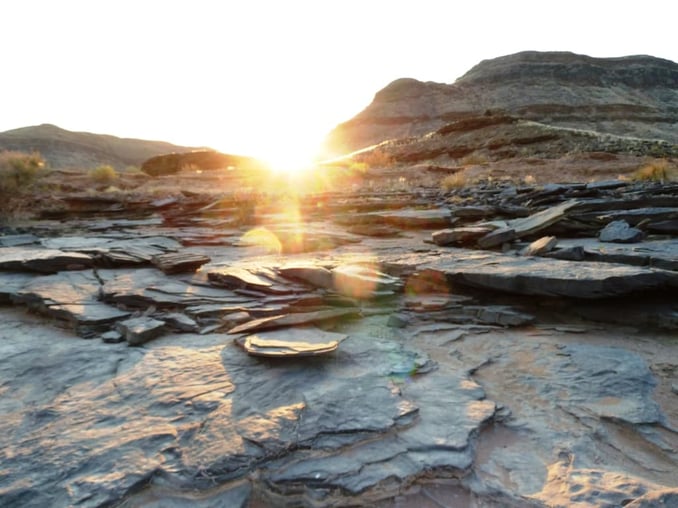 The sun peeked over the mountain tops with shades of yellow to guide us.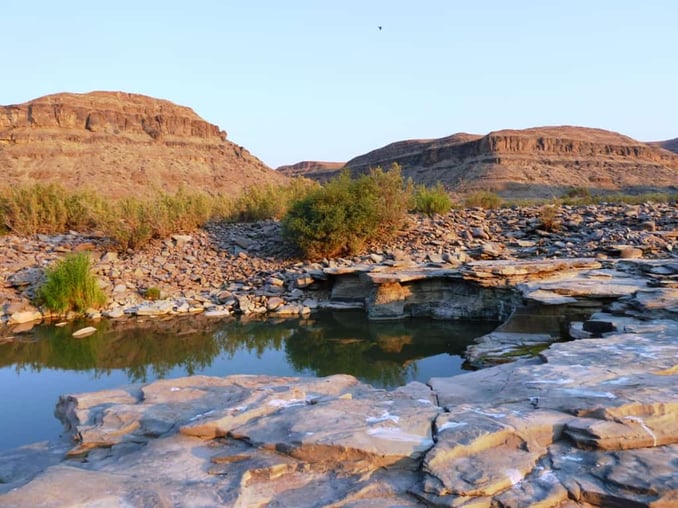 We came across water pools that left shapes and markings in the stones that the most famous artists can only dream of creating.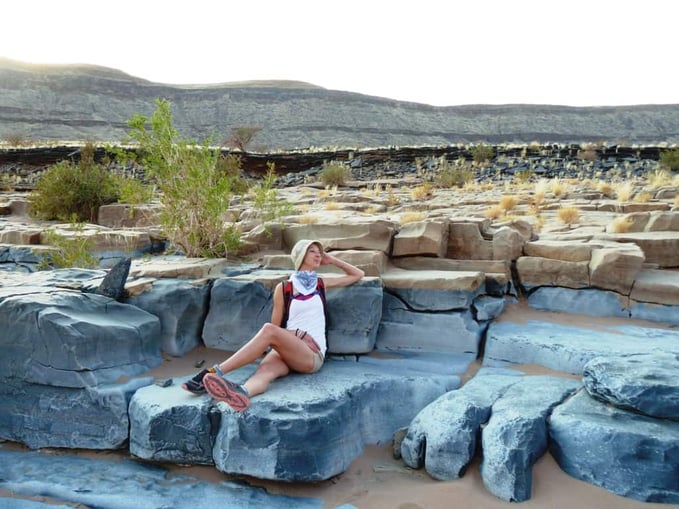 Nature knew I would cross this path one day and created a living room especially for me in the heart of the Canyon.
We crossed different kinds of landscapes; from river sand, to flat stone surfaces to rocky areas.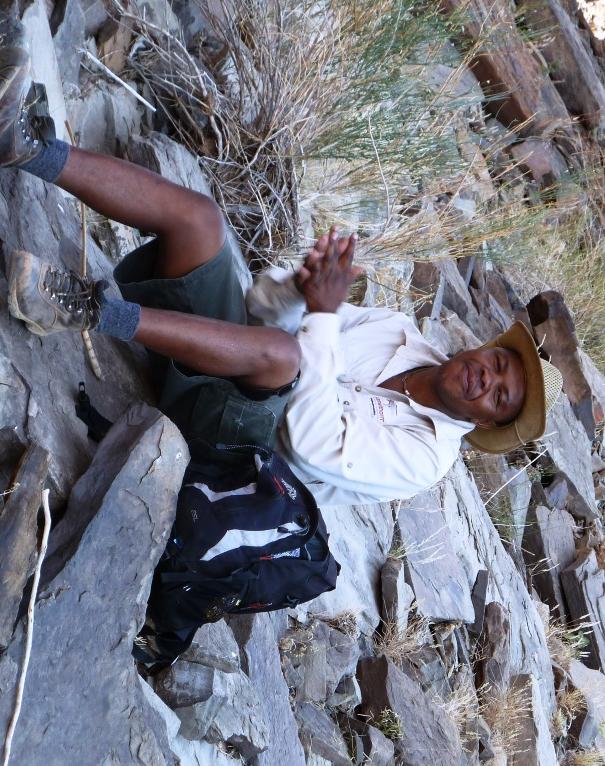 Frans gave us time to rest and snack on an energy bar or two, but the girls saw this as the perfect opportunity to compare beauty products and the condition of their nails. Anthea won this challenge by far. For all the ladies reading this, I will get the inside scoop of this little secret and I promise to send it to you.
After our break, things started to get very tough as we left all kinds of shade and trees behind. The sun was burning down on us and our water supplies were getting warmer as we continued.
The heat didn't stop the fun though. We came across this stone with the word "prosit". One of the ladies thought it was a sign indicating we are on the right road and that we can proceed. To this day, this joke sticks wherever we go, and the word "prosit" is used to say you may proceed. The word prosit is used in German as a toast to someone's health while drinking.
Until this day, being a farm girl and all, I have not fully understood why an antelope or any other form of wildlife looks so peaceful and relieved when standing under a tree. How could that be such a wonderful feeling?

Believe me, when we reached the lunch spot, I fully understood what it felt like to be in the comfort of shade and out of the excruciating sun.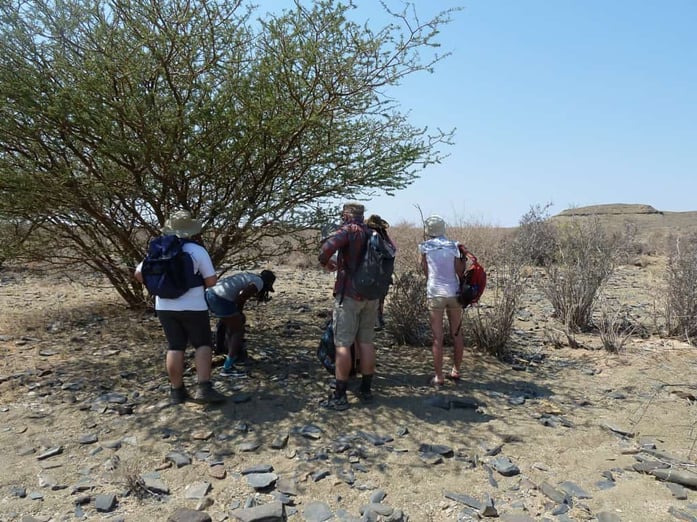 The last stretch was the worst. We were tired, moral was low and pains and aches arose.
It wasn't long before we reached the safety of our camp. Ice-cold soft drinks quenched any trace of thirst there might have been. The shade was welcomed like a long lost friend, almost forgotten.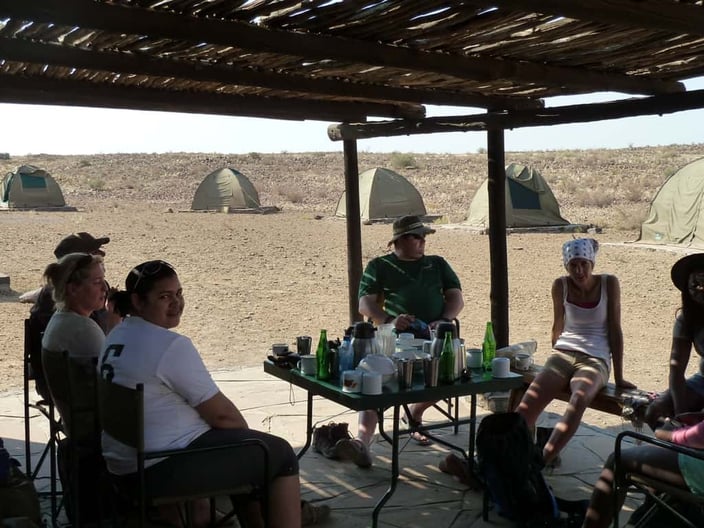 Just because we were tired didn't mean there was no energy left to be a little silly.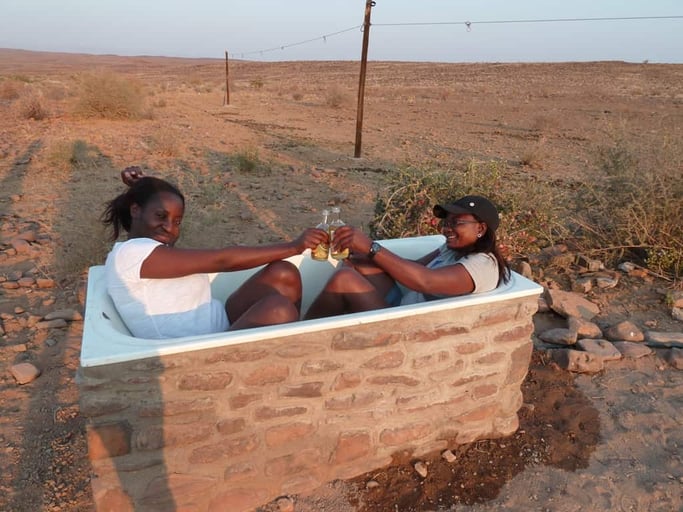 As Cindy Lauper would say: "Girls just wanna have fun".
Before sunset caught up with us, Frans took us to a water-less waterfall which we have renamed to Eisebs viewpoint.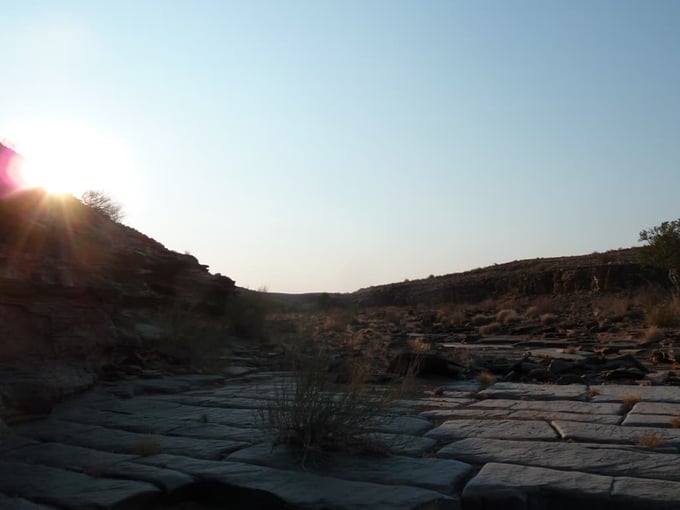 The day said goodbye with a beautiful orange and scarlet kiss.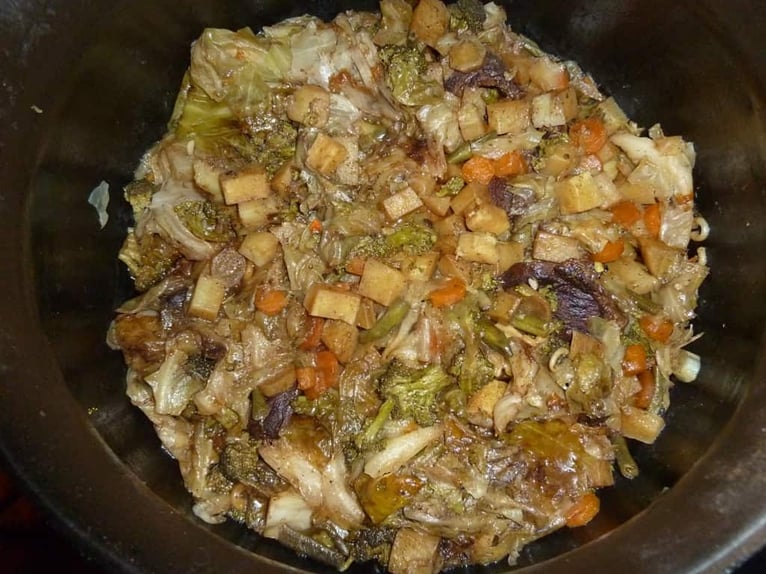 That evening we had a lovely dinner at Horseshoe camp prepared by a magnificent chef.
Once again it was decided to sleep outside, but the weather didn't treat us very well. We awoke to chilling temperatures and a naughty wind that crept through the holes of your sleeping bags' zipper. True story! I couldn't believe that after such an excruciatingly hot day, temperatures can fall so low in such a short period of time.
The next morning, it was declared that a competition was being held during the evening. A snoring competition but no-one really knows who the owner of the biggest snore was. Comparison made included: Snore-Asauris, a lion ( we are still trying to figure out who was the lion - Simon or William), a tiger,a lister enjin and Marlise compared her snoring to a kitten drowning in Pronutro.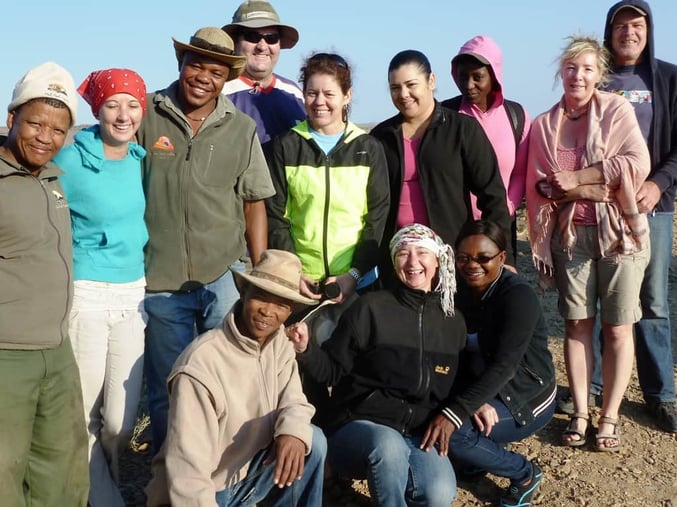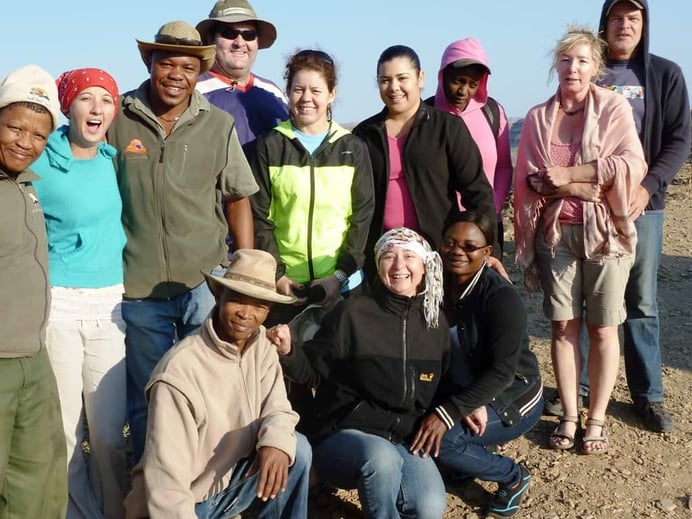 Saying goodbye was a difficult thing to do. We bonded like year old friends on this trip. Thank you to everyone who made this possible. Prosit to acquaintances becoming friends.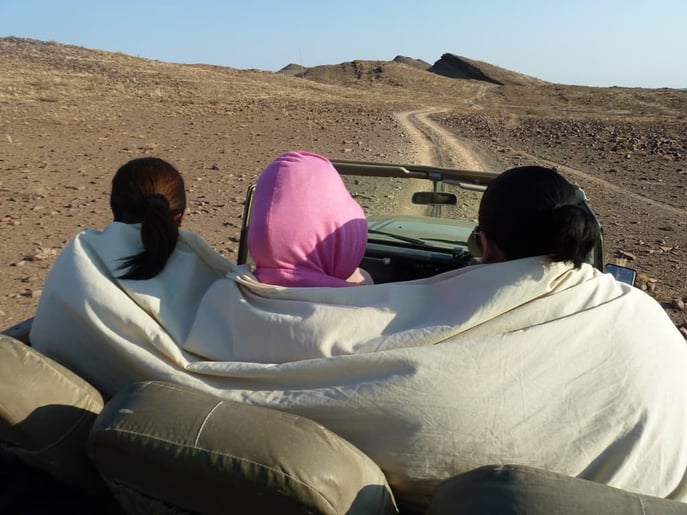 May we all meet again soon.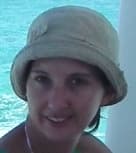 Jessica Thomas is a local freelance writer. She is an eccentric young lady who has a love affair with writing. Get on board her journey of discovery.