While I, myself am not really that good a fisherman, I have come to know a few things to the sport. Growing up in the bakkie that hosts two avid fishermen (my father and brother), has taken me along some interesting journeys throughout the years. But nonetheless, here are a few things that I think is necessary to know before heading to the Namibian waters.
Rock/surf angling at the coast
For many fishermen (or I am supposed to say "anglers"), the Namibian Coast is quite the destination. And annually, these piscators pull up on the beach, in search of the perfect sized fish; be it the sought-after kabeljou (kob), galjoen, blacktail (dassie), West Coast steenbras … and then of course, the beloved - and I mean this sarcastically - sea barbel. A wide variety of species roam this Western Coast.
While November to March (the warmest months) is considered the most successful time for angling, all species can be snatched throughout the year. Albite, during the colder winter months, a better galjoen angling can be expected. This occurs due to the cold fronts and sea storms that cause high- and rough water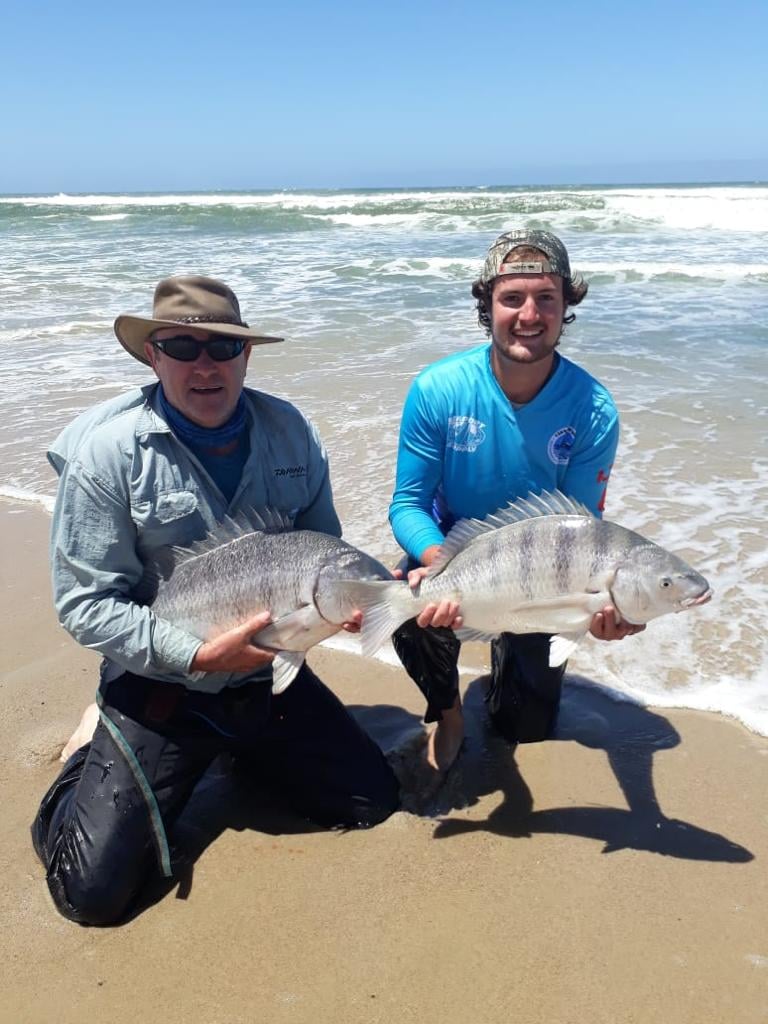 "My father, Johan and brother, Christiaan's catch and released West Coast Steenbras"
A few angling destinations ("gate" in Afrikaans) are dotted along the central Namib Coast – this is the areas between Paaltjies and the northern boundary of Sandwich Harbour, in-between Walvis Bay and Swakopmund.
The Dorob National Park, extending from just north of Swakopmund to the Ugab River has over the years, also become loved by many anglers. Sought after angling spots include Mile 8, Windpomp 14, Wlotzkas-baken, Bennie se Rooi Lorrie, Sarah se Gat, Mile 72 and Mile 108. And then, if you are keen on driving the kilometers further north, to the Skeleton Coast Park, there is Torra Bay and Terrace Bay.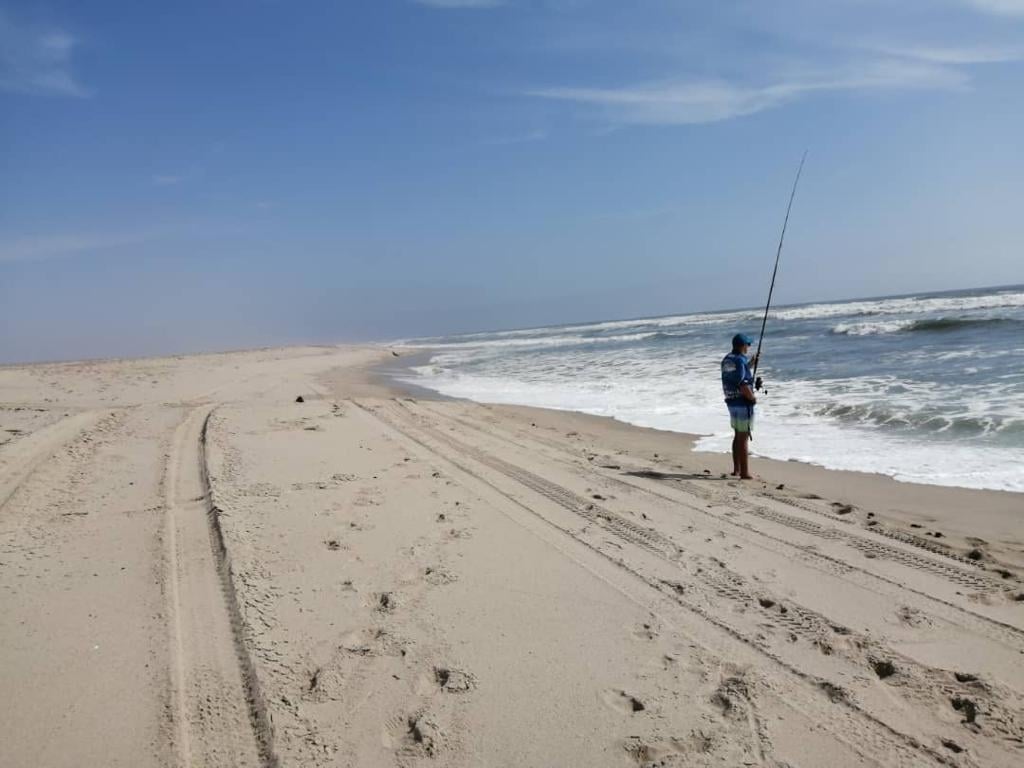 "A friend, Benno Van Niekerk, angling near Torra Bay."
Fun Fact 1: At Windpomp 14 one can now let a kayak, equipped to spend the day out in the deeper seas as a kayak fisherman. Fun Fact 2: While the sport of kayak fishing is still in its earlier days around Namibia, I would really recommend trying it out. I have come to learn that this might just be my favourite form of fishing after all.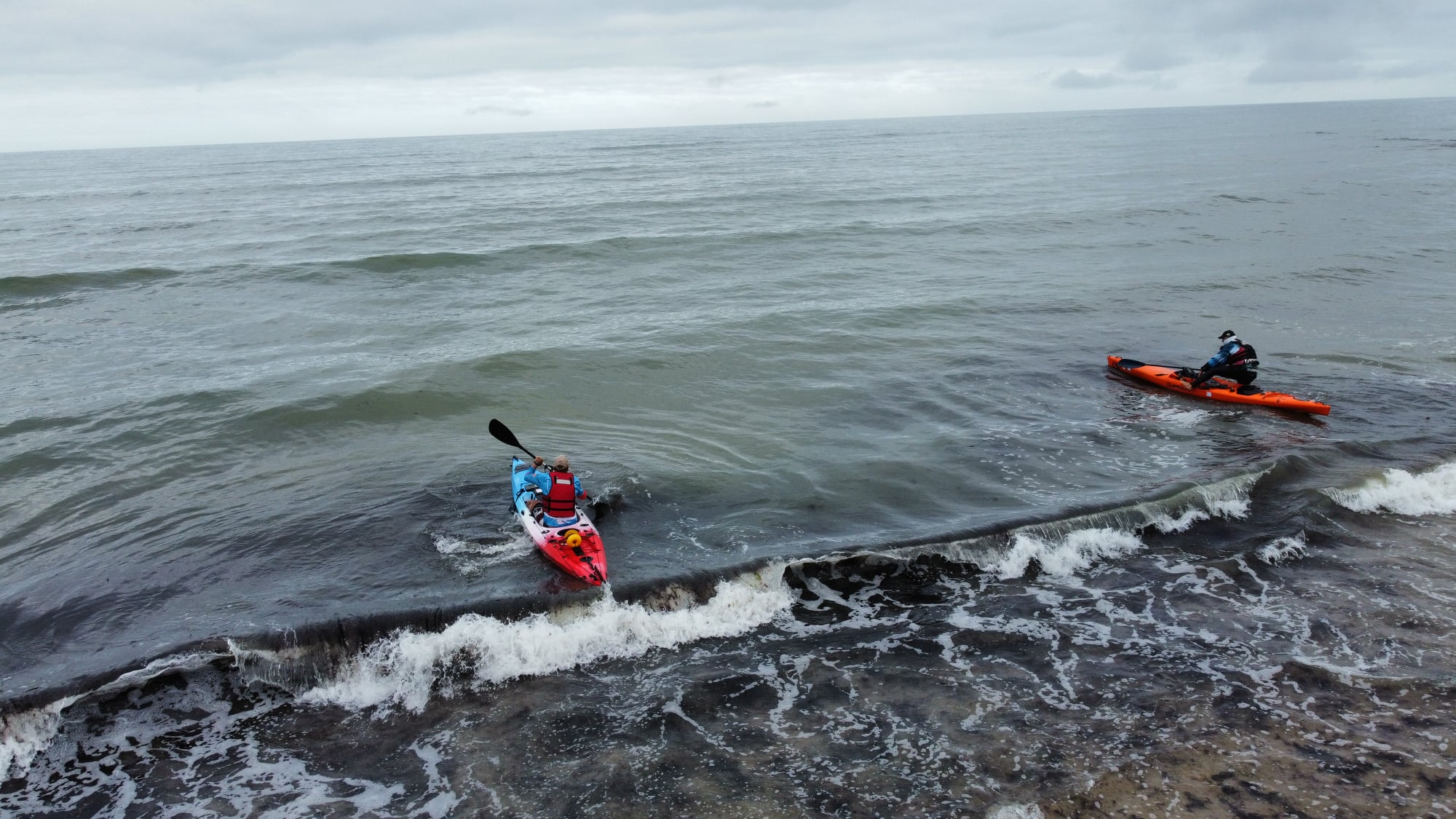 "Kayak fishing at Windpomo 14."
Freshwater angling
While Namibia is famed for her coastal fishing, Namibia's inland dams offer quite a few options for freshwater angling. The Hardap Dam is comfortably accessible from the B1, just north of Mariental. Her, anglers can cast for Mozambique tilapia, small-mouth yellowfish, Orange River mudfish, sharptooth catfish, moggel and common carp.
Then naturally, the well-liked spot of Von Bach Dam, accessible from the B1, south of Okahandja. The dam inhibits species such as large-mouth bass, blue kurper, small-mouth yellowfish, carpand barbel. Other angler-friendly dams inlude the Friedenau Dam, Naute Dam Oanob, Swakoppoort, Dreihuk, Omdel, Omatako, Tilda Viljoen, Otjivero and the Olushandja.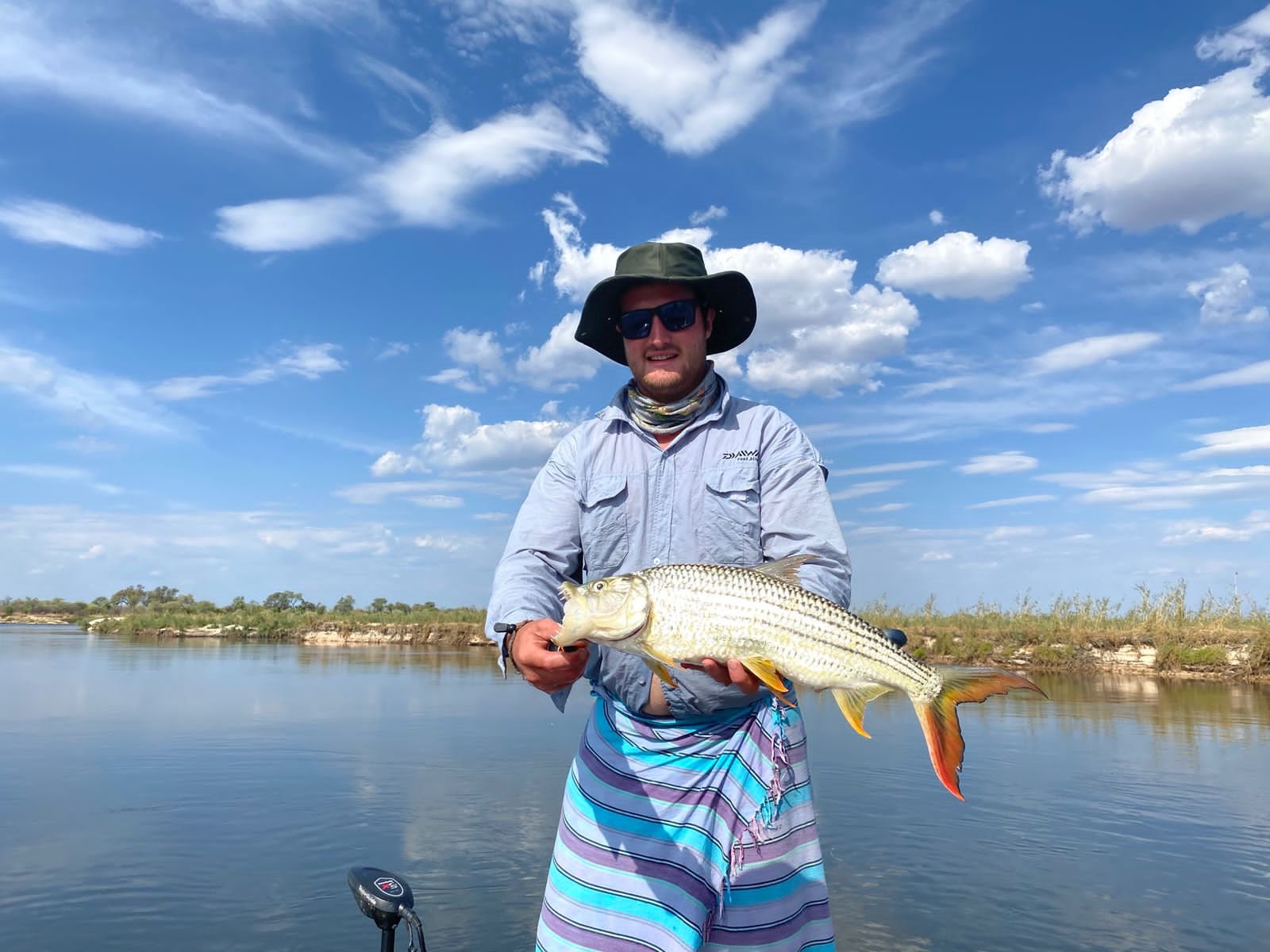 "My brother, Christiaan and his catch and released tiger-fish."
And now, for my favorite: The Zambezi River, in the far north-east of the country, houses about 40 angling species, of which the gluttonous tiger fish is by far the most famed (or notorious). And it's not uncommon for these guys to weigh even more than 6.5 kg. But it's important to know that a strict policy of catch-and-release is practised.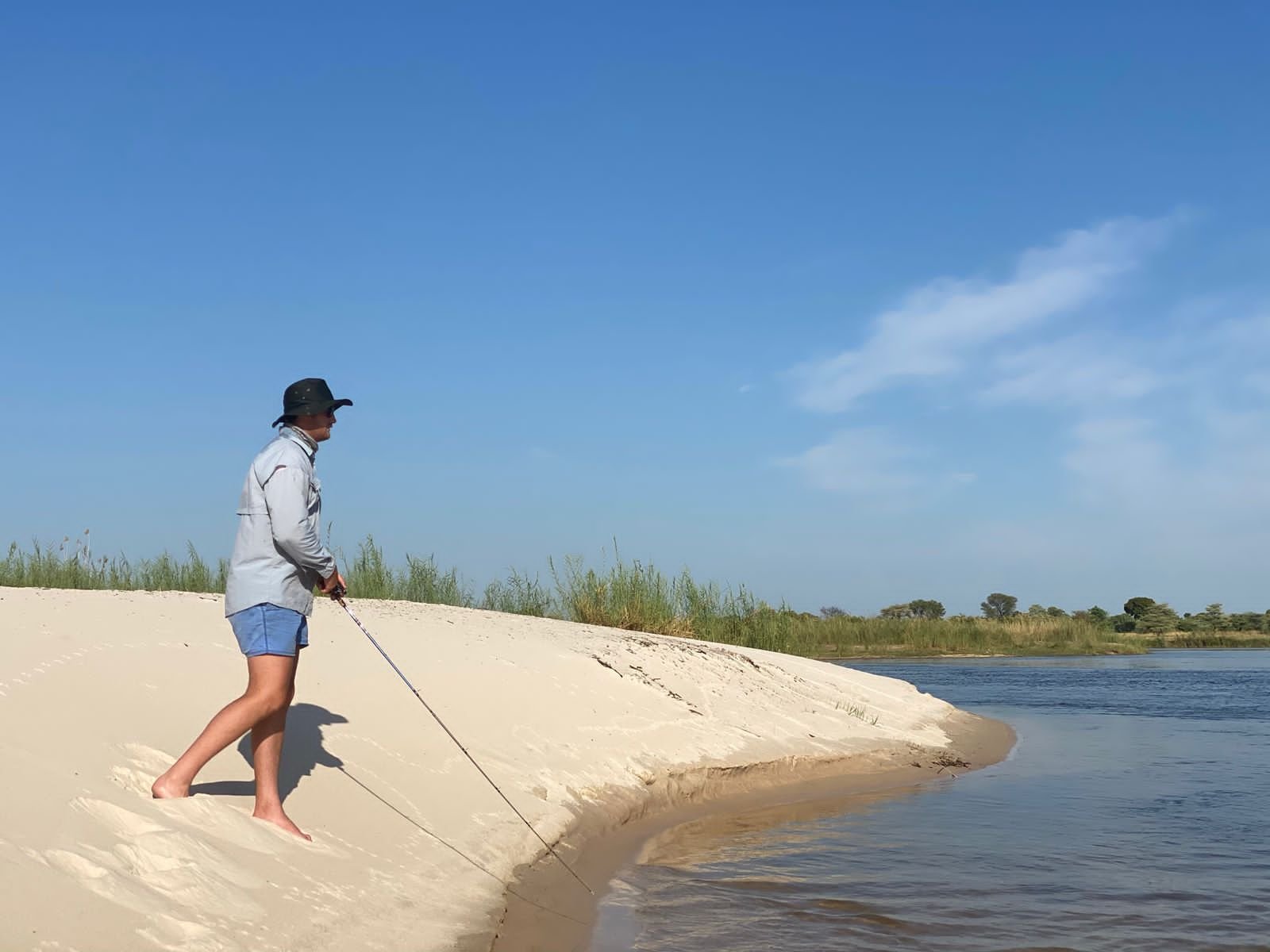 "My brother, Christiaan in his element, fresh-water angling."
Releasing the tiger fish secures the restoration of the species and their conservation. The best season for tiger-fish(ing) is when the river had subsided - June to December. Other demanded angling species include redbreast, greenhead, three-spot tilapia, humpback largemouth, nembwe and pink happy.
More river angling sports await in the freshwaters of the Orange, Kunene and Okavango.
And that's the gist on my Namibian angling knowledge. If you would like to know more about the regulations and permits, click here and keep it REEL.
Author – Hi! I am Marlene, a connoisseur of Southern Africa (I do hope). I've been lucky enough to call Namibia my home for the past 6 years. A fool for anything concerning poetry, plants, or photographs … and I might suffer from some type of addiction to Namibian sunsets.