A Namibian hikers guide to packing
This blog post is only a recommendation and is based on personal experience.

When you go hiking there are a number of things you will need to make your life a breeze. It is inevitable that you will pack unnecessary items on your first hiking trip, but I can assure you that it gets easier and easier with every hiking adventure you embark on.
The first set of necessities for hiking is your attire.
Hiking shoes are your companion and you should get well acquainted with each other. Buy your shoes at least 6 weeks before you go on a trip, and try to buy a shoe size a little bigger than you would normally wear.
Wear your shoes on a daily basis to make sure they don't cause any blisters while on your hike. By the second day, these blisters will cause a lot of pain and will make your hike an uncomfortable torture session.
The clothing you choose also plays an important role throughout the hike. Days are very hot and the nights can get chilly to freezing cold. Your day time clothing should be comfortable, loose and cover your shoulders. Don't pack too much clothes. I can assure you, you will not use it. Pack a light shirt, pants and socks for each day, and one set of warm clothing. The rule of emergency clothing being despicably clean does not apply when hiking. Your clothes will get dirty but hey, so will you.
To protect your neck from getting scorched, a buff or hiking scarf is a very handy tool. The great thing about a buff is that there are more than 10 ways to wear it and can serve as a hat, balaclava, hair band or a neck gaiter. A buff, derived from the Spanish word 'bufanda' which means scarf, is a nifty little piece of seamless fabric every hiker should own.
Hiking gear
The first and very important thing you need is a backpack. Do not just randomly walk into a store and buy the first backpack you see that looks beautiful, expensive and comfortable. You will be sorry. Get the help of a shop assistant to help you choose your backpack. Most hiking and adventure shops have bags that are already stuffed with items to give weight to the bag. If not, request it. Try on the bags and walk around the shop with it. Be sure there is nothing causing discomfort to your neck, back or any other part of your body. All the weight of your backpack should be carried by your waist and should not rest on your shoulders.
A walking pole is something that will help you a great deal on your journey. At first it might seem like an unimportant piece of equipment to take along, but it reduces the impact on your knees and legs. It helps you keep a steady rhythm, its handy to push away branches when walking through dense vegetation, and can serve as a tent pole. When you have to cross rivers or mud, you can use your pole to test the depth and improves your balance on slippery surfaces or river crossings. When buying your walking pole, make sure it's the correct length and that it feels comfortable in your hand.
Let's talk water and other fluids.
Water tablets or water drops are very important to take along if you will be dependent on streams and rivers for water. I would just like to issue a warning about water tablets, drops and some water filters. Most of these products contain iodine. If you are allergic to iodine or have a tendency to get allergic reactions from shellfish or products containing iodine, rather stay away and make sure you buy the correct products that do not contain iodine. Read the packaging very carefully.
To keep your water cool throughout the day, buy a canteen that has insulated wool or blanket cover. When you fill your water bottle in the river or streams, dip the whole bottle so it's soaking wet, and your water will stay cooler for much longer periods of time.
Keep a smaller water bottle at hand to fill with water and replacement electrolytes. Electrolytes not only control the amount of water in the body, but also the electrical signaling of your heart, brain and muscle system. There a lot of products on the market that you can mix with your water to ensure your body don't lose the necessary amount of sodium, potassium, chloride and magnesium.
These are some of the most important items I could think of but to help you pack your bag. Outdoor Warehouse have compiled a great hiking checklist for you to print out and they even have a great illustration of exactly how you should pack your backpack. Click on the pictures to go directly to the website.
The last tip I can give: When you are hiking in a big group, try to divide items amongst each other, like medical aid kits and hiking stoves etc. Get together and discuss which items can be divided to ensure the weight of your back pack is reduced to make your hike more comfortable.
Last but not least, never ever leave a teammate behind. When you are hiking in a group, look after each, cry, laugh and scream together and care for each other but never leave your team behind.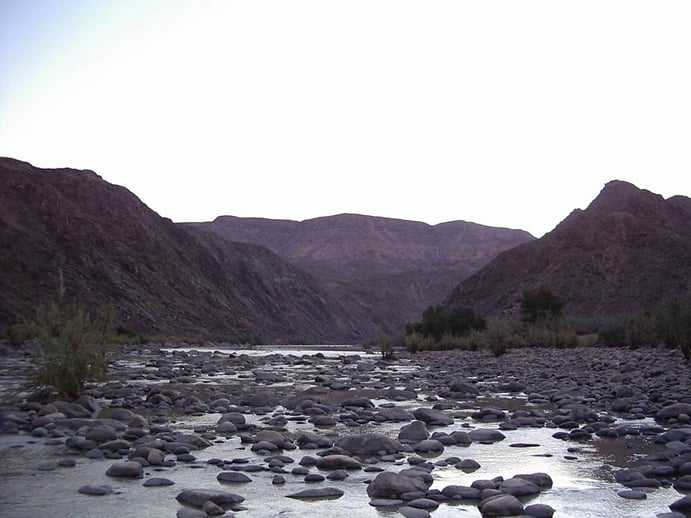 I would love to hear your hiking tips or about your adventures or if you want recommendations and tips, you are more than welcome to send me an email at : pr@gondwana-collection.com
To experience the Fish River Canyon with Gondwana Collection Namibia, click here.
Happy Hiking!
Jessica Thomas is a local freelance writer. She is an eccentric young lady who has a love affair with writing. Get on board her journey of discovery.