Here are 20 reasons why Namibia is a one stop destination where you can experience it all
Striking rock formations
Namibia is considered one of the world's best destinations for stargazing
Namibia is considered one of the world's best destinations for stargazing
Self drive tours are easy and very popular
Adventurous 4 x 4 routes (don't try this at home)
There are amazing opportunities for bird lovers to spot all kinds of birds.
Wildlife
From the smallest...
To the biggest ...
Even animals with a little bit of attitude
The ladies would be glad to know that in Namibia, the woman wear the pants in the house.
We have very friendly people
Namibian people are diverse with interesting backgrounds
America calls it survivor, we call it camping
Beautiful architecture
Interesting patterns are found in nature
Wide open spaces
Great fishing opportunities
Strange road markings
The most beautiful sunsets
I know you can find these elements in many countries around the world, but in Namibia all these elements are combined into one fantastic destination.
Are you ready for an adventure?
I take that as a yes. Click here to book your holiday now.
Compiled by : Jessica Thomas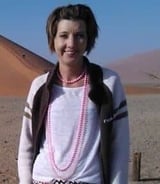 Jessica Thomas is a local freelance writer. She is an eccentric young lady who has a love affair with writing. Get on board her journey of discovery.