Gondwana Collection Namibia is all about stories and unforgettable experiences that illustrate the uniqueness of our country to travellers and Namibians alike. As an innovative tourism company, we are breaking new digital ground offering Namibia lovers the opportunity to purchase an NFT for a personalized experience through videos showcasing iconic Namibian attractions. Photographs will also be made available soon.
An NFT platform was specifically created for this purpose. Here, you can either pay with cryptocurrency or the traditional way.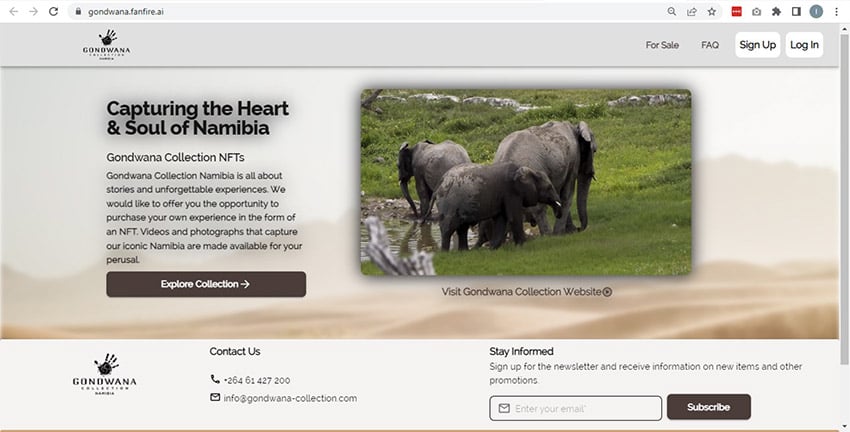 The idea to trade NFTs emerged from a conversation between Gondwana's Managing Director Gys Joubert and the Group Digital Manager, Bernd Grahl: "We are often approached by interested parties who want to use our video or photo material without violating copyrights. On our new NFT website, we offer them the opportunity to buy videos and photos with all their rights from us."
How do NFTs work?
NFT is the abbreviation for Non-Fungible Token, which means non-exchangeable digital asset. The NFT therefore has an individual value or a specific function. Real assets such as videos or photos can be tokenised and the associated rights and obligations are transferred to the token. This means that ownership is digitally recorded and can therefore be traded.
Since the NFTs contain important information that proves their uniqueness, the respective owner can be traced back and thus has the opportunity to assert his or her claim. This is ensured by a decentralised database, the so-called blockchain, which is considered a very secure variant of data storage. The owners of NFTs enjoy all rights to the NFT metadata and content; including but not limited to copyright, all rights to create derivative works and all goodwill.
NFTs are offered on many trading venues on the internet. One of the best known is OpenSea, which is also used by Gondwana Collection to sell its NFTs. To acquire NFTs, you usually need a cryptocurrency that is stored in a digital wallet.
For anyone who enjoys new digital developments, this is a fascinating playground that has attracted a lot of interest and engagement, especially in times of the Corona pandemic. On the Gondwana NFT platform, the NFTs, i.e. videos and photos, can also be purchased via conventional payment portals.