Gondwana Collection Namibia has launched a new apprenticeship intake for local Guides (NQF level 3) in December 2022, in collaboration with the Namibia Training Authority (NTA) and the Namibian Academy for Tourism and Hospitality (NATH).
The apprenticeship opportunities were advertised to Gondwana's conservancy joint venture partners. Thirteen individuals have been identified to participate in the programme, as they embark on their journey to join the guiding profession.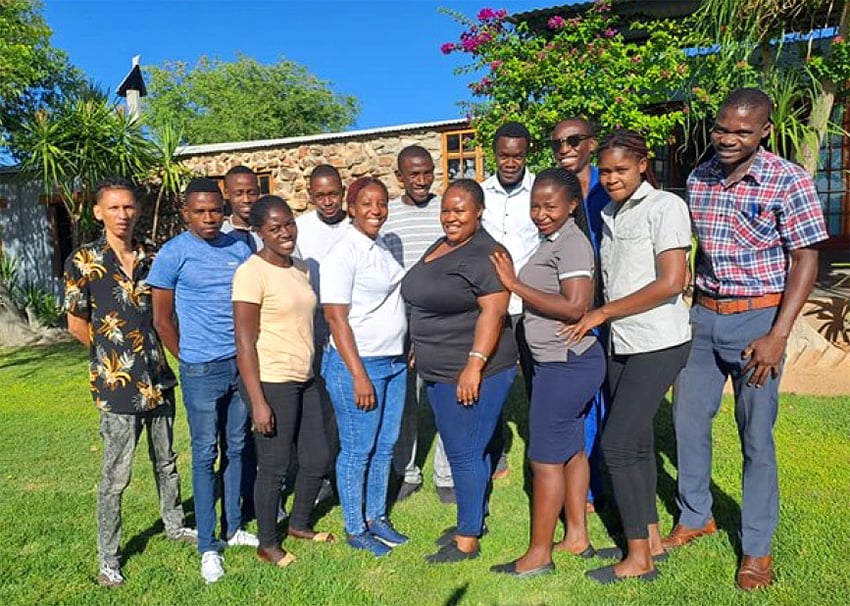 (Back, left to right) Vetunyengua Rafael, Andreas Kashamba, Bassil Libanda, Urizora Uararavi, Viva Kuyonisa. (Front, left to right) Baldwin Bezuidenhout, Innock Mawaya, Grace Muyangwa, Maria Matheus, Nadhia Isak, Venderaaize Rutavi, Wakambura Muhenje, Vaino Vaino
Upon completion of the programme, apprentices will acquire a nationally recognised qualification, which will prepare them to work as professional local guides. The initiative provides an opportunity to enter the workforce and contribute to the country's growing tourism industry.
The apprenticeship programme is financially facilitated by the NTA under its Work Integrated Learning (WIL) division. It provides theory classes and skills facilitation, which are conducted by NATH.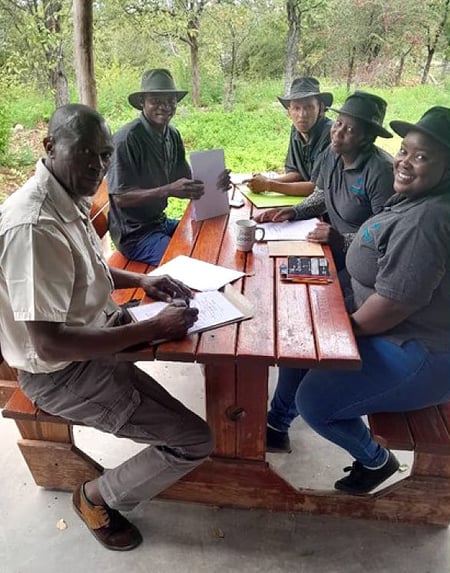 Vehicle Maintenance Training Workshop: Orlando Haraseb, Vaino Vaino,
Baldwin Bezuidenhout, Maria Matheus and Nadhia Isak
The programme started in December 2022 at Etosha Safari Camp with courses on Health and Safety, First Aid, Customer Care, and working with colleagues as well as guests. These are compulsory unit standards from the local guide qualification. In February 2023, further classes were conducted on Knowledge of tourism in Namibia, Ethics and legal responsibilities, as well as an introduction to local fauna.
Candidates spend 24 months at various Gondwana Lodges, where they will work alongside experienced guides to ensure their logbooks are up to date, while also learning their new craft. The apprentice guides will receive on-the-job training and working experience while attending classes with the accredited training provider, NATH.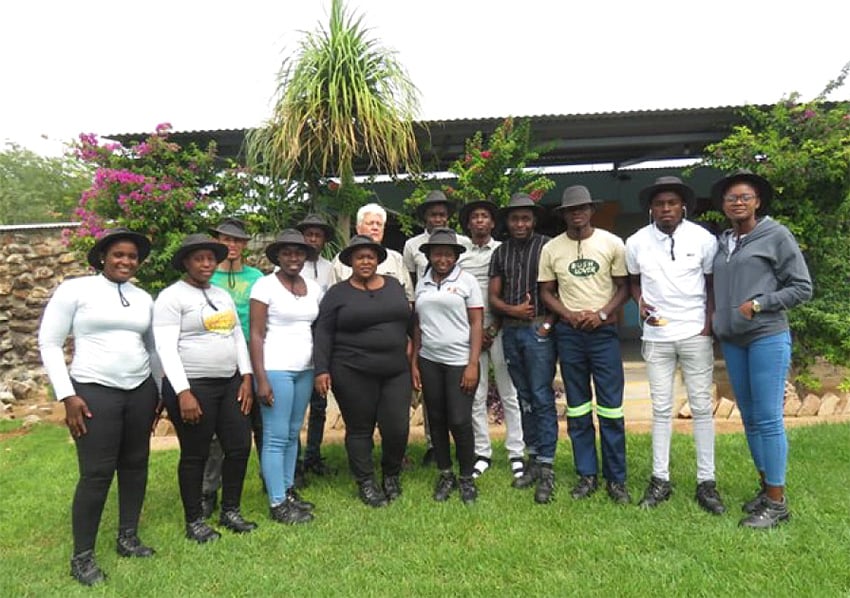 (Back, left to right) Baldwin Bezuidenhout, Vetunyengua Rafael, Kurt Schlenther, Urizora Uararavi, Viva Kuyonisa, Andreas Kashamba,Vaino Vaino, Innock Mawaya, Wakambura Muhenje. (Front, left to right) Fewstar Sikwana, Maria Matheus, Grace Muyangwa, Nadhia Isak, Venderaaize Rutavi.