Actually, they are rather shy and stay away from us humans. Nevertheless, we might come across a snake that has strayed onto our property or that we encounter on a hike. Is it venomous or not? Which of the more than 70 snake species in Namibia am I looking at? What should I do?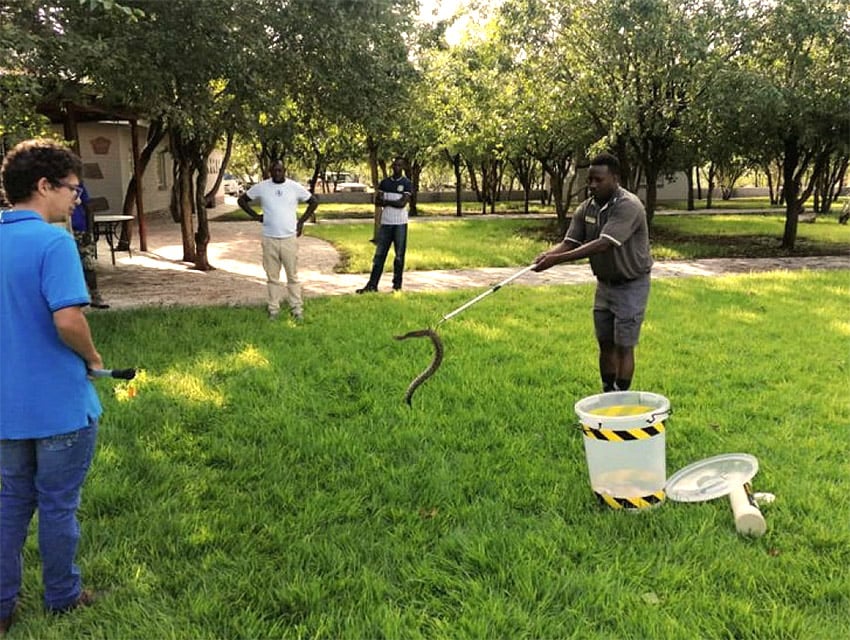 These questions also arise in the accommodation facilities of Gondwana Collection Namibia, which are scattered across the country and usually far away from larger towns. If a snake appears, self-help is essential. That is why Gondwana recently invited the snake handler Francois Theart to offer snake handling courses at Damara Mopane Lodge and Palmwag Lodge & Camp. Employees from Etosha King Nehale, Etosha Safari Lodge & Camp and Omarunga Epupa-Falls Camp, as well as representatives from the Save the Rhino Trust (SRT) participated.
The 18 course participants not only got hands-on with snake catching, but also received valuable tips and information. The course programme included
1. Basic first aid course in the event of snake bites.
2. First aid for different types of snakes, depending on their venom toxicity, and different ways of treating it based on resources available.
3. Identification of snakes.
4. Identification of venomous vs non-venomous snakes.
5. Handling of venomous vs non-venomous snakes with safe release of snakes.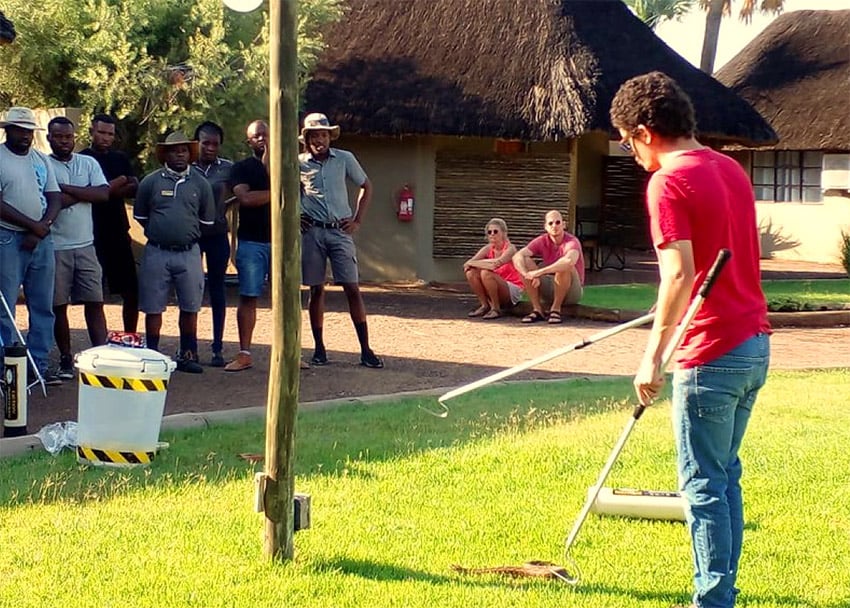 Francois Theart is studying Natural Resources Management at the Namibia University of Science and Technology (NUST). Gondwana Collection Namibia regularly supports his work as a snake catcher with rental cars from Namibia2Go.
After his trip to the Kunene Region, he posted on Facebook: "Gondwana and SRT staff are now fully equipped to deal with snakes! What a memorable trip this was to the arid Kunene Region. Thank you Gondwana Collection Namibia for your continued support!"