For several years, Gondwana Collection Namibia has been supporting the Cancer Association of Namibia (CAN) in its efforts to raise awareness and encourage more people nationwide to participate in cancer screening.
To further raise awareness of cancer screening, the CAN also hosts a Cancer Awareness Week in the first week of August each year, offering free screenings at the CAN Medical Centre in Windhoek (90 John Meinert Street, Windhoek West). The 2 August is reserved for men, 3 and 4 August for women. All you need to bring is your ID and a dressing gown. To book your time slot, please call Madaleine at 061 237740.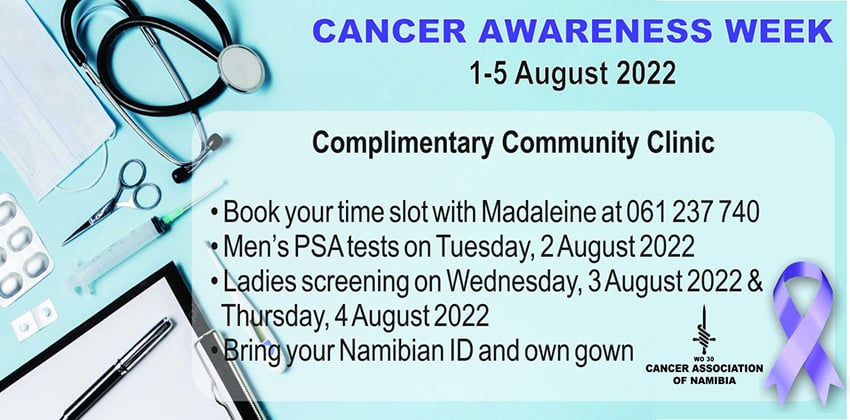 "As critical project partners in CAN's national cancer screening drive, we invited Gondwana Collection and Bank Windhoek to join hands for the Cancer Awareness Week," Rolf Hansen, the CEO of the Cancer Association says. "We want to inspire hope, activate change and impact lives."
Fruitful cooperation between CAN and Gondwana Collection
Since 2016, Gondwana Collection Namibia has been offering board and lodging for the CAN's team when they visit communities in remote areas as part of the National Outreach Programme, where they provide health education and valuable advice on healthy lifestyles. The team also offers cancer screening including pap smear, breast examination and prostate cancer examinations at the lodges as well as nearby villages and settlements where they are supported by registered local nurses.
It is a mutually beneficial collaboration, as Gondwana places great emphasis on promoting a health and wellbeing among its employees.
A group photo of CAN representatives and staff members at Kalahari Anib Lodge in 2018.
The National Outreach Programme is gaining momentum
In the first half of 2022, CAN team visited Kalahari Farmhouse and Kalahari Anib Lodge. Residents of the nearby Soetdoering Laagte settlement were also invited to take advantage of the CAN offer.
In February, the team travelled to Damara Mopane Lodge, Etosha Safari Camp and Lodge, and Palmwag Lodge and Camp, where community members from the Sesfontein and Torra conservancies attended the screening sessions. Anabeb residents were unable to attend due to flooding.
Canyon Lodge and Canyon Roadhouse were on the programme in March, as well as the Sossusvlei area with Namib Desert Lodge, Maltahöhe, and once again Kalahari Anib Lodge and Mariental in July.

From the Gondwana lodges and the surrounding communities, 155 women and 110 men took part in preventive medical check-ups. Gondwana Collection Namibia covers the cost contribution for its employees.
Nationwide, the Cancer Association's National Outreach Programme has already reached more than 2800 women and 600 men this year. In 2021, 1389 women and 387 men participated in the screenings in the whole year.