Gondwana Collection Namibia and Prostudio are pleased to announce the signing of a shareholding agreement between the two companies. The agreement, signed on 25.04.2023, formalises the two companies' commitment to work together and support each other's growth.
Gondwana Collection has been a client of Prostudio, for many years, with Prostudio creating the beautiful media visuals that Gondwana has become known for. Under the terms of the agreement, Gondwana Collection will acquire a 50% stake of the operational shares of Prostudio.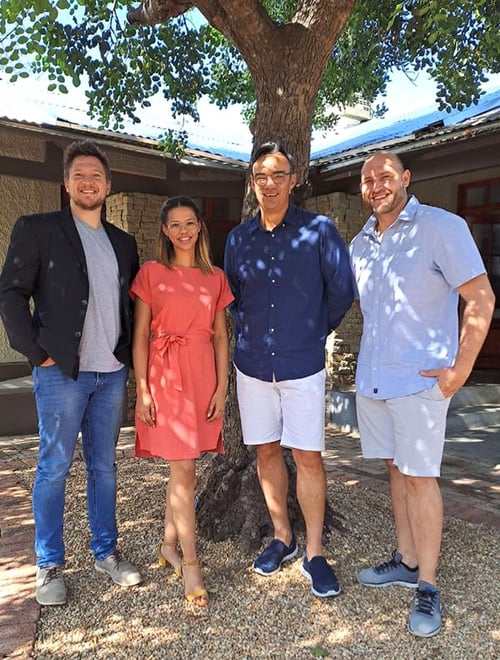 Happy about the signing of the shareholding agreement (l.t.r.):
Jaco Bekker (Prostudio), Fabiola Schrywer and Gys Joubert (Gondwana Collection), Manfred Werner (Prostudio)
The agreement represents a strategic move for both companies. Gondwana Collection is looking to diversify its portfolio, meanwhile, Prostudio will benefit from Gondwana Collections continued support and resources, which will help accelerate their growth and enable them to pursue new opportunities.
"We are thrilled to have signed this shareholding agreement with Prostudio," said Gys Joubert, CEO of Gondwana Collection Namibia. "We believe that Prostudio has tremendous potential, and we are excited to be a part of their growth story. This agreement is a win-win for both companies, and we look forward to continuing our work together and to achieve our shared goals."
Manfred Werner from Prostudio added, "We have always appreciated the working relationship we've built with Gondwana Collection Namibia and we are beyond excited to have Gondwana as a shareholder and partner. Their investment and involvement in our company will enable us to pursue new opportunities and to grow the scope of our services and products. We look forward to a long and successful partnership."
The shareholding agreement will come into effect from 01.05.2023 and will have no effects on the day-to-day operations of Prostudio, which will continue to run their successful marketing agency and content creation studio.