The Botanical Society of Namibia selected the Adopt a Quiver Tree Project of the Gondwana Care Trust for a "Tree Award" for 2023, in recognition of the efforts in "taking extraordinary measures to save, protect and promote our indigenous trees".
On Thursday, 19 October 2023, the Botanical Society presented its Annual Tree Award. It is given to any individual, company, school, or establishment that goes out of the ordinary way to save, protect, and promote the indigenous Trees of Namibia.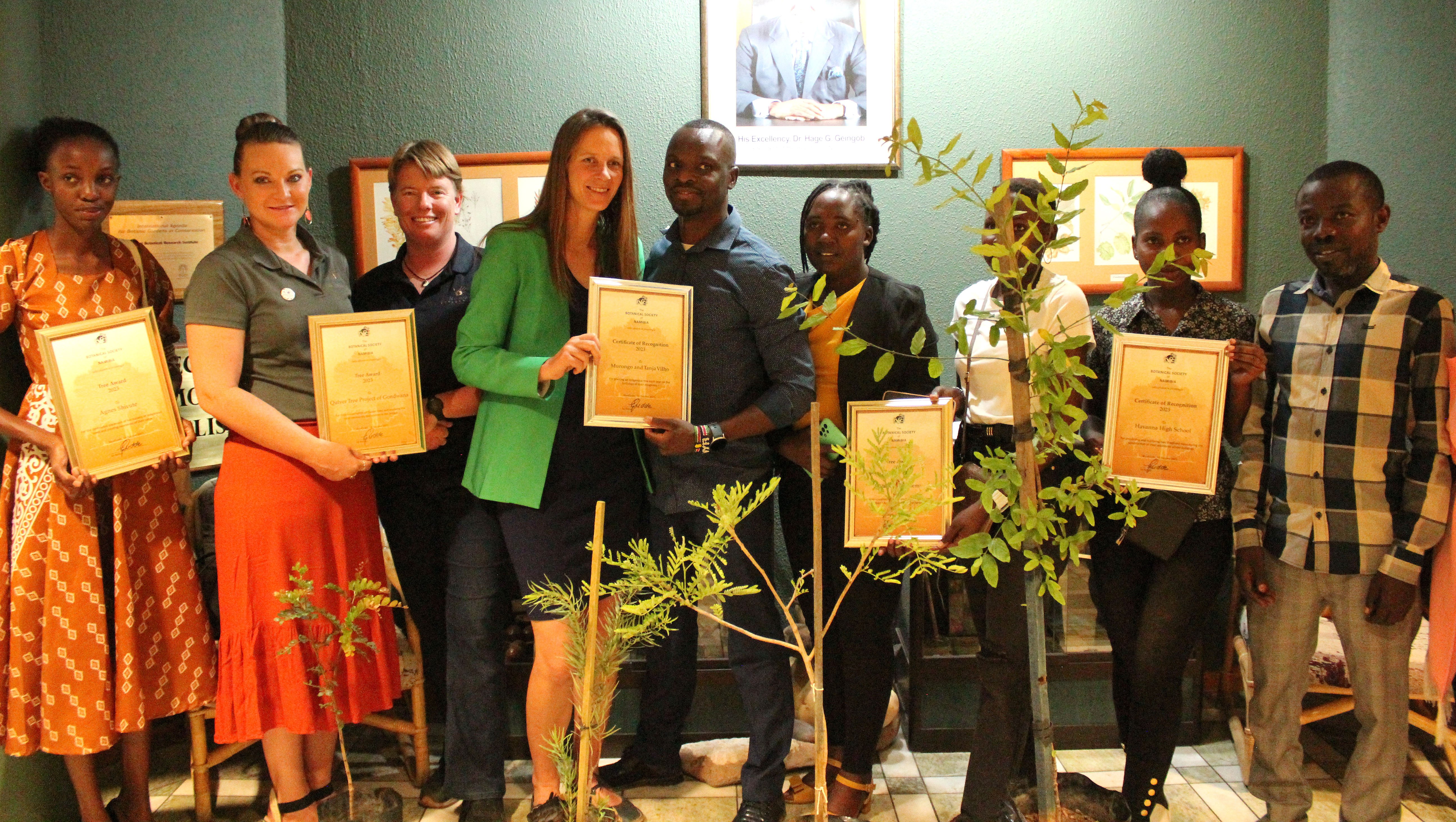 The Adopt a Quiver Tree initiative is a conservation program aimed at preserving and protecting quiver trees, a distinctive and iconic species of aloe plant found in Namibia's arid regions. Quiver trees, scientifically known as Aloe dichotoma, are not only a symbol of Namibia's unique natural heritage but are also of great ecological importance.
Quiver trees, with their tall, branching stems and succulent leaves, are native to the arid regions of Namibia. These trees have cultural significance for the indigenous San people and are named "quiver trees" because the San traditionally used their hollowed branches to make quivers for their arrows. However, quiver trees face several threats, including habitat loss, climate change and illegal harvesting.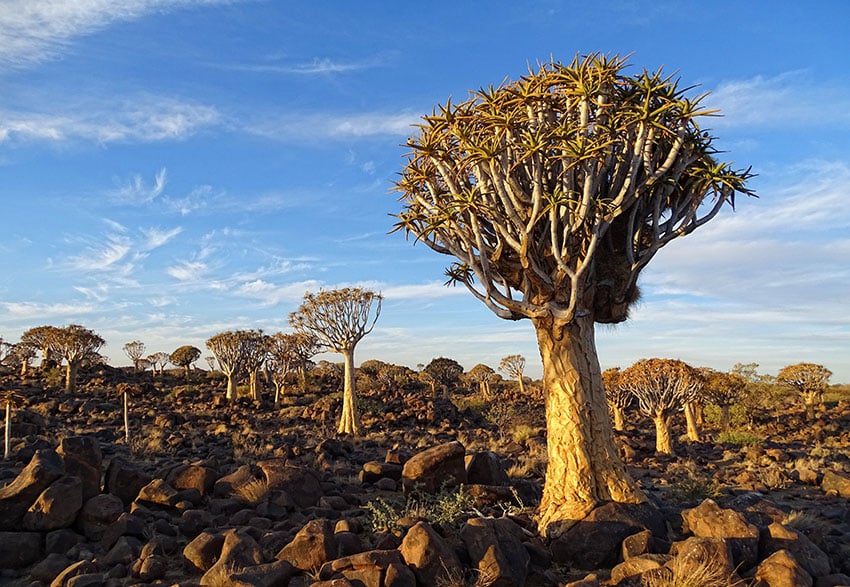 The "Adopt a Quiver Tree" initiative seeks to raise awareness about the importance of preserving quiver trees and provide individuals and organisations a platform to contribute to their conservation.
Participants in this initiative can "adopt" a quiver tree by contributing financially, N$ 600.00. This contribution helps support the preservation and protection of these iconic trees. In return for their adoption, individuals or groups receive coordinates of where their tree in planted in the Gondwana Canyon Park and a certificate recognising their support as well as commitment to the cause.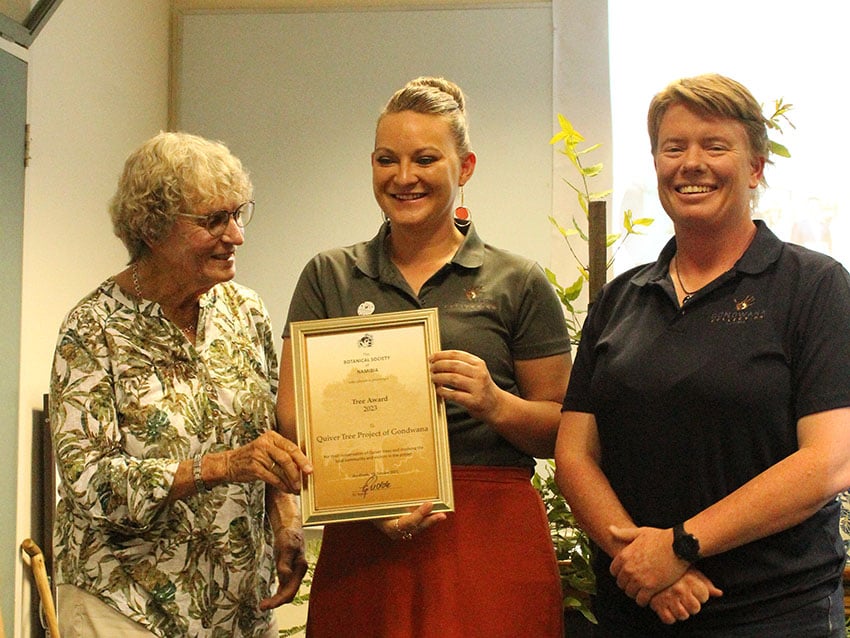 Louise Hoffmann from the Botanical Society of Namibia (l.) presented the award to Astrid van Lill (middle) and Stephanie de Lange (r.), who accepted the certificate on behalf of the Gondwana Care Trust.
The Gondwana Care Trust uses the funds generated through this initiative for various conservation efforts. These include maintaining and protecting quiver tree populations on their properties, conducting research on quiver trees and their ecosystems, and raising awareness about the importance of preserving these unique trees.
The initiative also focuses on education and outreach. It aims to inform the public, both locally and internationally, about the significance of quiver trees and the threats they face. By doing so, it encourages broader support for their conservation.
Join our efforts to reintroduce this endangered plant into the Gondwana Canyon Park's ecosystem by adopting a quiver tree from our dedicated nursery situated near the Fish River Canyon in Namibia.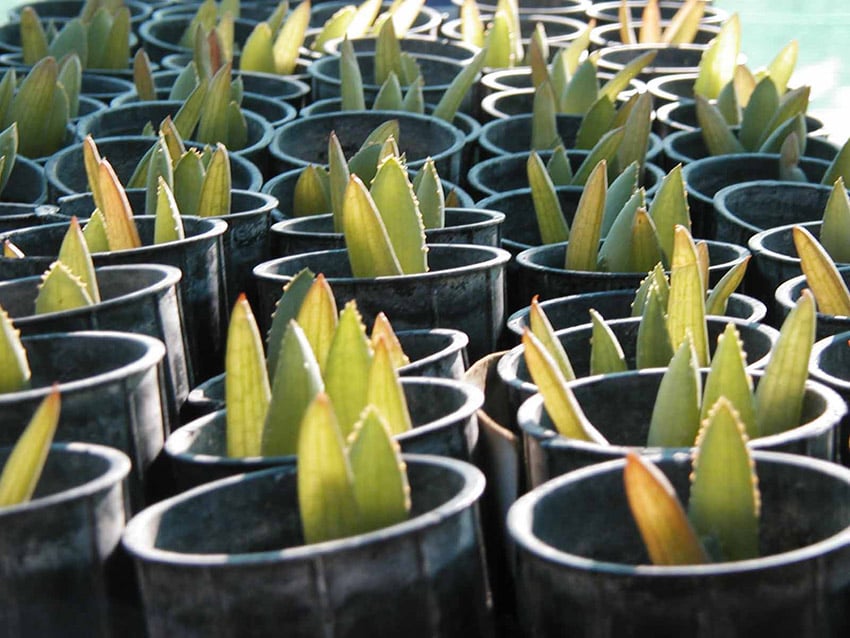 Author: Kyara Leuschner
Photos: Kyara Leuschner and Gondwana Collection