Recently, Gondwana Collection Namibia and the Wecke & Voigts group took another great leap in their already sound relationship. The firstGondwana Care Trusts donation box was welcomed to Maerua Superspar.
These donation collection boxes are available at all Wecke & Voigts Spar stores. The intention of these boxes is to assist in donations, which will be used in support of the MealForTwo Project.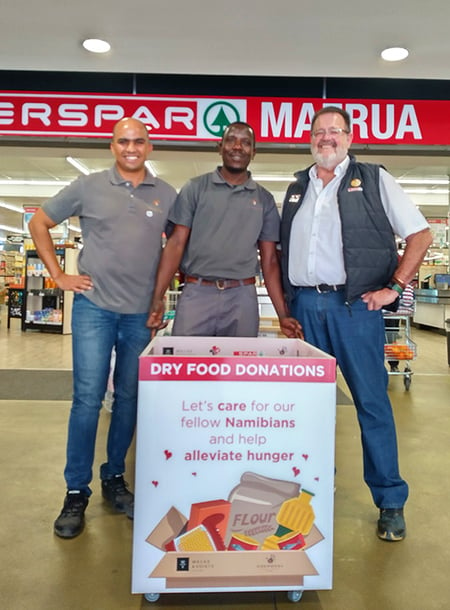 Quintin Hartung and Felix Marungu (Gondwana Collection) hand over the
Gondwana Care Trust donation box to Otto Alfeld (Maerua Superspar).
Every day, thousands of Namibians do not know where their next meal will come from. This is where the MealForTwo project was called to action. The project started with the aim to match every meal served at a Gondwana property, and share it with someone in need. Since this idea has come to realisation it has grown form strength to strength, and in 2021 the Gondwana Care Trust was able to cater to over 250 000 meals to Namibians from food-insecure households.
The Wholesaler rendered phenomenal support to the Back-to-School Christmas Bag Project. The aim of this project is to reward children after a successful school year. Support is given in the form of donating bags, filled with stationary, books, a small toy or toiletries (depending on age) to school-going children all over Namibia, reaching children in the most remote corners of the country. This serves as some motivation to start school in the New Year, equipped with all necessities.
Through this engagement, the Trust and Wecke & Voigts have decided to build on their already steadfast relationship.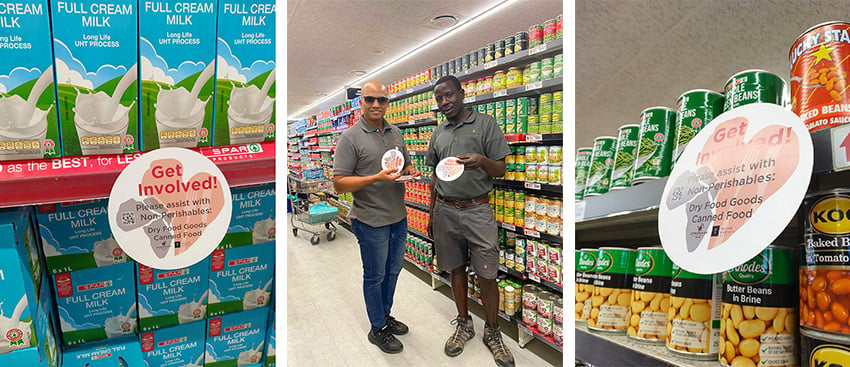 With the placement of these donation boxes at the entrances of the Spar shops of the Wecke & Voigts group, we hope to aid the vulnerable communities already supported by the MealForTwo Project. Furthermore to extend its helping hand to other communities in Namibia.
The Spar stores that will have donation boxes available to our communities to support include Maerua Superspar at the Maerua Lifestyle Centre, The Grove Superspar at the Grove Mall, Westlane Spar at the Westlane Lifestyle Centre, Hochland Spar at the Amri Shopping Centre and Klein Windhoek Spar at the Pod Camelthorn Complex.