Would you like to tick off a destination on your bucket list in comfort and without worries? You now have the opportunity to travel from Zambezi Mubala Camp, situated approximately 40 km south-east of Katima Mulilo, to Victoria Falls with the Go2 Traveller Transfers.

Victoria Falls, a must-see
See the majestic waterfall at the border between Zimbabwe and Zambia, plunging 110 metres into the depths. And yes, you will get wet when you admire the largest sheet of falling water on earth.
Victoria Falls or 'Mosi-oa-Tunya' (The Smoke That Thunders) was declared a UNESCO World Heritage Site in 1989. The indigenous Lozi name refers to the spray that, at times, rises from the waterfalls to an impressive height of up to 300 metres.
Don't forget your raincoat and get ready for an experience of a lifetime!
Easy travelling with Go2
Pack your passport and Go2 Victoria Falls for only N$1400 pp one way, or N$2800 pp for a return trip.
The outward and return journey between Zambezi Mubala Camp and Victoria Falls is offered daily in a 14-seater bus, departing from Zambezi Mubala Camp at 7:00. The return leg departs at 14:00 from Victoria Falls (main parking area).
Bookings should be done by 12:00 a day in advance, on www.go2.na.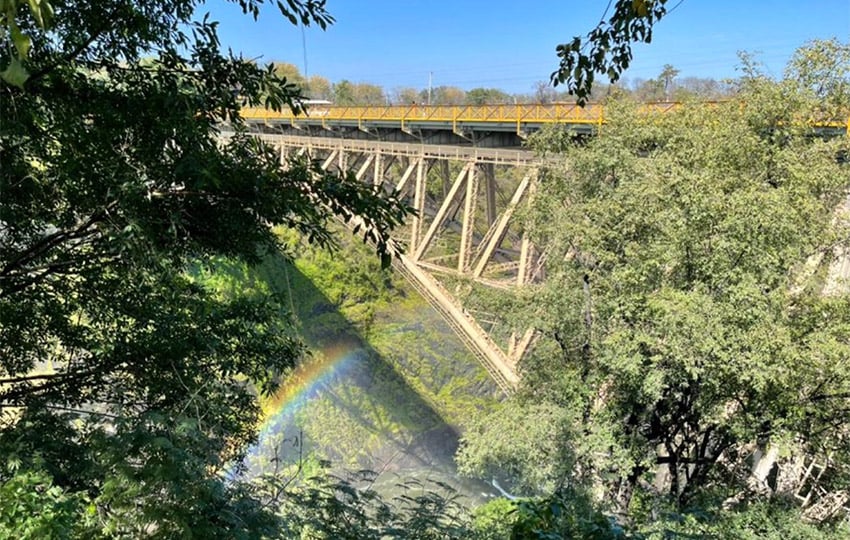 The travel time for a one-way trip (220km) is approximately 3.5 hours, including the two border crossings at Ngoma (Namibia to Botswana) and Kazangula (Botswana to Zimbabwe).
The forms for the single entry visas for Zimbabwe are available in the vehicle before the border is reached; visas are issued on arrival at the Kazangula border post.
Don't forget your passport and cash in US Dollars for payments in Zimbabwe. The fees for single entry visa and entry to Victoria Falls National Park are not included in the Go2 rate. Please see details here.
If you have children under the age of 18 years, please remember to bring along their unabridged birth certificate.
Bookings need to be done by 12h00 the previous day either online
or contact Email info@go2.na | Tel. +264-81-143-4473