When I was initially invited to the previously famed "garden town" of Okahandja, not much excitement came to the front. In retrospect, I really could have been a bit more enthusiastic, as I was soon to realise the honour, I was given to experience a special project supported by The Gondwana Care Trust. Perhaps my attitude was governed by the reality that I had never been a fan of the town Okahandja, but this was mainly due to my little knowledge of what lies amid the Otjozondjupa kopjes.
And so, we reached our destination. It's here where I met a grey-haired man, with Veldskoene, a checkered shirt, and khaki pants - the beloved "Oom Willie". He showed us around the fort he holds (also acting as an AFM church). A collection of various groceries and clothing is stored here, ready to be sent off to his respective community projects. A man of wisdom I thought, but especially a man of passion and an endless need to help those around – it's the manner in which he speaks about the project.
Soon, he and members of The Gondwana Care Trust convoyed us into parts of Okahandja I could never have imagined existing. We pass along shebeens, a barbed razor-wired school, shacks, and more shebeens. Dogs shuffling around the plastics and tins of previous, hoping to find even just enough protein for the coming day. A baby helping an even smaller baby cross the road. One of The Gondwana Care Trust members, Quintin mentions that "if only each of these shebeens had a soup kitchen wing too, we might just cure hunger" and that really got me thinking.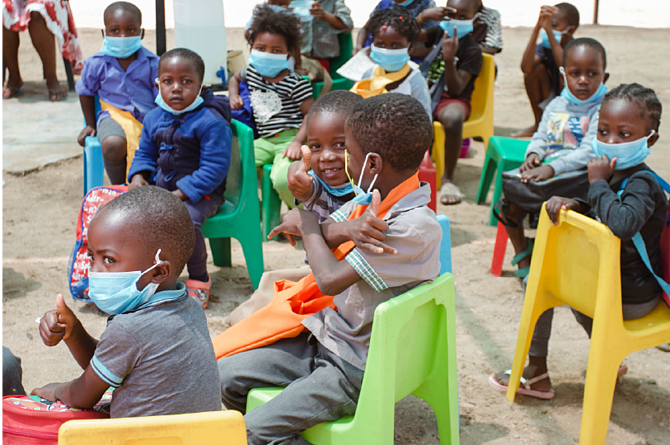 Eventually, amid the hardship, we reached the little haven of Khaibasen, a creche that does much more than we usually expect of those in the education and day-care sector. A lady named Paulina greets us at the gate of her centre - and I have to add - with a smile like no other.
Here, a sanitary/waterpoint welcomes you to the friendly faces of Khaibasen. Content little newcomer toddlers, sit on their colourful chairs, with empty bowls. We had been just in time for their lunch-time. As we enter the kitchen, we are greeted by 3 older ladies, who spend their days preparing nutritious meals for the young scholars. A big pot simmering in the background accumulates the air with a fragrant aroma. In the meantime, the kids have started lining up to dish up.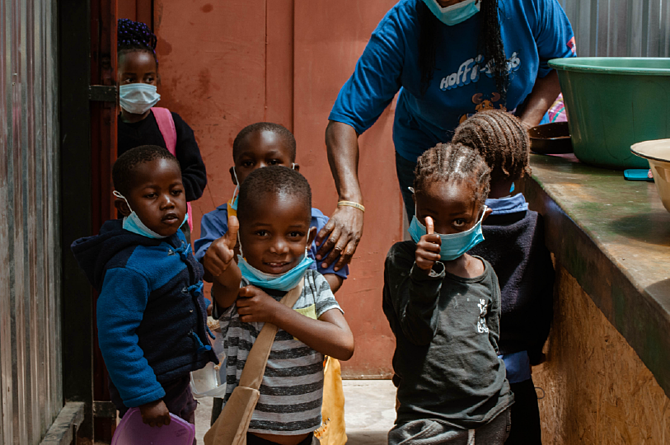 As we continue our tour, towards the classrooms, the teachers passionately show us around. Tiny paint-printed hands decorate the walls of the room. And just outside, we find a garden, labeled with "spinach", "tomato" and a variety of other vegetables grown by Paulina and whom she calls "my children". The garden is irrigated by two rainwater tanks, and Paulina excitedly tells us about the culture this vegetable gardening activity has become in her little community of toddlers. She tells us that some of these kids, she had found in places as far as the dumping site.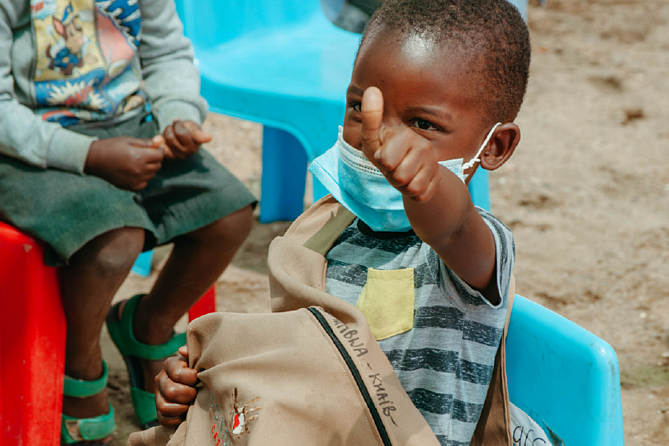 As we eventually greet Paulina and "her children" goodbye, I am reminded of the story that Oom Willie had told us on the way there
A young girl was walking along a beach upon which thousands of starfish had been washed up during a terrible storm. When she came to each starfish, she would pick it up, and throw it back into the ocean. A man approached her and said, "Little girl, look at this beach! You can't save all these starfish. You can't begin to make a difference!"She bent down, picked up another starfish, and hurled it as far as she could into the ocean. "Well, I made a difference for that one!"
We can not save all little lives in need, but at least we can make a difference in one. Paulina had certainly made a difference in many more lives than the majority of us. And at that moment, in mine as well.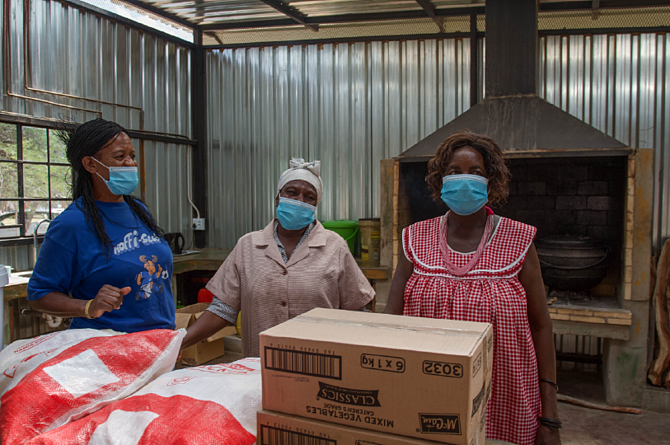 In a world where there are so many needs and it is often difficult to know where to start helping. Why not start by donating towards The Gondwana Care Trust and support many more projects than that of Khaibasen. Or, feel free to reach out to the Trust by emailing
Author – Hi! I am Marlene, a connoisseur of Southern Africa (I do hope). I've been lucky enough to call Namibia my home for the past 5 years. A fool for anything concerning poetry, plants, or photographs … and I might suffer from some type of addiction to Namibian sunsets.