The Zambezi River, Africa's fourth-longest river, is a lifeline for the communities that thrive along its banks in Namibia, Zimbabwe, Zambia, and Mozambique. Among its bountiful resources, fish reign supreme, serving as a vital source of sustenance and income for many. However, the story of this aquatic treasure is not without its challenges. In recent years, the once-vibrant fish populations have faced a grave threat – overexploitation.
A Precarious Imbalance
The Zambezi's smaller tributaries and channels, once teeming with aquatic life, now echo the stark absence of fish. This depletion can be attributed to indiscriminate netting practices that capture fish of all sizes and species. Moreover, the cover of darkness has been exploited for illegal fishing, including on the Namibian side of the river. The situation has reached a critical juncture, demanding swift action to reverse this unsettling trajectory.
Emergence of Sikunga Fish Guards
In response to the urgent need for intervention, the Sikunga Fish Guards initiative emerged, which is among one of the Gondwana Care Trust's supported projects, in collaboration with the FirstRand Namibia Foundation Trust. Initially founded as a voluntary endeavour, it took a monumental step forward in 2018 with the permanent hiring of ten individuals dedicated to its cause. Presently, the team consists of twelve permanent guards. Remarkably, some of the original volunteers continue to lend their commitment and expertise to the Sikunga Fish Guards, solidifying a bond that transcends time.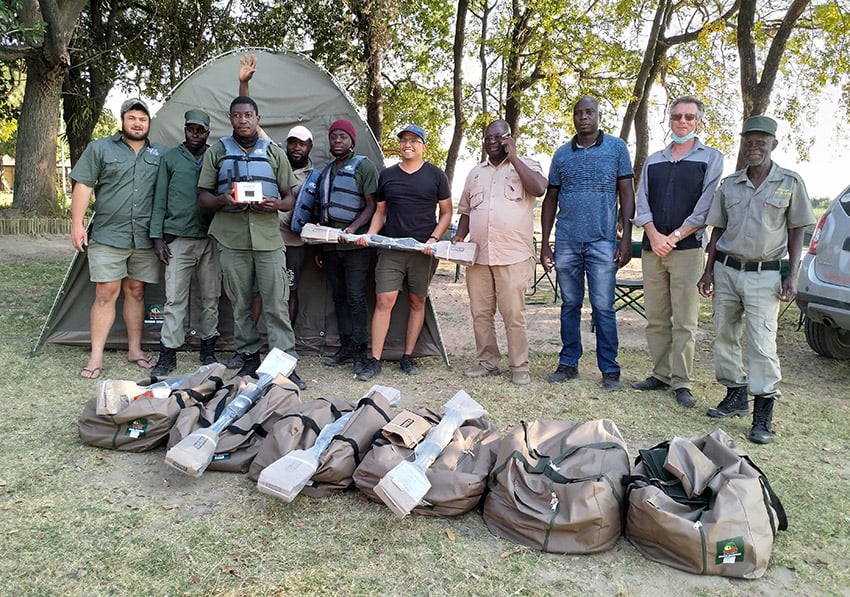 Guardians of the Waters
The Sikunga Fish Guards represent a beacon of hope for the Zambezi's imperilled fish populations. Their primary focus is curbing the menace of illegal netting. Armed with determination and dedication, they embark on patrols to identify and apprehend the culprits behind the destructive practice. Wooden boats known as "mokoros" and the illicit nets are confiscated during these missions.
The impact of their efforts is staggering. Over the span of the last two years, a total of 124 mokoros and an astonishing 387 kilometres of nets have been seized by the vigilant Sikunga Fish Guards. The confiscated mokoros find a new purpose through auctions, generating funds that bolster the Sikunga Fish Guards initiative. Meanwhile, the confiscated nets meet a fiery end, mitigating their potential harm.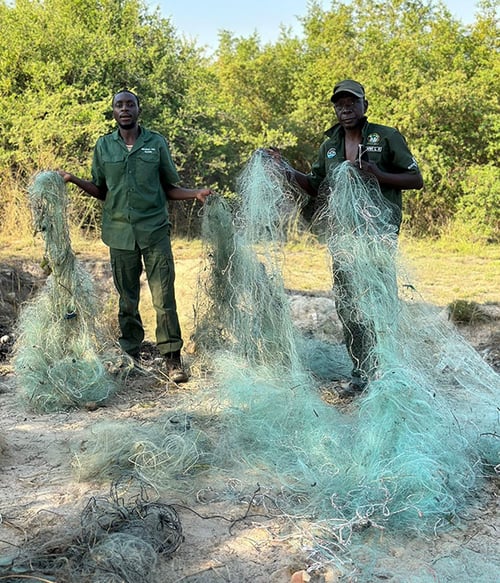 A Testament to Conservation
The true essence of the Sikunga Fish Guards lies in their unwavering commitment to safeguarding the aquatic ecosystem. Amidst their operations, a profound transformation is evident. Different colours and species of fish now thrive in the side channel that passes the Sikunga Fish Guards Camp and Zambezi Mubala Camp.
As the sun sets over the Zambezi's waters, the silhouette of the Sikunga Fish Guards stands as a testament to the resilience of nature and the unyielding spirit of those who dedicate their lives to its preservation. In their pursuit, the balance between resource utilisation and conservation is gradually being restored, ensuring that future generations can continue to rely on the Zambezi's riches for sustenance and livelihoods.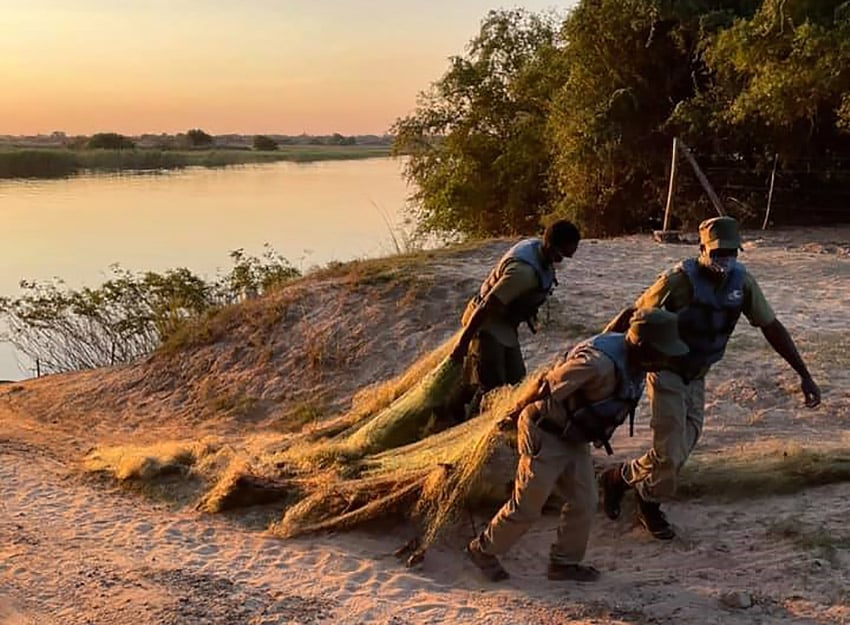 Author: Ndinelao Shikemeni
Photos: Gondwana Care Trust and Gondwana Collection Namibia