Woman across the world enjoy the art of presenting themselves in such a way that they look good and smell good. There are a few things every girl should have like a pair of red stilettos, a little black number and lipstick. To round of this canvas perfectly, every woman has a signature smell. We use perfume to be appealing and sexy. It's a $10 billion trade and has been around for centuries.
I hope I have you wondering why I am going on about perfume and what does it have to do with a makalani? There is method behind the madness I promise. You will enjoy this read.
I have stumbled upon a rare scent in Namibia. It all starts with the very inspirational women of the Himba tribe. These fascinating people survive in harsh conditions without any of the luxuries we have. I sometimes want to scream when my internet connection on my smart phone is down, or if the traffic is too hectic. They are happy being who they are.
The Himba women are known for the Namibian Myrrh they produce. A resin collected from the Commiphora wildii tree or traditionally called the Omumbiri tree. It is endemic to the North-western part of Namibia and during the dry season exudes a resin, in afrikaans "boomgom". They collect the resin, mix it with butter, fat and ochre.
This mixture is their traditional perfume. (Ochre is a natural earth pigment containing hydrated iron oxide, which ranges in colour from yellow to deep orange or brown.) It takes one woman 4 hours to collect only 1 kg of this resin.
The resin is collected in the Kunene, weighed and the women get paid per kilogram. The Opuwo Processing Facility (OPF) process and distil the resin, extracting an essential oil. This way the Himba tribes get a much needed income to survive.
It brings us now to the actual story I want to tell you about. The story of Rare Scent. It is a proudly Namibian product.
A recent competition was held in Namibia where contestants had to enter cosmetic products consisting of at least 2 prototypes made from the Namibian Myrrh Commiphora wildii essential oils. Two Namibian ladies - Tamarind Nott (Rare scent) and Sophia Snyman (Desert Secrets) won this N$35 000 dollar prize.
The competition was held by the Namibia Indigenous Natural Products Innovation Fund under the Namibian Essential Oil Innovation Project. This innovative competition was between February and April to find innovating ways of putting the Myrrh to use. The competition is an absolute first of its kind in Namibia. Entries received included body scrubs, soaps, facial oils and body butters. Prototypes were judged based on the smell, packaging and design, and the suitability for the market.
Now that you have the background - I have something very interesting to share. It's called Solid Perfume.
It was mind boggling the first time I heard of solid perfume. I was thinking to myself: "Really, how is this possible"? Well, it is and it is the most interesting product I have heard of in a long time.
The perfume is made from beeswax, Myrrh essential oils, some citrus and Ylang-Ylang.
It comes in a very ingenious container made from the Makalani Palm or the scientific name, Hyphaene petersiana. The exterior part of the nut is cracked off and softened. It is then sculpted into a beautiful perfume container.
I want to make your heart skip a beat with the next part. The scent of the perfume slowly releases when heat is generated. Apply the perfume by rubbing your finger against the perfume and then apply the warm wax on your pulse points. You will have a lasting True Namibian scent. Please support local people and products when buying gifts.
Click here to find out more about Desert Secrets - Namibia
Written by :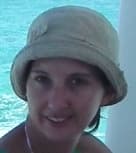 Jessica Schoombee is a local freelance writer. She is an eccentric young lady who has a love affair with writing. Get on board her journey of discovery.