Many years ago, while I was rummaging through some old magazines from the 60s, I came across an article about famous woodcarver Ruth Wolter, who lived on a farm in the Omaheke, bordering the Kalahari Desert. Her 26 panels of woodcarvings still grace the top floor of the former cabinet building where she immortalised Namibia's domestic animals and wildlife in wood.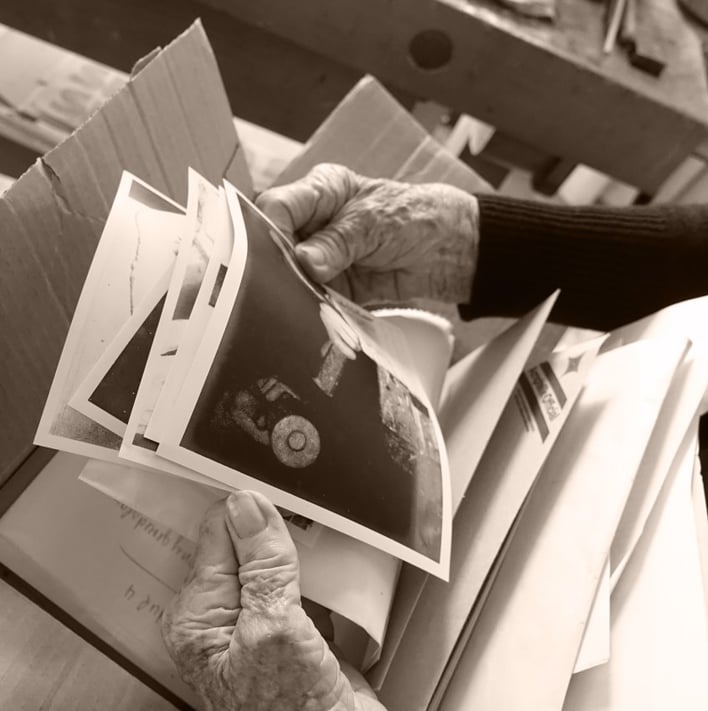 The black-and-white image of a woman with a mop of long, blonde hair swirled into a bun on her head and a chisel in her hand, as she transformed the wood in front of her into a sculpture with a life of its own, stayed with me. And I wondered what happened to this Kalahari woodcarver whenever I came across her work.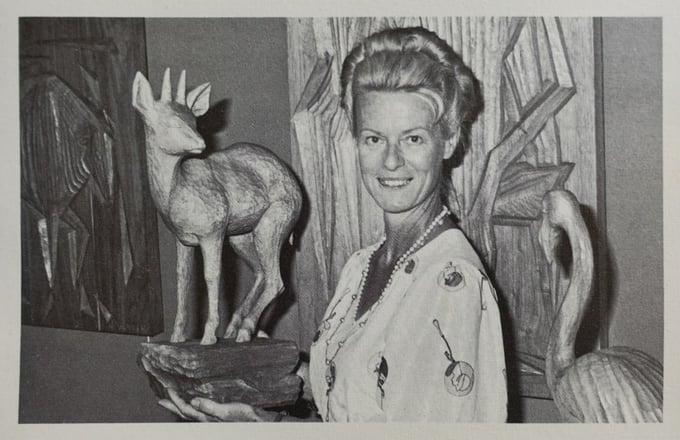 In 1997, I found out that she had moved to South Africa in the late 70s and I wrote her a letter inviting her to Namibia as a guest of the Gondwana Collection. She unfortunately couldn't make it at the time. Finally, twenty years later, I had the opportunity to visit Ruth (now Wolter-Stijn) in South Africa. She turns ninety today.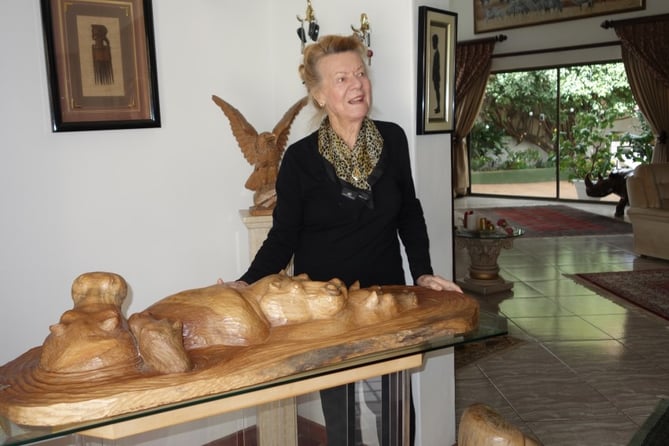 I met up with her at her home in Pretoria on a warm autumn day, when she dug out old photographs from boxes and recounted the intriguing story of her life, which took her on a journey from her birthplace in Doebeln, in former East Germany, to a farm near Gobabis, and then to Kleinmond and Pretoria. Still filled with enthusiasm for life, she related her story.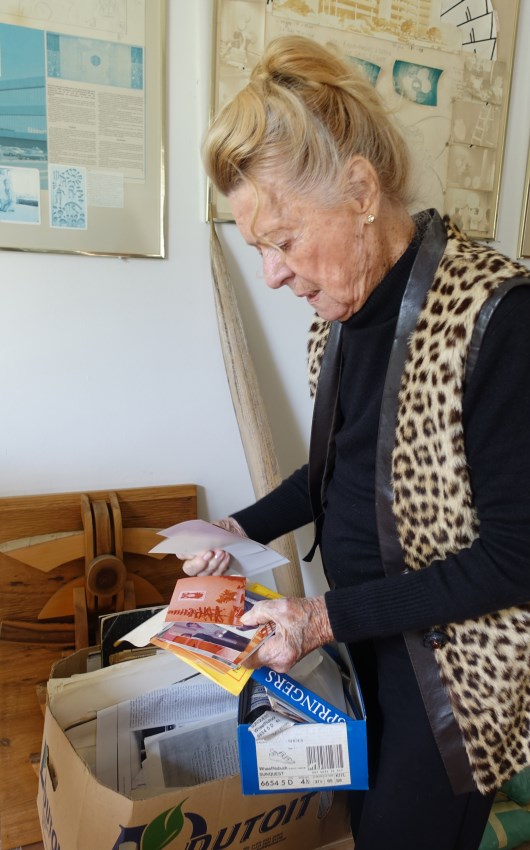 Born in April 1928, she was always attracted to art and to Africa. One of her uncles had been to German South West Africa in the early 1900s, and his hat hung in her home in Dueblin, an ever-present reminder of the vast continent where wild animals roamed free. This was also fuelled by her mother's stories about his time in Africa, and her suggestion that her daughter find a pen pal there to correspond with.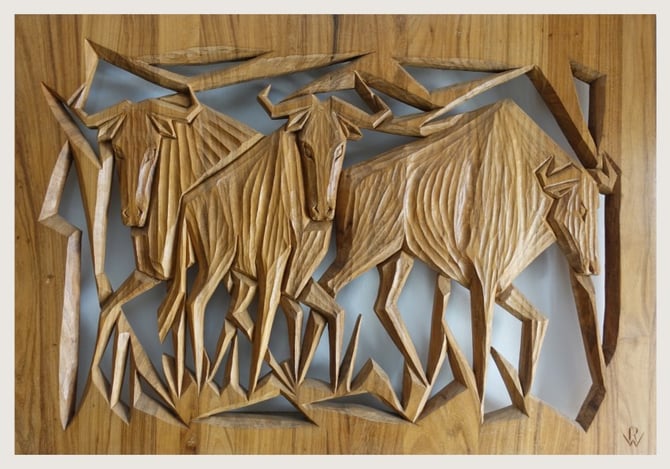 Ruth began to write to a girl who lived on a farm near Gobabis. Their correspondence was interrupted by the war, but it resumed afterwards. During this time the family suffered great hardship and tragedy in East Germany when Russian officers knocked on their door and took her father away. She never saw him again. Ruth and her mother tried to make ends meet and to survive the difficult period after the war however they could. She remembers making dolls from papier-mâché to sell and bring in some income. The letters from her pen-friend stopped around this time, presumably when her friend left the farm.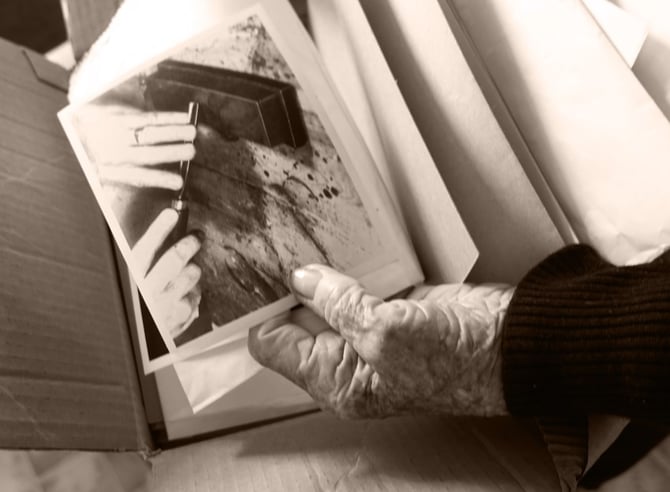 One day, to her surprise, she received a letter from the Gobabis farmer, a Mr Schroeder, who had missed her letters, which had been shared with him and reminded him of his homeland. Ruth began communicating with him and he, in turn, sent them packages of coffee and tobacco, which they were able to exchange for food. Later, he invited them to leave their difficult circumstances in Europe to come and help him on his farm bordering the Kalahari Desert. He offered to pay the travel costs.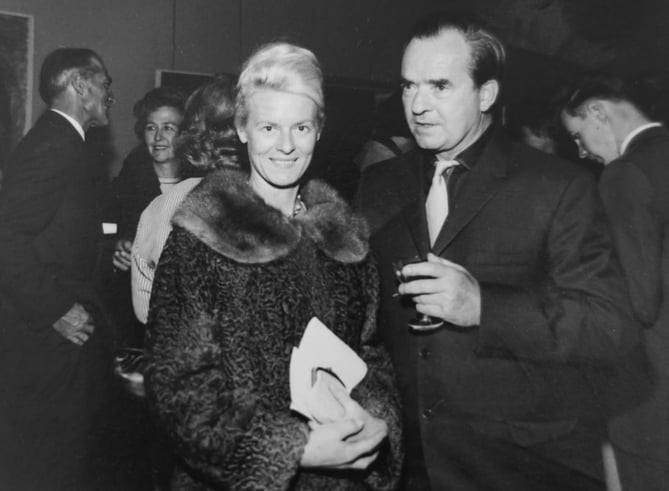 While they were delighted to accept the kind invitation, it was a risky undertaking in the suspicious post-war period in Soviet-occupied East Germany. First, Ruth wrote to the prime minister of South Africa, Dr DF Malan, requesting permission to immigrate. Then she had to find a convincing reason to travel to West Berlin. She took the maizemeal sacks that had been wrapped around the old man's food parcels, dyed them and sewed them together to make a dress to wear, and went to the mayor of the town asking permission to audition for a film in Berlin. Her plan worked. Ruth and her mother left all their worldly belongings in their home with a note to a friend on the dining room table, closed the door and didn't look back. They travelled to London by plane, where they took a ship from Southampton to Cape Town. The year was 1950 and Ruth was 22 years old.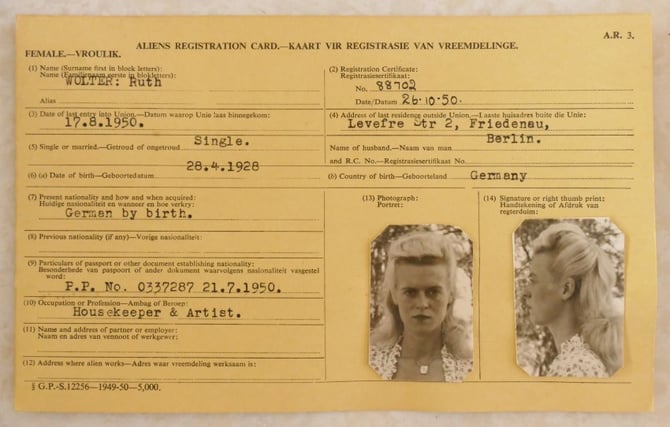 The passage by ship took three weeks. It took another three days to reach Windhoek by train and another day before they arrived at the Gobabis railway station. The elderly Mr Schroeder was waiting there to meet them. They soon settled in to farm life. While Ruth's mother gave the arthritic Mr Schroeder a hand with the housework and garden, Ruth worked with the cattle and followed her artistic leaning. She would spend the next 27 years of her life on the Kalahari farm.
She discovered dolf wood, grown in the North, and spent her time in between cattle-farming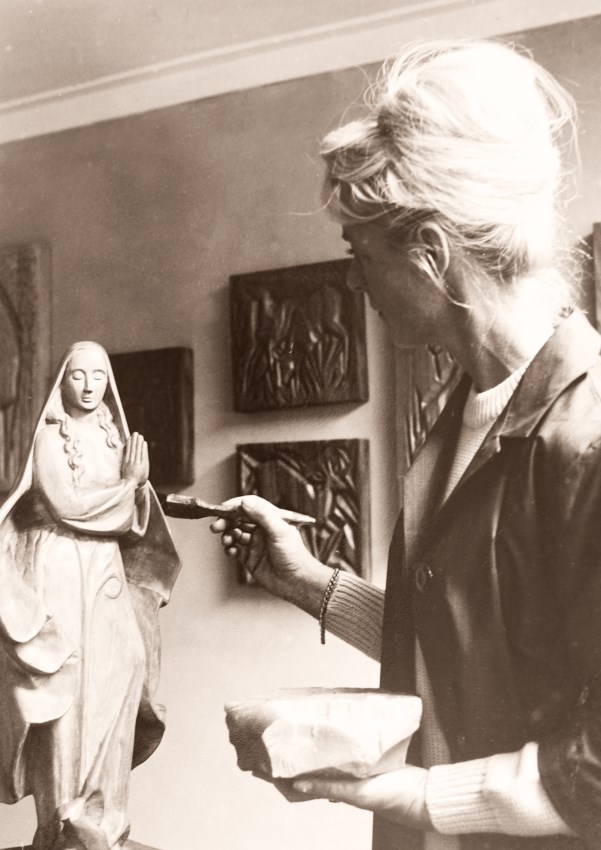 Working her magic in wood. Besides the attention she began to receive from art enthusiasts, she also started to receive attention from young men in the area, who were attracted to the vivacious and strong blonde woman. One young man she met at a Hou Moed school function made a strong impression on her. As he was engaged to be married, Ruth dissuaded him from coming out to the farm. She even made him walk the 32 miles back to Gobabis when he arrived unexpectedly on the milk truck. The last she heard from him was in a letter informing her of his marriage. The pair went their own separate ways, never thinking that their paths would one day cross again, nearly three decades later.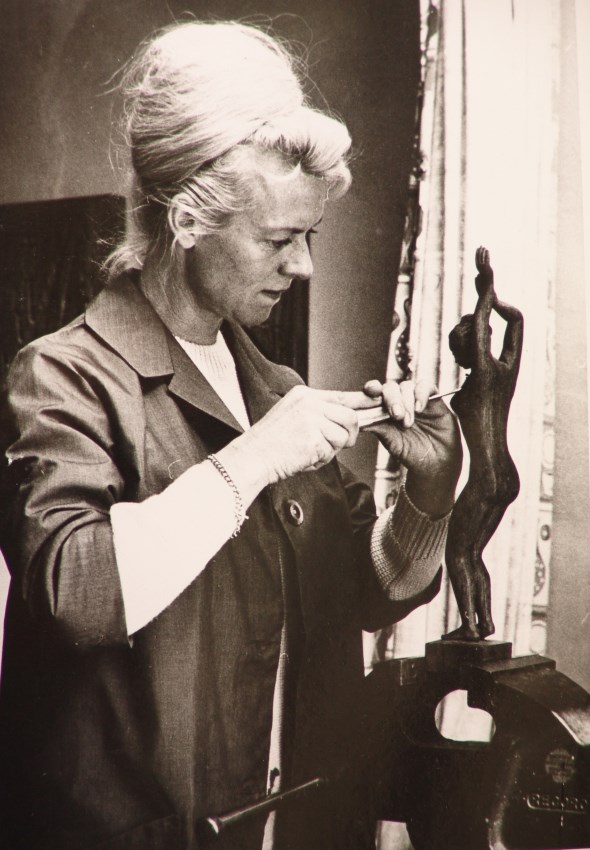 Life moved on. Ruth married and had a child. Mr Schroeder died in the mid-1960s, leaving his farm to Ruth. She continued with her artwork, which was bought by banks, insurance companies and government departments. She received a good deal of recognition for her work. On the advice of a government official, she contemplated moving to South Africa where the market was bigger. Her mother made plans to visit Germany and booked a flight. Before she left, friends invited her to visit them in Kleinmond in the Cape. She liked it so much there that she called her daughter to say that she had cancelled her flight. This tap on her shoulder by angels prevented her being on the ill-fated plane crash of 20 April 1968 at Ondekaremba, outside Windhoek's airport.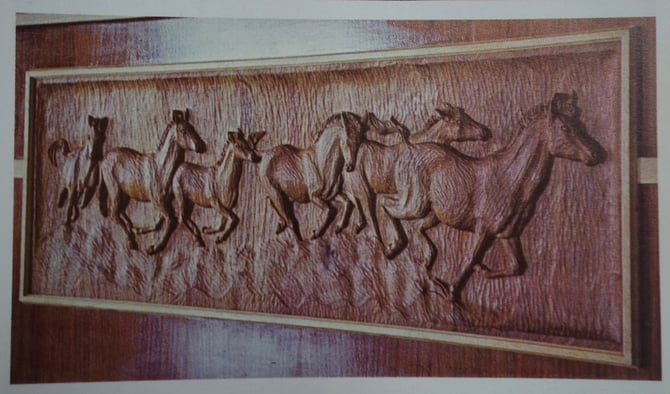 They moved to South Africa in 1977, purchasing a property and building a house in Kleinmond. Ruth's career in South Africa took off and her well-crafted work started to appear on walls of wineries and schools, and in private collections. With the passing of the years, her husband died, and as life has a way of turning full circle, she met up once again with Herman Stijn, the young man from Gobabis she had met so many years before, whose wife had also died in the interim years. When Herman, who coordinated the design of South African stamps, was looking for an artist for a centenary stamp, he found Ruth and the couple was reunited after 27 years. They married and Ruth moved with him to Pretoria.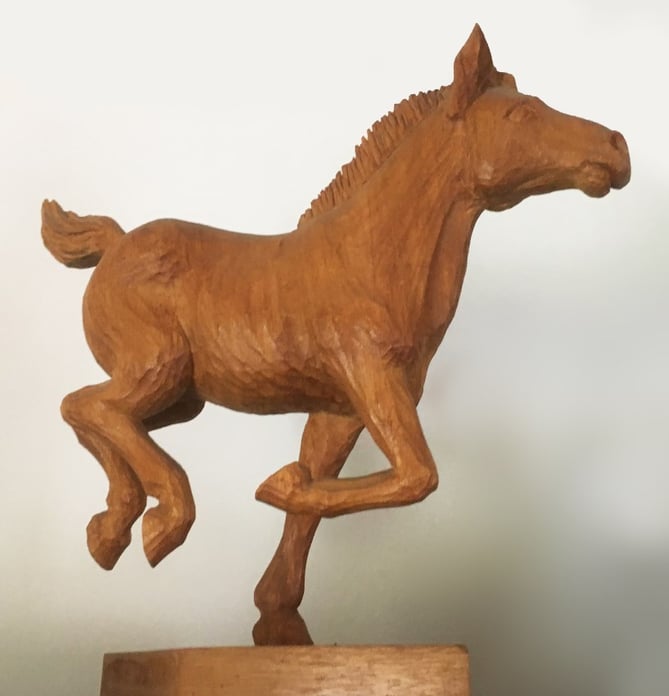 It was here in their comfortable home that I finally met this remarkable woman. After two hip replacements, a bout with cancer, a small stroke, and a full and productive life (her work amounts to more than a thousand pieces), she is full of energy and humour, still radiating the beauty and vitality that can be so clearly seen in her art. As a hobby historian, always interested in the wonderful stories of Namibia and Namibians, I have interviewed many people and heard many life stories over the years. Ruth's fascinating story stands out as one of the finest.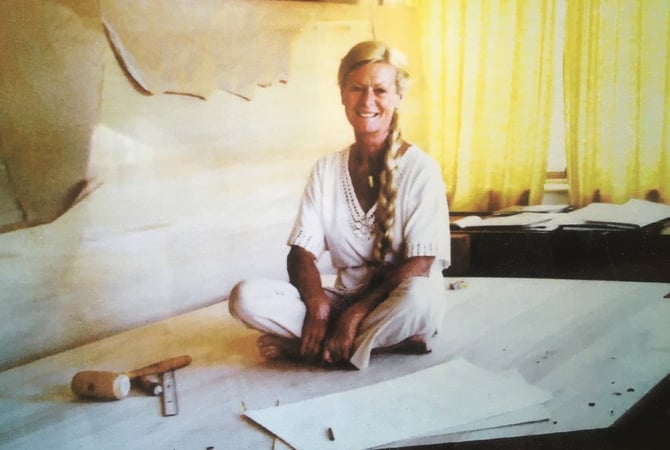 We wish her the all the best for her ninetieth birthday. I still hold the dream of bringing her back for a visit to our beautiful country where she spent many years and contributed so much to the Namibian art world.
Author: Manni Goldbeck