As someone who was introduced to fishing a few years ago and has been eager to catch a big one ever since, I have collected a few favourite spots along the Namibian coast.
Not all of my preferred sand beaches are associated with holding a fishing rod and waiting patiently for something to happen. Some are of drinking coffee, wrapped in a blanket, or sundowners with a glass of wine, or of drives along the water with the windows rolled down. Here is a list of my 5 best-loved beaches, and I highly recommend you go visit them and add them to your bucket list: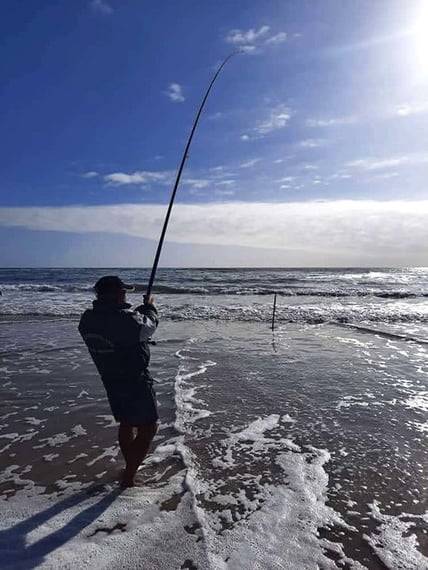 Pelican Point
There is something special about Pelican Point, and the beach that is covered with starfish and small deserted boats that are covered in rust and sea grass. The waves are very shallow and one can drive for quite a distance, spotting pelicans and flamingos in the water, and I have seen young jackals looking out of their dens. This is the furthest south I go, and for fishing purposes we go to a spot called "Paaltjies", which is closed off regularly to give fish a chance to breed.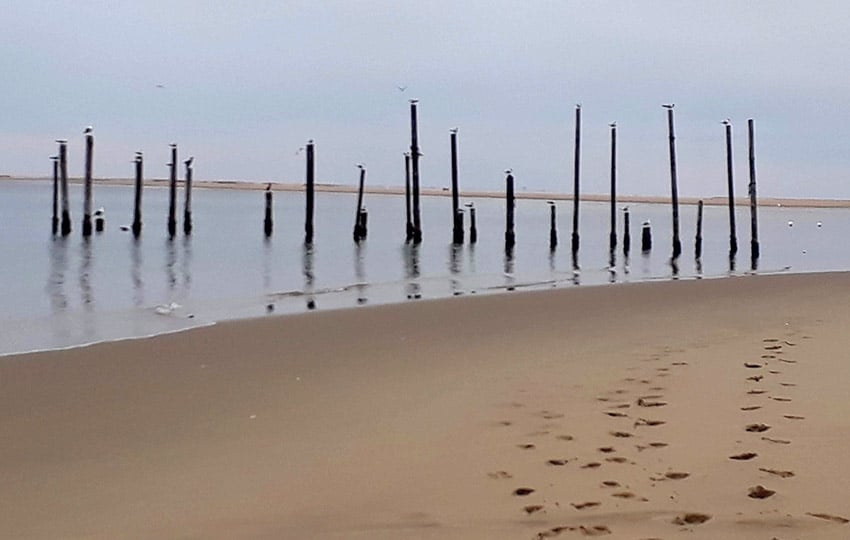 Black Rock
This beach is found right before you reach Henties Bay, approximately where you turn towards the beach to drive to Jakkalsputz. It is one of my favourites, because I always find sea shells and interesting little natural treasures in the sand, which is my way of booting down my thoughts. The beach is close to the small town and ideal for a potjie or braai on the beach. Black Rock is also the beach we go to, when we are not quite sure where else to go, mainly because no-one has been catching any fish. Then, we stand with our equipment, without any expectations of actually feeling a bite, and we do what the fishermen call "Kop skoon maak", which means as much as clearing your mind and thinking about nothing in particular. It is quite addictive in a good way.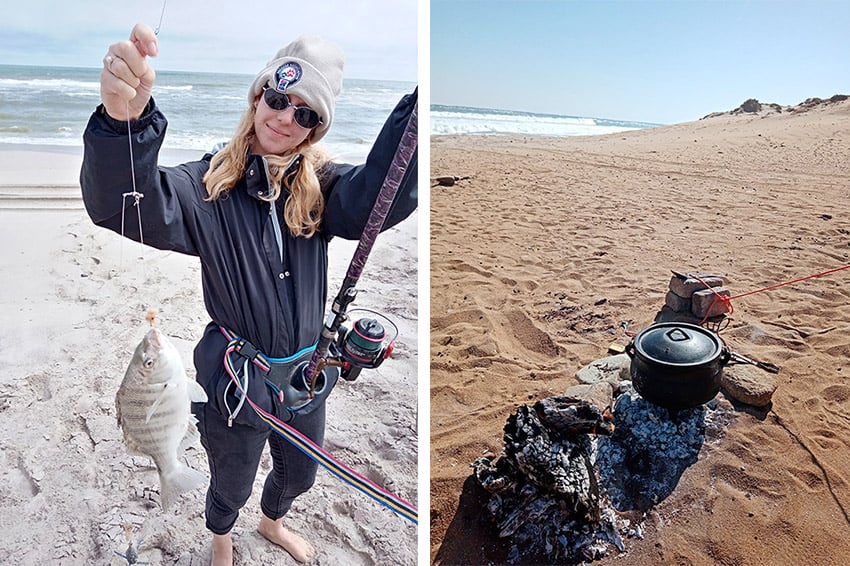 Popeye Beach
I have made some of my favourite memories on Popeye Beach. It is not a great stretch to drive on, and the tides can catch you if you are not careful of the timing, but during low tide, one can drive down steep sand banks, and set up a small camp between very high and solid sand dunes. I have done night fishing there, which is an entirely new thrill on its own, and thanks to it being not very far from Henties Bay, one can drive back home after sunset. Just next to that is a spot called "Trappies", which is well-liked by fishermen. Popeye is saved into our "fishing GPS" and is one of the spots we just have to stop at.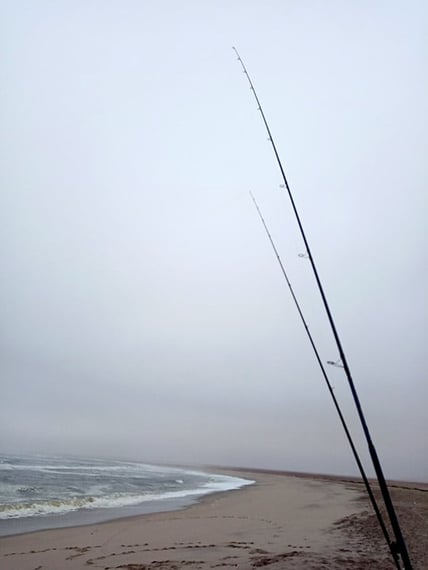 Mile 100
This beach, I always said, would be the beach I would want to get married on one day. It is a very even beach, curved in the shape of a wide horse shoe. For this reason, the waves that wash upon the shore are very gentle and small, and the sand is not as fluffy and loose as seen on other beaches, but it is compact and solid. Sitting on the beach, you have a splendid view of the ocean in front of you, and beach stretches to each side. For me it is a very calm and peaceful place to be, especially because you will not come across a lot of people, unless the fish is really biting and everyone is out to catch some. I have witnessed the sun rising on Mile 100 and have had eggs and bacon while I was sitting on a camping chair in my pyjamas, as we left our house at 5 AM to be there when the sun comes up. At first, I was not keen to get up so early, but experiencing it once convinced me to do it over and over again when the opportunity arrives.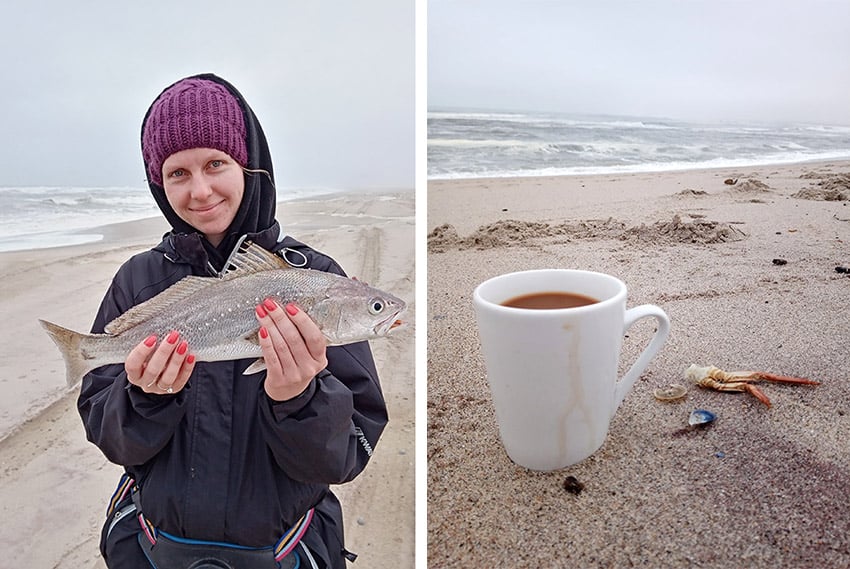 Winston
This is a new addition to my list of favourites. The fishing vessel Winston lies stranded on the beach, visible only as you drive closer, as most has been swallowed up by sand, or turned into rust, since it got stuck on the coast line in 1970. There is a beautiful story about a survivor of the wreck, click here if you are interested to read it.
For me, this beach is mystical and tickles my curiosity of what happened so many years ago. To get to Winston, it is crucial to stay on the dedicated roads from St Nowhere up north towards the Skeleton Coast gate. There are many large salt pans next to the roads, and once stuck in there, it is difficult to recover a vehicle without damage, due to the high concentration of salt. This beach is also a symbol of solitude as it is unlikely to see more than two other cars on the beach at the same time. Although it is very far and a long drive to get there, I absolutely adore it, as well as the place called "Stoom Pype" a bit up north, which is named after an old oil rig pipe that has been washed up on the beach many years ago.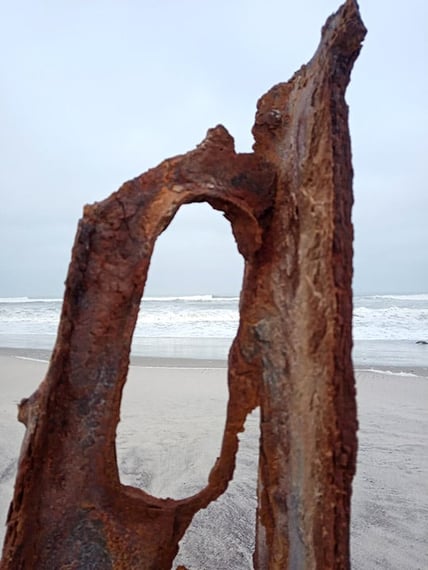 The Namibian coast holds many jewels and special beaches, of which I am aiming to discover more in future. Which are your favourite beaches to go to and what story do you connect with them?
Have a look here at the most popular fishing spots.
Author & Photos: Elke Tietz