I must be honest; I was a bit sceptical about the birding possibilities of this area. Kalahari Anib Lodge definitely provides some wonderful sunrises and sunsets, spectacular red dunes, a million Shepard Trees and some rather interesting flowers, which have been dormant the last few years before having some good rainfall. This invariably increases (or decreases) your interest in proper birding opportunities that even I can identify.
Waiting for a random rainstorm in the area is not really necessary to see some very special and interesting birds. As always, one has to start at the centre, the lodge. If you are privileged to have a room facing the dunes you will be able to see a lot of birds just by sitting on your varendah. The Sociable Weavers (Philotairus socius) seem to build up their muscle power and general condition, wading around looking for food. The Camelthorn trees in the area are a favourite hunting ground for Ashy Tits (Melaniparus cinerascens), the only place in Namibia I have ever seen them so far.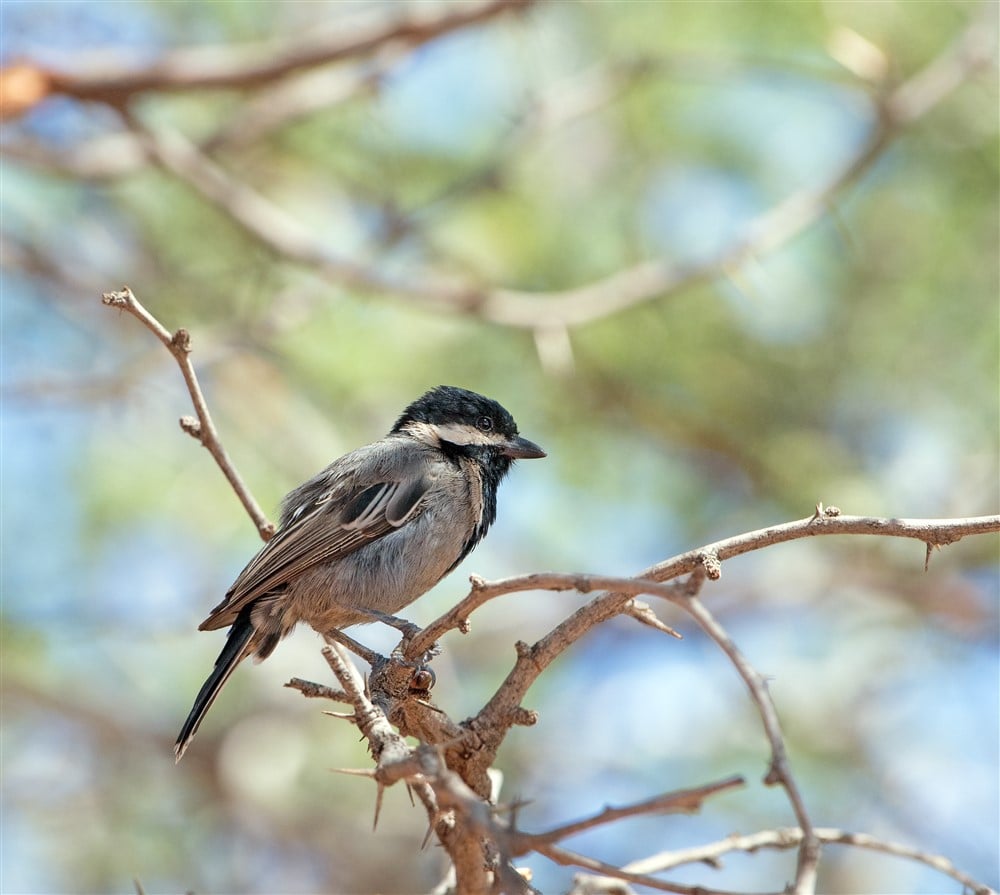 Ashy Tits
The sounds that are heard in the lodge area are definitely not the sound of silence, especially when the Diederik Cuckoos (Chrysococcyx caprius) arrive. Apart from invading other birds' nests, they are probably the only birds with the best endurance in the world, calling relentlessly. My favourite call is the Kelkiewyn arriving at the waterhole leaving no one in doubt who has just arrived. At night the Pearl-spotted Owlet (Glaucidium capense) is ever present.
Being an avid game drive expert, Helga did not agree with me on the fact that the early morning drive was a revelation (especially because we were the only guests on the trip). Looking for a Sociable Weaver (Philetairus socius) nest was again not a problem for our guide, explaining to us that there are various raptors that share their very comfortable nest with the Verreaux's Eagle-Owl (Bubo lacteus), Pale Chanting Goshawks (Melierax canorus) on top, and inside the nest, apart from Rosy-faced Lovebirds (Agapornis roseicollis), the rather arrogant Pygmy Falcon (Polihierax semitorquatus).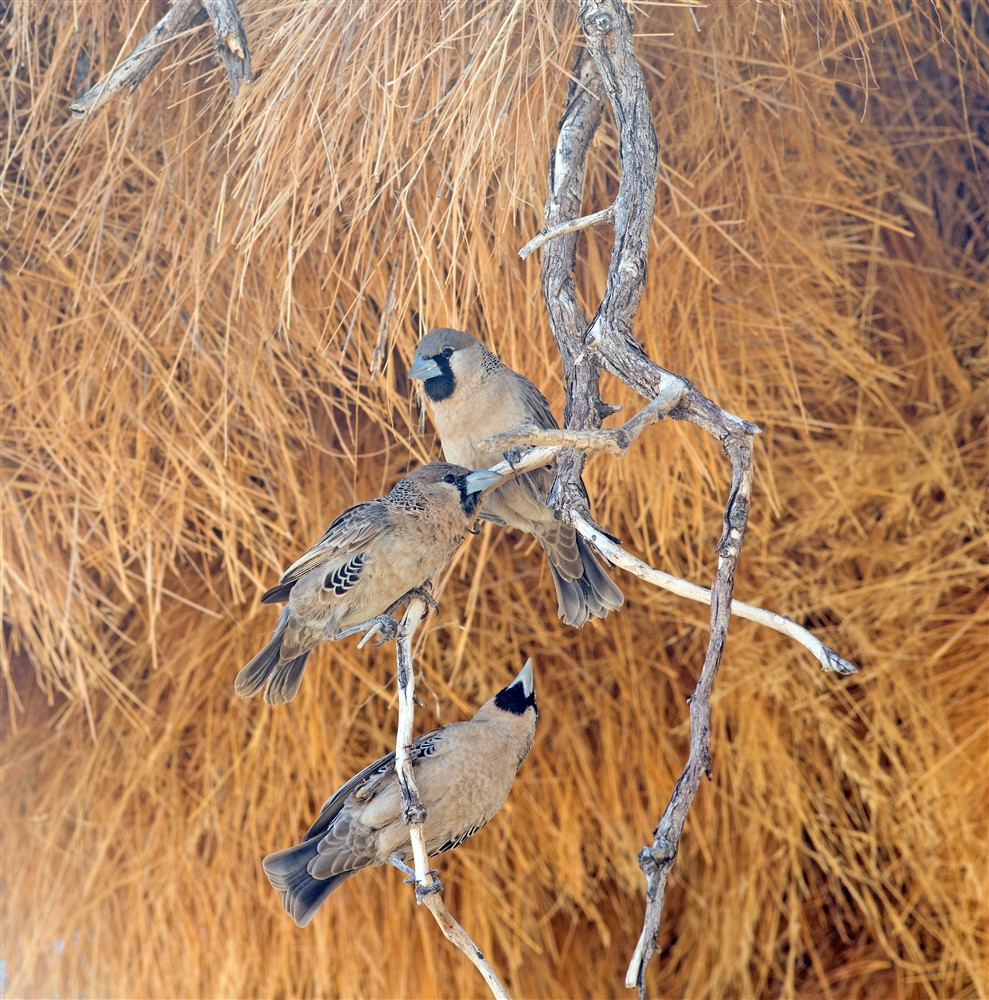 Sociable Weavers
The absolute highlight was to see a colony of breeding Wattled Starlings (Creatophora cinerea). This must have been the biggest colony I have ever seen. They occupy +/- 20 to 30 Camel thorn trees in an area of about a square kilometre, and +/_- 5 to 10 nests in each tree, with the resultant congregation of talkative loud starlings. The nests are rather scruffy, built with thorn sticks (Camel thorn). For some unknown reason most of these trees are leafless in this area.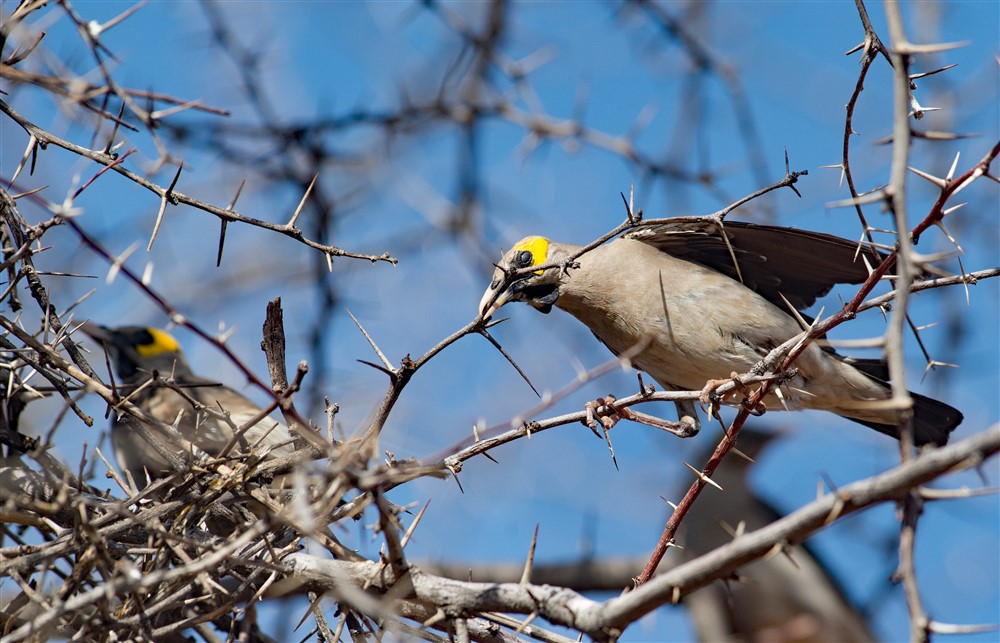 Wattled Starlings
If you haven't seen a Red-crested Korhaan (Lophotis ruficrista) yet, doing their kamikaze drop, this is the place to go and see this rather absurd but fascinating display. The Common Ostriches (Struthio camelus) all seems to be in a bit of shock after seeing this spectacle, but the stress surely did not distract them from having chicks.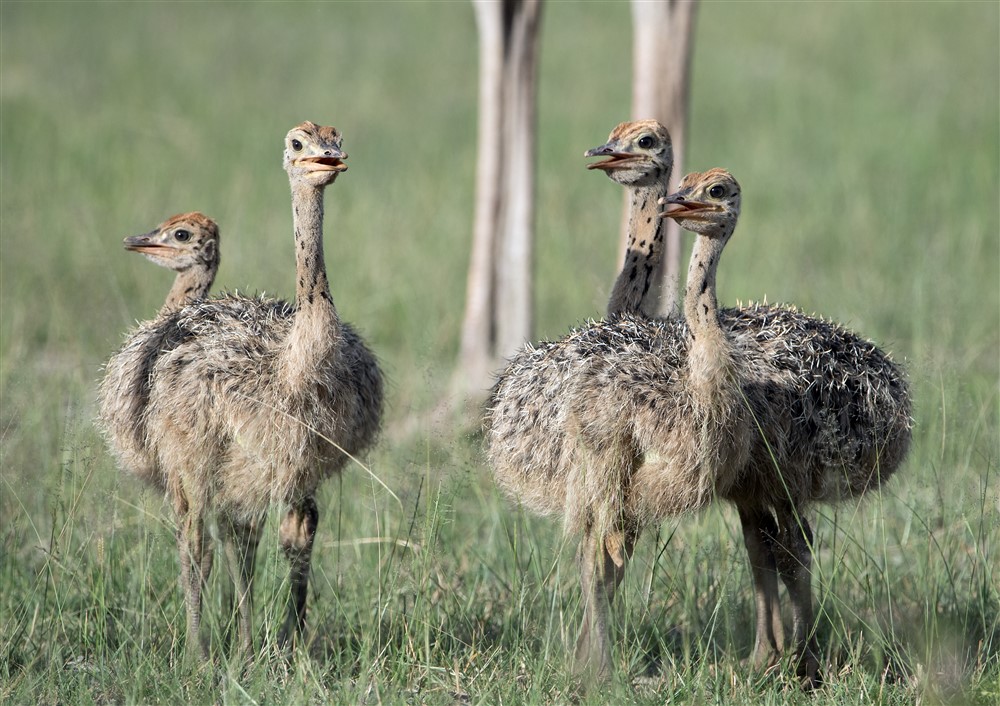 Common Ostriches
The group of Marabou Storks (Leptotilos crumenifer) waiting for a snack from the kitchen behind the dune to the east of the lodge are a permanent feature and they do not seem to be overly disturbed by the activities at the lodge. For some reason there were White-backed Vultures (Gyps africanus) on each of our visits.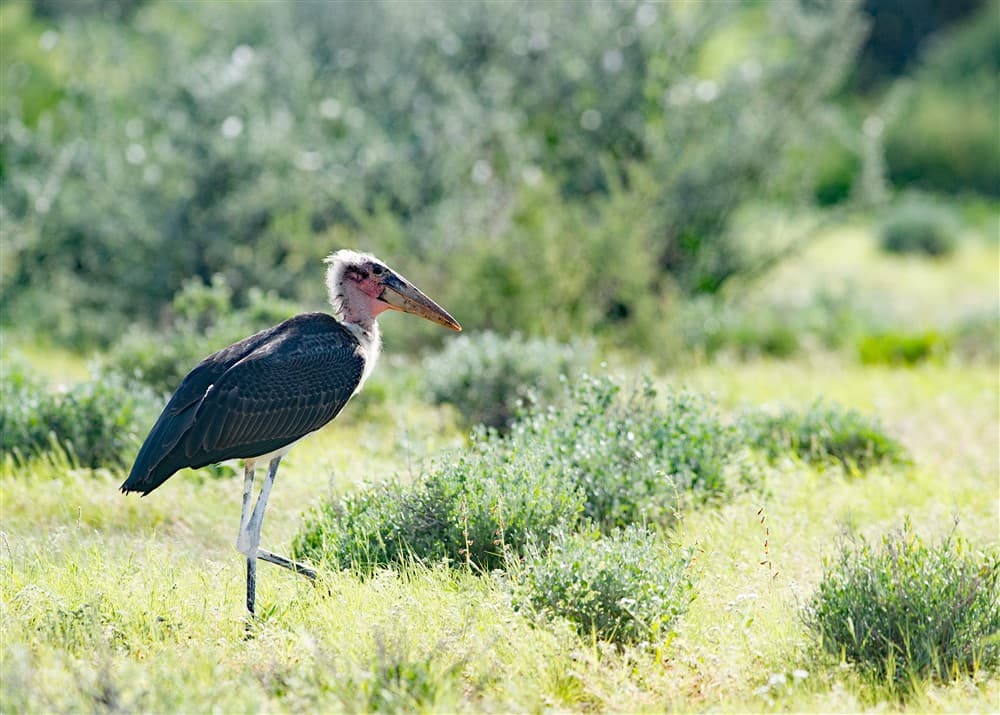 Marabou Storks


The Rock Martins and Lesser -striped Swallows also take advantage of the rain by collecting building material for their nests. If you have seen any of these birds near Kalahari Anib Lodge, let us know in the comments below.