Taste Namibia!
Food is a universal language that has a tendency to bring people together and in Namibia we take this 'language' very seriously. When traveling to another country, place, destination… the location's cuisine becomes part of your local experience. The tastes become memories associated with your journey and can often help remind you of the moments enjoyed while abroad. In Namibia this is no different, here you will have access to a variety of unique and tasty delights that will make your mouth water at the mere thought of them.
Let's start in the south… Along the Fish River Canyon, just a few kilometres away from the ridges, you will find the Canyon Roadhouse. Now besides the quirky décor and playful atmosphere, the real treasure at this location is the Amarula cheese cake. Light and delicious, this is something not to be missed. I cannot offer our scrumptious recipe, but I can offer the closest one available! Click here for the recipe to try your own Amarula cheese cake.
Next up and not to be missed, is the chicken schnitzel at Kalahari Farmhouse in the small town of Stampriet. Schnitzels are a relativity well-known food, being a boneless piece of meat that has been flattened out and coated in crumbs, but the Farmhouse does things slightly differently. I am not quite sure what the chef does, it must be some deliciously secret ingredient that makes this dish so tasty. All I can say is that this is definitely something to add to your travel list.
Make your way to the coast and enter The Delight Swakopmund. This is the place where breakfast gets interesting… start your day with champagne and fresh oysters! For those who haven't had oysters before, they are simple to eat. Just add some lemon juice, a few drops of green Tabasco, and salt and pepper and there you go! A word of caution, you're either going to love it or hate it, there is no in between.
Another delightful indulgence that can be found at The Delight is the banana delight. This is their own version of banana bread but here they top it off with fresh, hand-whipped cream. It is a sweet way to start the morning and if you're lucky the bread may still be warm, which makes it taste ten times better! To try your own version of the Banana Delight, click here and start whipping the cream.
And of course no trip would be complete without tasting the chocolate mousse at Hakusembe River lodge. Light and airy and absolutely delectable, this is a dessert that will linger in your thoughts for a while. And the surprise found at the bottom of the glass…fresh raspberries grown in their own garden! This is a must-taste and even if you may not be able to make the trip right away, here is a simple recipe for you to try it for yourself.
And to end off on a savoury note…nothing comes close to the Oryx steaks and mushroom sauce that can be enjoyed at the Kalahari Anib Lodge. Namibia is known for its game meat and this lodge makes full use of it. The steak is juicy and tender, perfectly cooked and the sauce rounds off the whole culinary experience.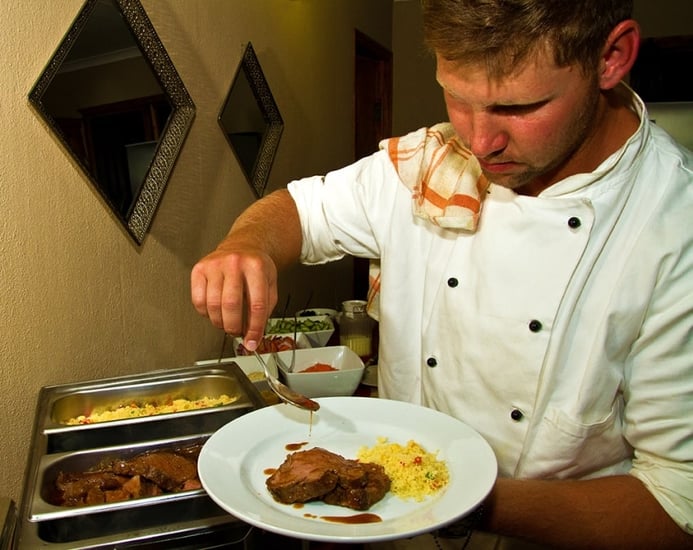 Needless to say there are vast amounts of other incredibly tasty foods that can be enjoyed in Namibia. Unique items like a good braai, kapana and malva pudding to name but a few. What is your favourite Namibian dish? Share it with us in the comment section below.
Author – Jescey Visagie is a proud Namibian and is passionate about writing and language. Tag along for the ride as she tries to uncover new insights into Namibia and explores what the country has to offer.