The first week in January is the ideal time to write down goals and new intentions for the year, so grab a brand new journal and dedicate a full page (or make it two) towards writing down your travel goals. Draw little check boxes with your top must-see destinations next to them, and make a conscious effort to tick off as many of these as possible this year.
You might be full of wanderlust and inspiration and might have filled your page already. Or, you might be a little bit short of orientation and need some influence and gentle steering to draw up your itinerary for the best holiday yet. A good approach is to start daydreaming of the Namibian sun and to read the below advice from me to you:
See how the wild horses of the Namib have adapted to their harsh environment
The wild horses of Garub are made up of a lot of mystery and freedom, regarding their origin, survival over the years, and their continuous existence amongst humans. Although they seem to have adapted to their scarce surroundings and minimal food supplies, there has been a lot of local outcry, debating, and planning involved, trying to save the low number of wild horses, which make the South of Namibia, near Lüderitz, so fascinating and attractive to travelers all over the world. If you want to see them, and how they have become one with the wide expanses of the Namib, you should definitely stay over at Klein-Aus Vista from where you can effortlessly engage in a day trip to spend your day watching these magical creatures from nearby.
Have you heard of the glassy lake inside Sossusvlei?
Sossusvlei is particularly famous for its red sand dunes, encircling a dried out salt and clay pan in the middle of the Namib Desert. These dunes are some of the highest sand dunes in the world, attracting thousands of tourists and locals every day. A photographers dream is the incredibly rare occurrence, when the Tsauchab River receives sufficient rainfall to actually flow into the pan, causing a small lake to form that looks glassy and reflects the red dunes, resembling a perfect landscape photograph or painting. This is the case at the moment and results in eye candy for everyone, who is willing to travel to Sossusvlei in order to experience the raw Namibian flare that comes with travelling to adventurous destinations at the exact right time.
Very close by are some of Gondwana Collection Namibia's most famous lodges, the Namib Desert Lodge, Namib Dune Star Camp, The Desert Grace, and the luxurious Desert Whisper. Travel now. Who knows how long it will take for us to see such a phenomenon again anytime soon?
A trip to Verbrandeberg and the Organ Pipes sounds like a local fairytale in disguise, but is a trip worthwhile.
Close to Twyfelfontein, about 125 kilometers from Khorixas, you can find an entire range of interesting natural occurrences. Some of them, like the burned mountain and the organ pipes were formed 125 million years ago, when hot magma came in contact with the cold surrounding lake, which ceased to exist long time ago. Left behind, are rock formations and reminders of previous volcanic activity, attracting self-drivers to stop for a moment and to get lost in thoughts on how such a natural looking formation has been there long before anything else.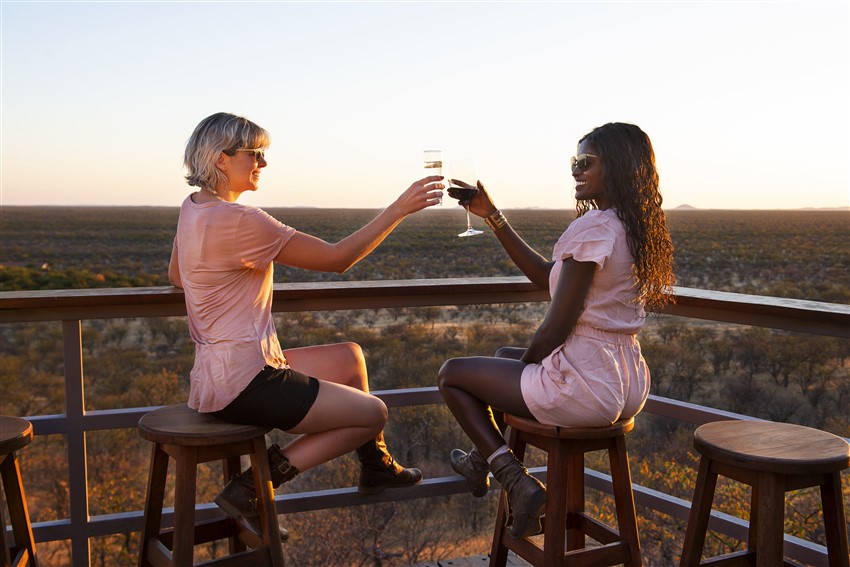 Not far away, Damara Mopane Lodge invites you to relax in the lush green garden, to take a refreshing dip in the pool, and to "tjeers" glasses on the sundowner deck as you make plans to see more of this beautiful country when the sun decides to rise up again. What a contrast – Green gardens and colorful flower beds versus golden dry grasslands and red desert sand dunes. Sometimes, a change of scenery can indeed help you forget about the reality that faces us currently, even if it is just for a few days.
Have you made any travel plans for this year yet? Which parts and highlights of Namibia would you love to see as part of your ticked off bucket list? Let us know in the comments below, if you would consider traveling to my three recommended destinations. We would love to hear from you.
Author – Hi! I am Elke, a born and raised German-Namibian. I love to travel around and explore different cultures and places, but my home country always magically draws me back home again. Oh, and if it involves food, count me in on the adventure.