Situated in Damaraland, and having so many Mopane trees in the camp area, it is obvious that the lodge should be called Damara Mopane Lodge. Due to the fact that the area is situated in the endemic region of Namibia, it is no wonder that the fauna and flora is stacked with wonderful endemic birds, trees, and plants. One is tempted to stay there forever to enjoy some of Namibia's specialities.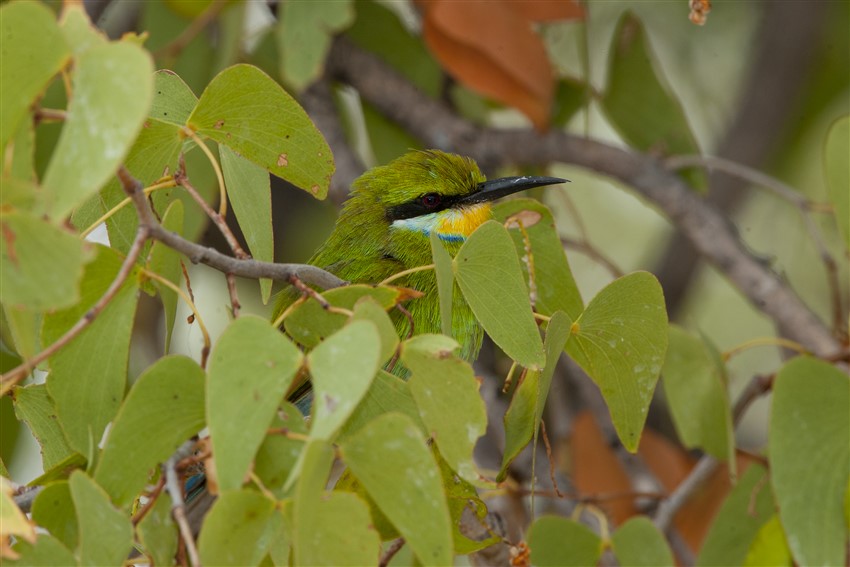 Swallow-tailed Bee-eater
To add to the confusion of finding so many endemic birds in one area, there are also a few birds in and around the camp that should not typically appear there. Maybe they all got a Gondwana Collection Namibia card that allows them to visit the area on a low budget. We visited the Damara Mopane Lodge during lockdown, before the summer rainfall had officially started, so by now there might be even more surprises waiting during the upcoming winter season.
My first impression, apart from the massive swimming pool in the centre, was the presence of Olive Bee-Eater's (Merops superciliosus) at around 18:00 o'clock, every afternoon. Being a migrant visitor and not very common, especially so far South-East from their normal destination in Namibia, it was a very welcome addition to the already large number of different species and yellow trousers at the lodge.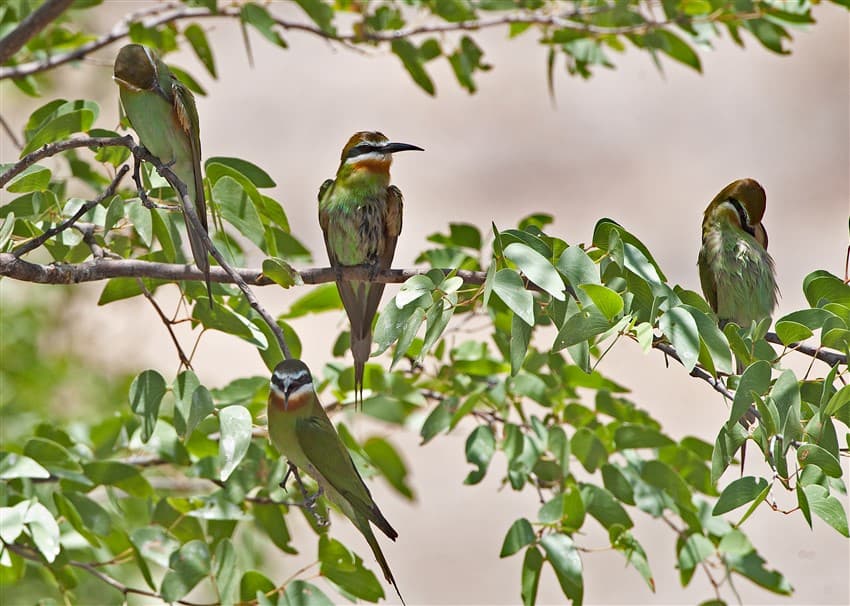 Olive Bee-eater
As far as these birds are concerned, every birding enthusiast will be ecstatic about the fact that there are no less than 6 of a possible 13 birds at a time, entertaining the guests. Although one will have to wonder around a bit to view birds, walks to the nearby sundowner deck on the mountain and optionally also on the walking trail offer more opportunities to spot interesting bird species.
My first surprise-spotting was a group of Carp's tits (Parus carpi) about fifty meters to the south of the lodge. If you continue your journey in Namibia, you will notice that they are not that easy to find. The Bare-Cheeked Babblers (Turdoides gymnogenys) will almost certainly visit the lodge during the day and you will probably not find it too difficult seeing them hobbling around in groups on the ground, babbling whenever danger lurks.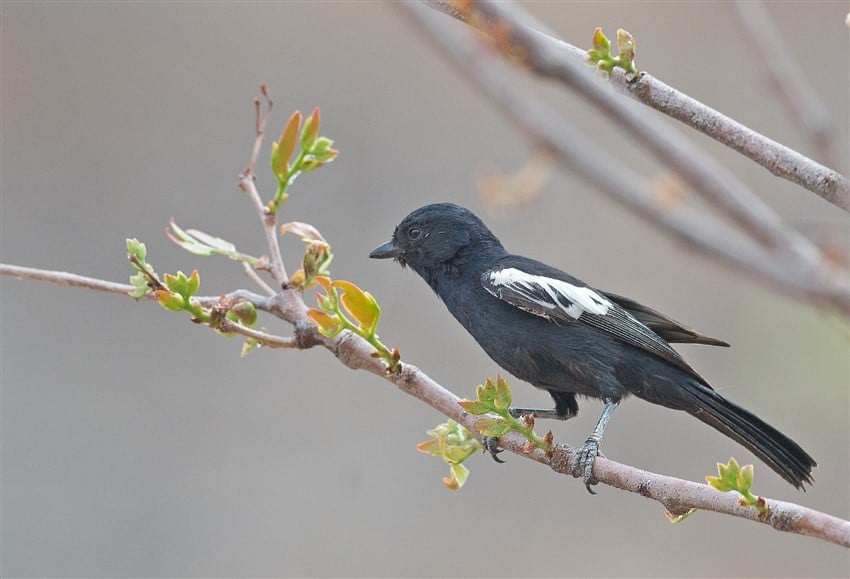 Carp's Black Tit
For birders with impaired eyesight, the Ruppel's Parrots (Poicephalus rueppellii) call will be a welcoming sound when they are moving around the camp looking for something to feed on. Even if you do have good vision or binoculars, they seem to be quite elusive and whenever they settle down it is usually on top of the tree canopy. During our visit we were fortunate enough to see two of the endemic Hornbills, Monteirose (Tockus monteiri) and Damara (Tockus damarensis). Both types were not too keen to come closer to the confinement of the lodge building, but nevertheless they came close enough to see. They tend to make their presence noticeable with a loud and clear "tokko tokko" call.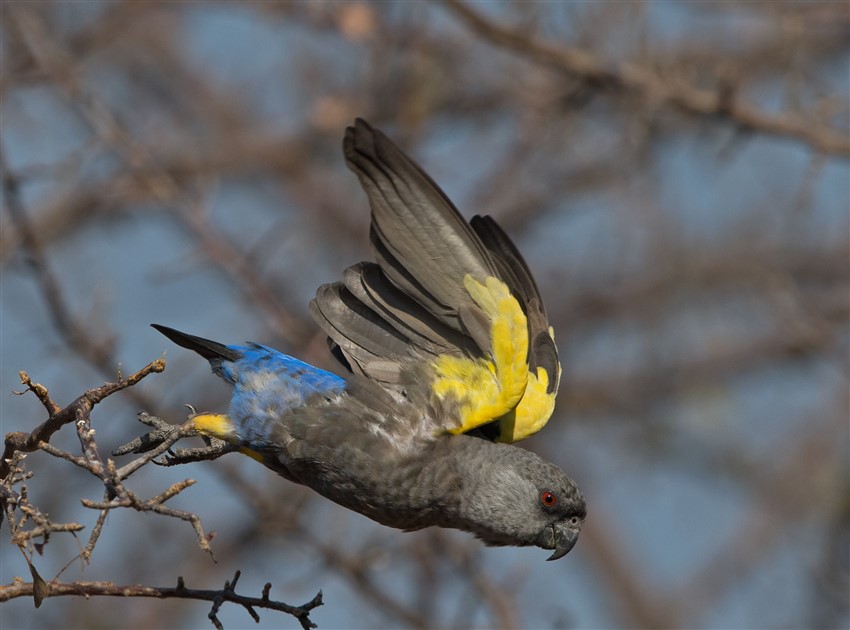 Ruppell's Parrot
Although we did not see them during our visit, apparently the Violet Wood-Hoopo's (Phoeniculus damarensis) is a regular sighting in the area, as well. I would not be surprised if the odd White-Tailed Shrike (Lanioturdus torquatus) and Rockrunner (Achaetops pycnopygius) would appear, although I did hear a Rockrunner calling in the mountains on the day we left. If you are looking for Damara Terns (Stena balaenarum), one would expect them to be nearby. If you wonder a bit further West (Twyfelfontein area), you will come across Ruppel's Korhaan (Eupodotis rueppellii).
Walking through the Damara Mopane Lodge property, there are a few locals like Crimson-Breasted Shrike (Laniarius atrococcineus), Cinnamon-Breasted (Emberiza impetuani), Long-Tailed Paradise Whydah (Vidua paradisaea), and White-Bellied Sunbird (Cinnyris talatala). You could also casually observe the Fork-tailed Drongo (Dicrurus adsimilis), Familiar Chat (Emarginata familiaris, Red-Billed Buffalo Weaver (Bubalornis niger), Short-Toed Rock Thrush (Monticola brevipes) and Groundscraper Thrush (Turdus litsitsirupa) from the swimming pool lounge.
The two biggest surprises for me was a pair of African Paradise Flycatcher (Terpsiphone viridis) and some African Green Pigeons (Treron calvus). The Green Pigeons can be seen around 19h00 o'clock in the Mopane trees near your dinner table, looking down on the diners or the mouth-watering food that is dished up every evening.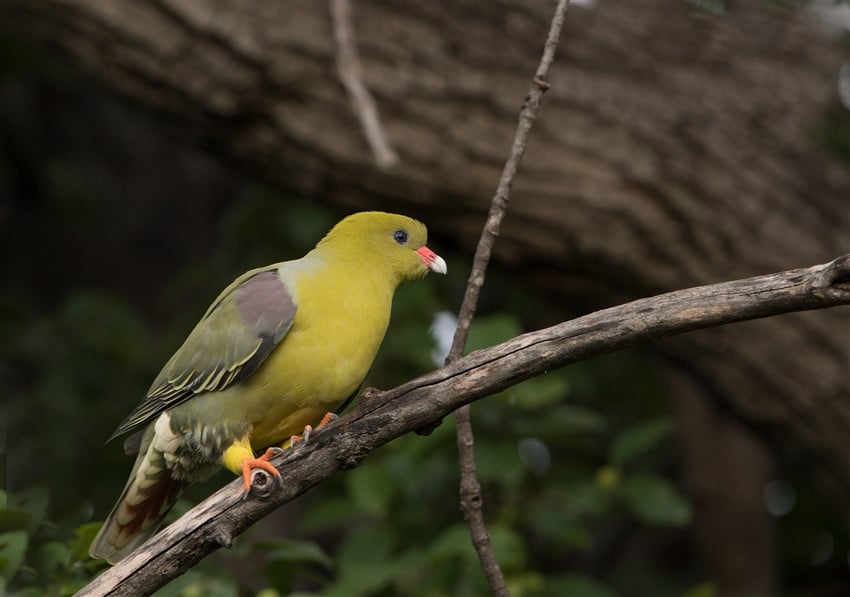 Africa Green Pigeon
If you miss all of the above mentioned birds and maybe get bored lounging around the swimming pool, you will certainly enjoy a breathtaking sundowners on the deck. Have you seen any of these birds at Damara Mopane Lodge? Let us know in the comments below.