Sixteen team members of The Weinberg Windhoek successfully completed a service and banqueting coaching and received their certificates from Sole of Hospitality's Kerwin De Matas. The award ceremony was a joyous occasion, which took place on Friday, 22 July 2022.
"The beautiful thing about learning is that nobody can take it away from you."
B.B. King, Musician
Gondwana Collection Namibia took over the management of the hotel in March this year. The training was inspired by two of the Gondwana Guidelines: "Deliver service excellence" and "You can only be successful if you make others successful." The waiters, bartenders and banquet teams at The Weinberg Windhoek are known for their excellence in service and banqueting. The service and banquet coaching, facilitated by Sole of Hospitality's Kerwin De Matas, who is Hospitality and Customer Service Coach, set a new tone.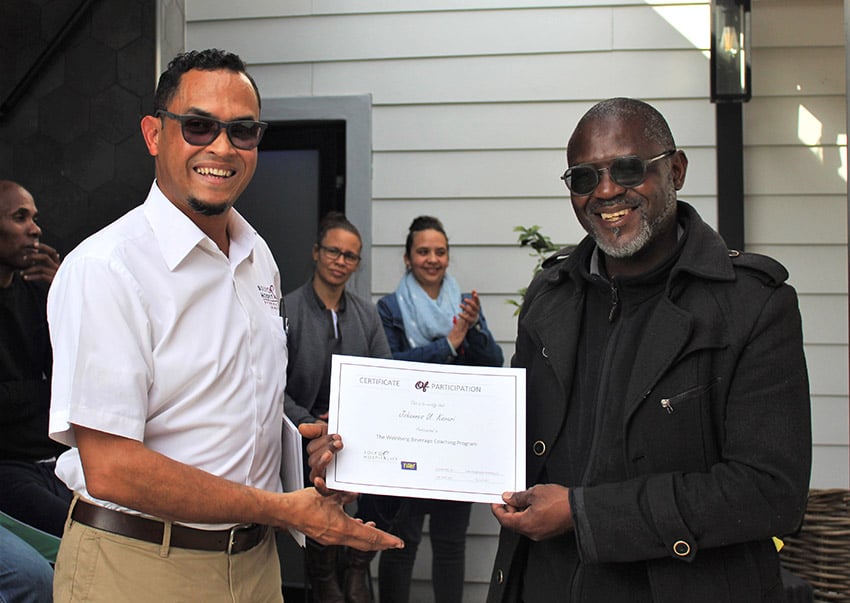 Kerwin De Matas from Sole of Hospitality hands over the certificate to "Oupa" Johannes Kavari. Photos: Gondwana Collection Namibia
The coaching took approximately three months, with bar tending in May, waiter orientation and service in June as well as banqueting in July. The purpose was to advance the professionalism, improve on technical skills, talents and various abilities.
The focus during the three months, was as follows:
Maintain personal health, hygiene and professional appearance

Banquets service sequence

Food and beverage technical skills

Interpersonal skills

Preparation for service - an interpretation of the banquets event plan

Different types of banquet room setups

Service of wine and alcoholic beverages

Post event duties in banquets
Furthermore, it was similarly vital to create a space for the team to take ownership of their work responsibilities, sequence of service and product knowledge in the Gondwana Way. The coaching consequently took on a fun and light-hearted approach to ensure that learning development was simultaneously stimulating and rewarding.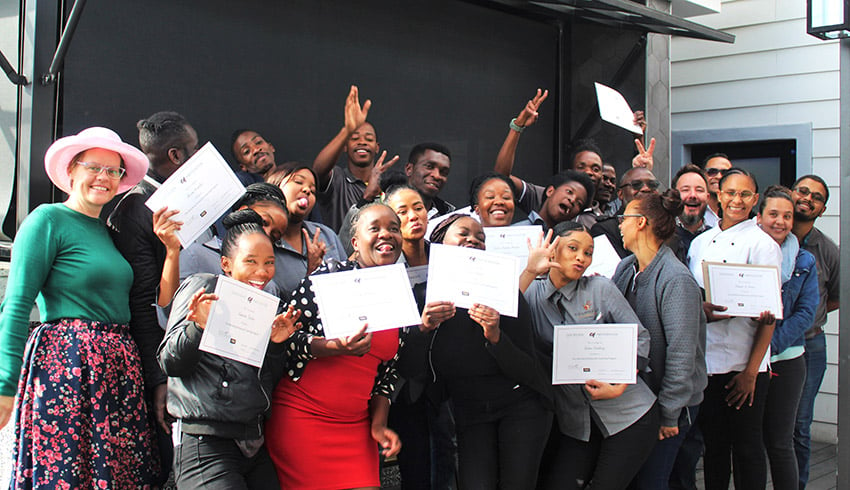 A happy Weinberg team celebrates together with Silke Ahrens from Gondwana Collection's People Team (left).