Can't you tell we are excited!
This week, Mr Daiano Lazzoroto, became the 1000th guest to make use of the Go2 Traveller Transfers. Go2 was established in June this year, and has grown from strength to strength. More and more people are making use of this hassle free traveling service, which connects some of Namibia's most popular destinations daily, across nine routes.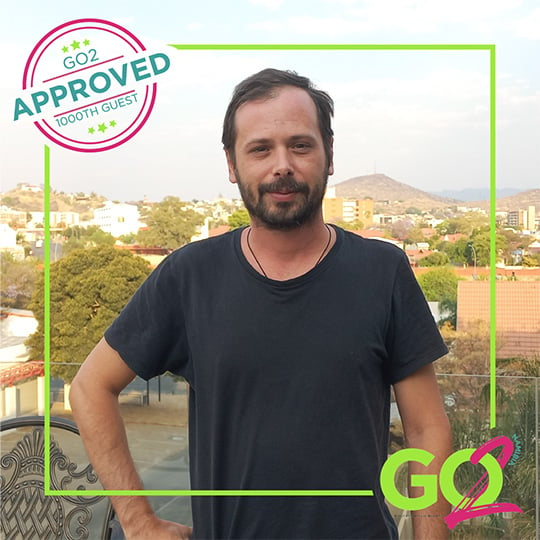 Asked about his experience with the Go2 return trip Windhoek-Etosha he said: "It was wonderful, everything from the booking to the pick-up, drop-off and the ride was exceptional. I wished I had more time, to travel to the North-West but I will definitely but it on my list for when I come back. I loved every moment in Namibia and the Transfer service made it really easy to get around."
The Go2 Traveller Transfers is the ideal means of travel for people who prefer not to drive themselves, but would however like to retain their independence and choice of destinations. It is also useful for tour operators who can book multiple transfers around the country for their guests. Additional benefits of Go2 include the saving on fuel costs, and the expense of paying for a hire vehicle, even when it is stationary in a lodge parking lot.
Geared to both locals and the overseas market, this comfortable, affordable and reliable service provides easy getaways to destinations like Sossusvlei, even for a weekend. The transfers leave in the morning from Windhoek to the Kalahari, Swakopmund, Etosha and Sossusvlei; and from Sossusvlei to the Kalahari; Swakopmund to Sossusvlei and Damaraland; Etosha to Damaraland. The return trips are in the afternoon. And three times per week from the Kalahari to the Fish River Canyon in southern Namibia, as well!
Passengers can be dropped off at selected locations along the pre-set route, where the various lodges in the areas can collect their guests. Vehicles range in size from Quantums and Sprinters to 4x4 Iveco Busses. Each leg of the journey is charged at N$690.00 per person and single and multiple trips can be booked online.
Book now and take advantage of our Go2 Destinations Special. If you book a Go2 trip in combination with at least one overnight stay in a Gondwana accommodation, you will receive your Go2 return trip for free! This offer is valid until 31 October 2022.