21 March does not only commemorate the Independence of Namibia, but also the International Day of Forests. Therefore, on the 30th of March 2023, the Eddie Bowe Primary School in Khorixas, Kunene Region commemorated the International Day of Forests with educational awareness and tree planting activities.
Representatives of the Ministry of Environment, Forestry and Tourism provided environmental and tree education. Staff from the nearby Damara Mopane Lodge of Gondwana Collection Namibia also attended the event. They donated 20 trees, which they planted together with the learners.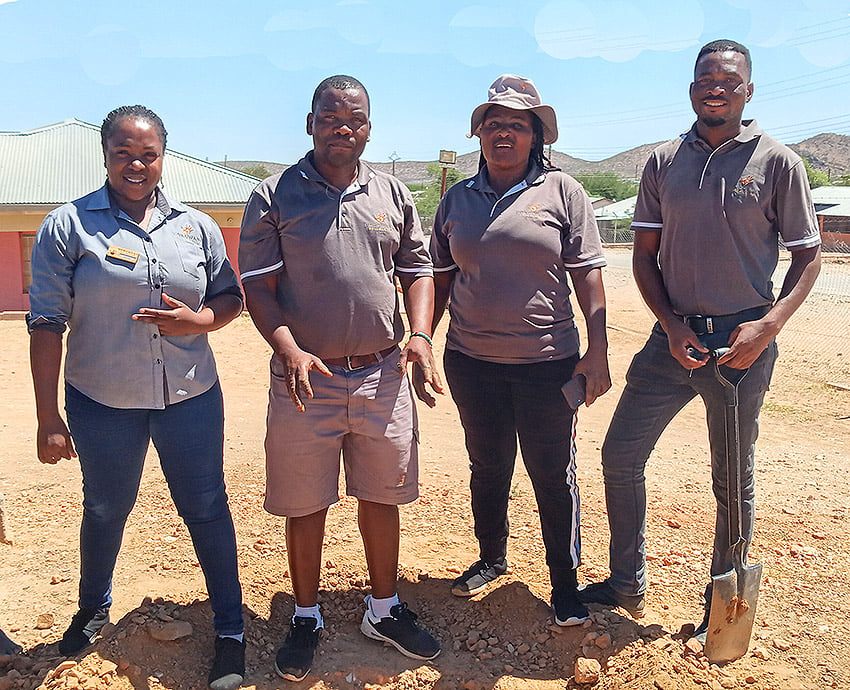 For Damara Mopane Lodge, Rachel, Jeremia, Lahja and Gabriel (l.t.r.) participated in the tree planting event.
Over 500 learners and their teachers attended the celebration which started with welcoming remarks by the Principal, followed by Mr. Namupolo (Forestry Technician) who provided information on the significance of celebrating International Forestry Day.
The Chief Forester for Central Forestry Region, Mrs. Lisao was the keynote speaker and highlighted the various challenges that Namibia faces due to its unique environment, including climate change, deforestation and the limited water resources throughout the country. She also spoke about the importance of trees with regard to the production of oxygen and soil conservation.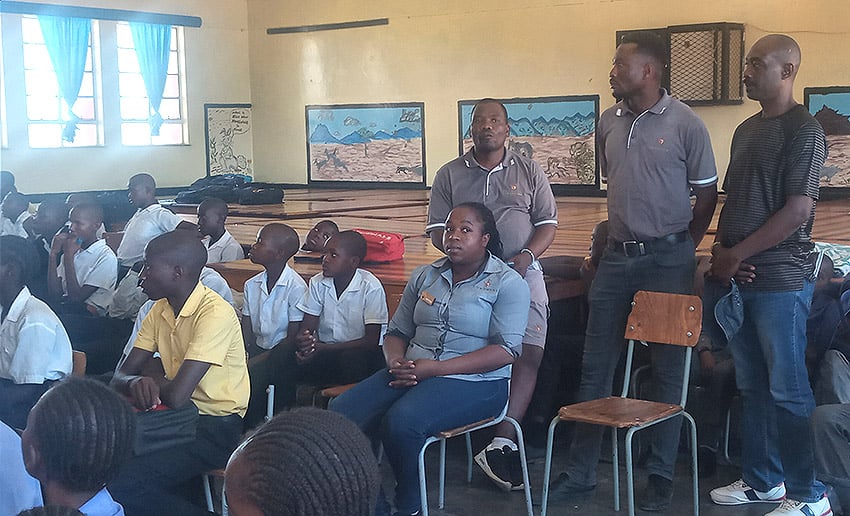 Gondwana representatives attending the tree planting event at Eddie Bowe Primary School in Khorixas.
Mr. Namupolo led the charge in showing how to prepare the soil before planting, how to plant a seedling and how to take care of a seedling thereafter. Most trees were planted at the school; however, the Damara Mopane staff and officials from the Directorate of Forestry also placed six seedlings at the Khorixas Constituency offices.
A total of 50 trees were donated by Gondwana Collection and the Directorate of Forestry, which consisted of Camel Thorn (indigenous tree), Lemon trees, Mango trees and Paw Paw trees (Fruit trees).These will not only provide benefits to the current and future generations of the Eddie Bowe Primary School, but also serve as a reminder that every single person plays an important part in promoting sustainable practices and the protection of our precious environment.