Gondwana Collection Namibia is thrilled to introduce some exclusive new developments to its illustrious portfolio. The Weinberg Urban Pod, an integral part of Gondwana's exclusive Secret Collection, has opened its doors on 1 November 2023. Gondwana is also excited to announce the opening of its exclusive Terrace Suite at The Weinberg Windhoek, a haven designed with the discerning business traveller in mind. Both are situated in the upmarket suburb of Klein Windhoek in the Am Weinberg Estate, just a short 30-minute drive from Hosea Kutako International Airport.

Unforgettable Experience in the Heart of Windhoek
The Weinberg Urban Pod is an exclusive sanctuary crafted for the discerning traveller and business professional, offering an unparalleled level of amenities and services. This luxurious urban oasis provides a peaceful escape from the hustle and bustle of city life, all while ensuring convenient access to the capital's business hub.
Guests will revel in a luxuriously serene environment, complete with a fully stocked kitchen, a private bar, a state-of-the-art entertainment system, and even a private plunge pool. These amenities offer the perfect setting for relaxation and rejuvenation in absolute privacy. For corporate travellers, a dedicated business suite is at their disposal, equipped with a large screen, laptop connections, and a printer, ensuring that all the tools needed for a successful business trip are close at hand.
Managed by The Weinberg Hotel, Urban Pod guests will benefit from a personal attendant who can arrange bespoke activities, secure dinner reservations, and cater to special requests, including spa treatments and the hosting of dignitaries.
This upmarket "home away from home" boasts an expansive 325m² of living space spread across three floors, providing breathtaking views of Windhoek that are second to none. As from 1 November 2023, The Weinberg Urban Pod is available for bookings accommodating two guests. However, with its extra bedrooms, more guests can be accommodated on special request at an additional cost.
Imagine spending your evenings savouring a carefully curated selection of spirits while gazing upon the mesmerizing city lights of Windhoek, which transform the valley into a sea of twinkling stars.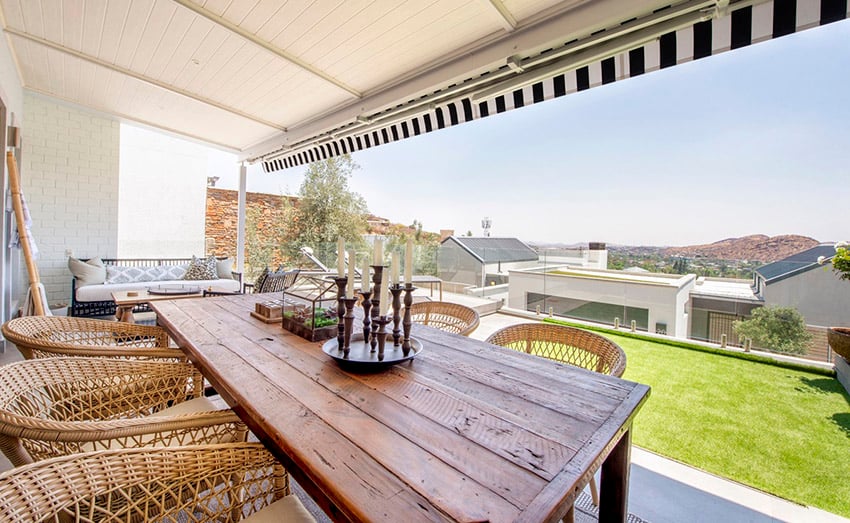 A new standard of sophistication at The Weinberg
The exclusive Terrace Suite at The Weinberg hotel is a thoughtfully tailored haven for the discerning business traveller. It redefines the essence of premium accommodation in Namibia's capital.
The spacious 2-bedroom suite, both ensuite, offers not only a relaxing retreat but also a functional space for business needs. The main bedroom boasts a luxurious bath, while a dedicated study room with advanced TV connections provides an ideal setting for presentations and productivity. The suite's large dining table and a balcony with an entertainment area offer opportunities for relaxed meetings or unwinding after a busy day of work.
Moreover, the Terrace Suite comes complete with a double garage, ensuring secure and convenient parking throughout your stay. As an added touch, taking the experience to the next level; a well-stocked minibar, featuring a curated selection of premium beers, wines, soft drinks, and refreshing water is available to guests.
At The Weinberg Windhoek, we seamlessly blend old-world charm with modern convenience, ensuring your stay is as productive as it is comfortable.
For more information, booking inquiries, please contact directres (at) gondwana-collection.com