Namib Dune Star Camp is situated on the crest of ancient sand dunes overlooking the spectacular landscape of the Namib Desert. Best described as a soft adventure camp, Namib Dune Star Camp offers the thrill of being out in the desert, yet provides luxuries like soft beds and hot showers.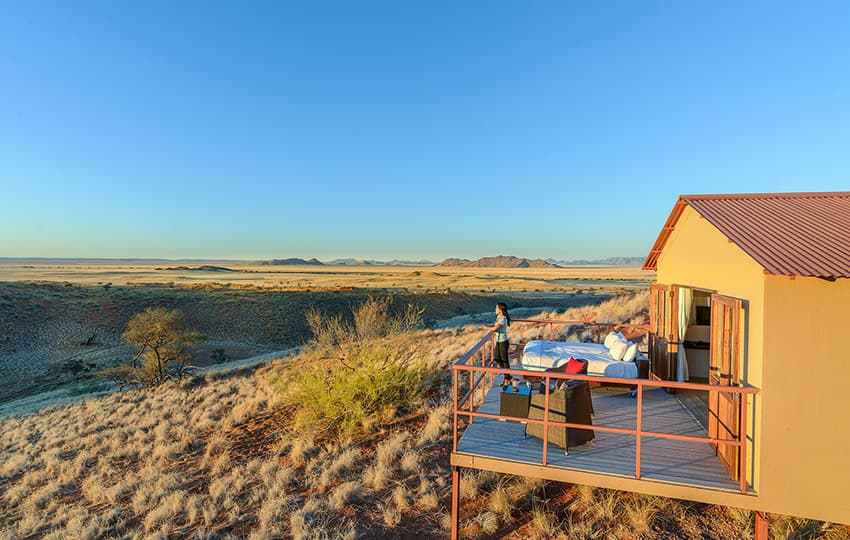 At the end of the day, guests make their way to the wide central deck for unrivalled vistas of the breath-taking scenery and a sundowner drink. Sunset is followed by a delicious dinner under a blanket of twinkling stars. The rooms have a double bed designed to be wheeled out for a night under the southern skies.
New to this unrivalled experience is the sumptuous breakfast that is now being served at Namib Dune Star Camp itself and not at Namib Desert Lodge anymore. After repeated requests from our guests for an extended "one night stand", a breakfast buffet is being offered from 6h30 am, as of 1 November 2021. The shuttle to Namib Desert Lodge only departs at 9h00 am.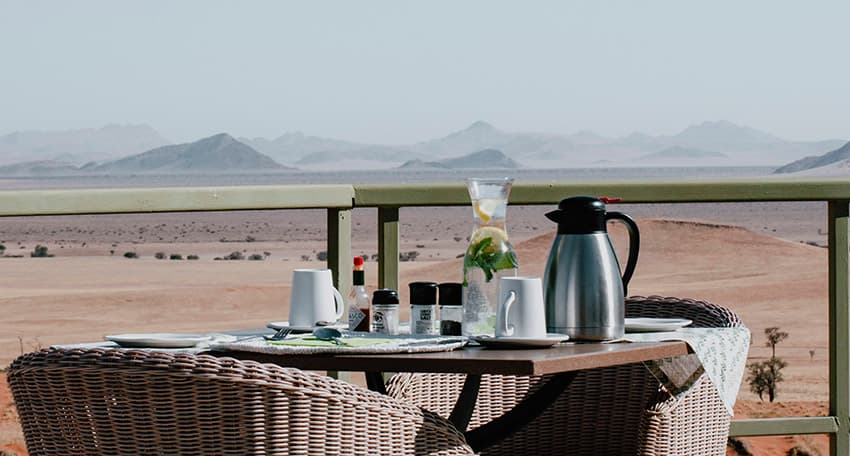 Should our guests opt to join our short 45 min. morning walk in the surroundings of Namib Dune Star Camp, we serve coffee/tea/biscuits on the dune and they are welcome to have breakfast afterwards. Should guests prefer to sleep longer or enjoy the fabulous view from their bungalow, they will find coffee/tea at their doorstep.
Savor the desert wilderness at Dune Star Camp, with its exceptional view, clean air, wide open space and bright starlit sky. Book online or at info@gondwana-collection.com