On 19 April, the Namibian government started to roll-out the voluntary Covid-19 Vaccination Programme nationwide. Gondwana Collection Namibia is doing its utmost to support the vaccination drive, not only by hosting vaccination teams of Ministry of Health and Social Services at our lodges in remote areas, but also by conducting extensive in-house awareness campaigns.
As a result, 88 percent of the team members at Kalahari Farmhouse with the attached Self-Sufficiency Centre have received their first jabs by the end of May, closely followed by Hakusembe River Lodge and the Namibia2Go car rental team in Windhoek. More and more of the lodge and Windhoek based teams are following track with Kalahari Anib Lodge also well on its way of reaching heard immunity. However, vaccinations are voluntary, and each individual's decision is respected.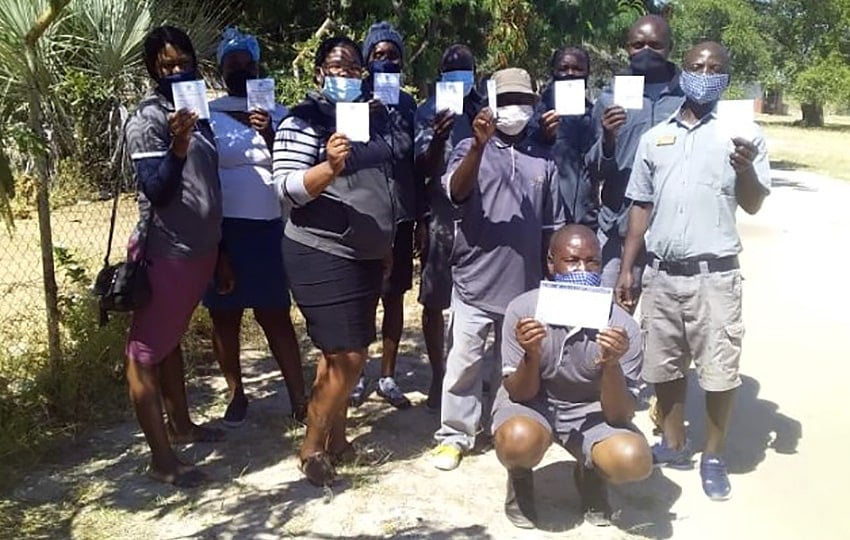 More than 80% of the team at Hakusembe River Lodge volunteered to be vaccinated. Photos; Gondwana Collection
"Gondwana tries to dispel myths and misconceptions surrounding vaccinations, while providing encouragement and support to our Gondwana family," says Silke Ahrens, who coordinates Gondwana's Covid-19 efforts. "We facilitate information campaigns; we invite medical practitioners to answer our team member's questions and to assist them in decision making. Our management teams at the lodges offer to drive their colleagues to the vaccination clinics."
When Gondwana's executive management realised the slow progress of the vaccination campaign countrywide, they decided to lead by example, got their vaccinations and started sharing their experiences. "I had many sit-downs with our teams in Windhoek and at our lodges. The fear and uncertainty are real," says Gondwana's Managing Director Gys Joubert. "At Gondwana vaccinations have been like dominos and I am proud that we are making good progress in that regard. We also share the vaccination journeys on internal platforms as encouragement."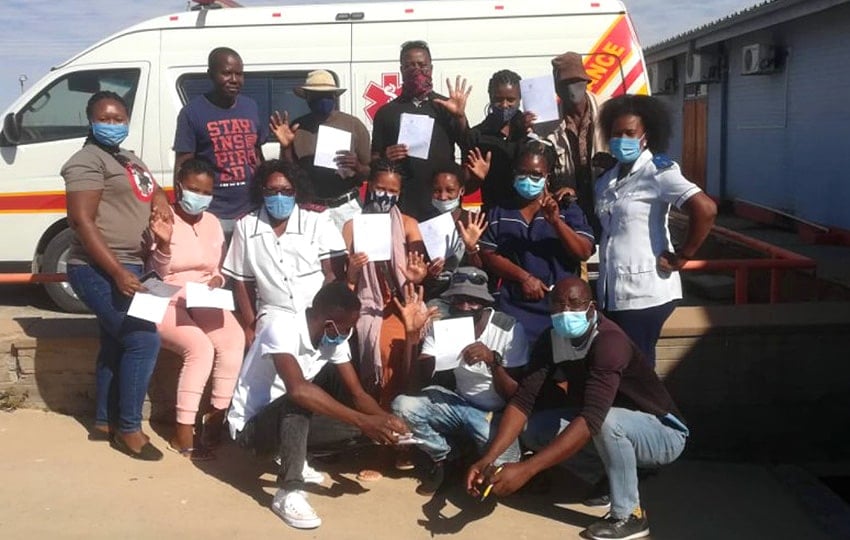 A team of Damara Mopane Lodge showing their vaccination certificates after receiving their first jabs.
Gondwana's Human Resources Manager Jana Burger praises the efficient vaccination process that was initiated by the Namibian Government: "Our message to teams is clear – we are encouraging all colleagues and the Namibian populace as a whole to get the vaccination. It is provided free of charge by Government, across the country. The process is quick, easy and so professionally run. We see it as not only as the responsible thing to do for our hard-hit industry, but as a social responsibility to those who cannot vaccinate due to medical constraints or age. The best ambassador is one who speaks from experience – and mine has only been positive, and I cannot wait to get my second jab this week!"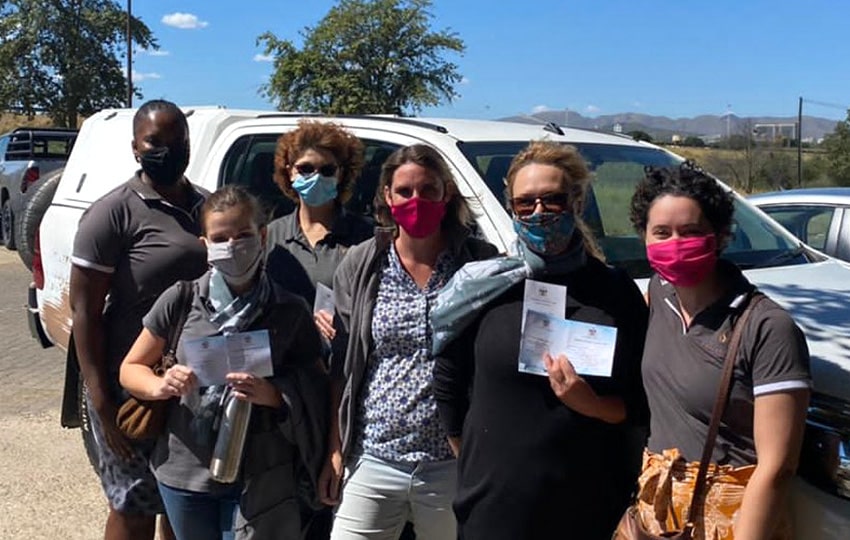 Members of the Windhoek based Gondwana team that went for their Covid-19 vaccination at the Katutura Hospital Nurses Home.
Gondwana Collection Namibia cares about the health of its employees and guests. Hygiene and Safety protocols are adhered to, and the accommodation establishments have been certified 100% compliant with the hygiene and safety standards of the World Health Organisation (WHO) and the Namibia Tourism Board (NTB) by an independent assessor.