Don't miss our Gondwana Bonanza on Black Friday and join us for our live show on Gondwana Collection's YouTube Channel and on Facebook on 25 November 2022 between 7:00 and 17:00. Get hold of our low-priced vouchers of N$250.00 and N$500.00 which are redeemable for 1 person for 1 night on a B&B basis at most of Gondwana's lodges and hotels.
The Black Friday Vouchers are exclusively reserved for Gondwana Card members. For our valued international guests, we have bargains available here.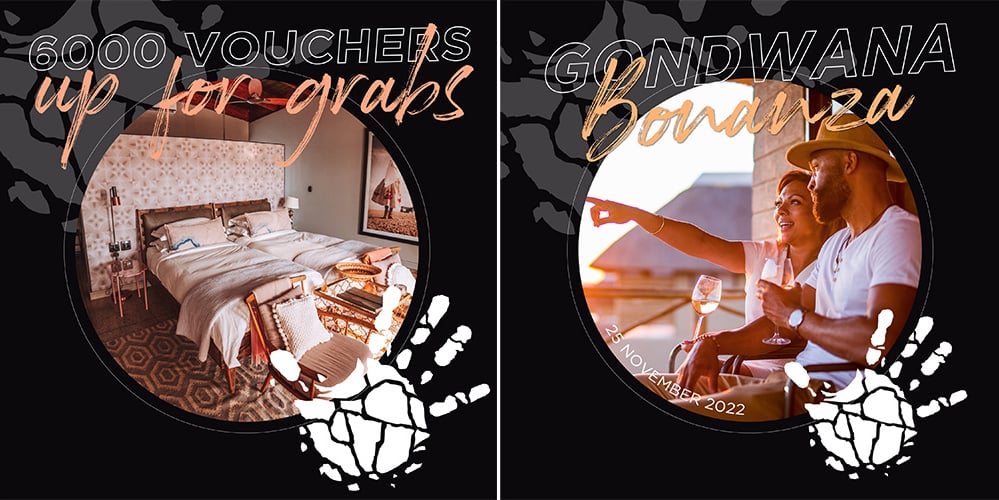 How do I participate in the Gondwana Bonanza?
You need a Gondwana Card membership number to participate in the Gondwana Bonanza. If you are not a member yet, apply here. Gondwana Card Membership Terms and Conditions apply.
Register your Gondwana Card membership number for the Gondwana Bonanza between 1 and 20 November 2022 on the Black Friday page.
During the Gondwana Bonanza on 25 November 2022, a draw takes place hourly between 7:00 and 17:00. Every hour, 600 vouchers are made available (100 vouchers for N$250.00; 500 vouchers for N$500.00). Sixty names are drawn per hour; each individual has the option to purchase 10 vouchers.
"Winners" will be notified via SMS and email, and will have 60 minutes to confirm purchase by submitting payment.
An additional person can win a free Namushasha River Villa voucher every hour in a lucky draw.
All vouchers expire on 30 June 2023. The Terms & Conditions for the Gondwana Bonanza apply. Please read them carefully.
Take advantage of this golden opportunity for a wonderful stay in the unique lodges of Gondwana Collection Namibia, surrounded by warm hospitality.
For further information please contact blackfriday@gcnam.com