Gondwana Collection Namibia is excited to announce the launch of GECCO (Gondwana Electronic Customer Care Operative), our new AI-powered customer care consultant. Developed in response to the growing volume of customer messages, GECCO aims to provide prompt and accurate answers to clients' questions, thereby improving overall customer service levels.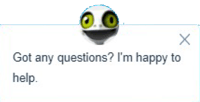 As a state-of-the-art AI consultant, GECCO is constantly learning and evolving to provide reliable information. While it may not be perfect in answering subjective questions, it sources factual data from our "Grounding" software and database. GECCO was designed primarily to answer Gondwana-related queries with over 95% accuracy. However, it can also provide information about Namibia, though with slightly less accuracy. Our team continually works to enhance GECCO's performance in this area.
GECCO is capable of communicating in multiple languages, including English, Afrikaans, German, French, and Italian, to better assist our diverse clientele. In instances where GECCO cannot answer a question or if a potential problem arises, our decision-making software will promptly redirect the conversation to a human consultant.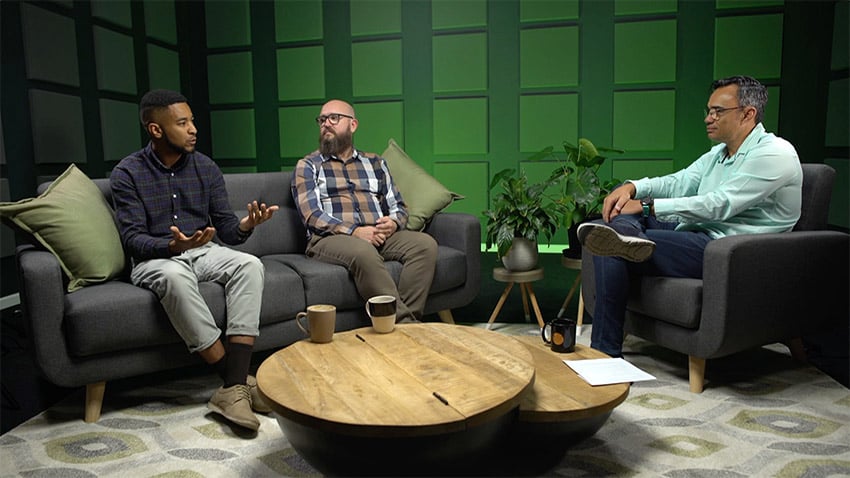 Gondwana Collection will soon release a podcast with GECCO's masterminds, Louis van den Berg (middle) and Salim Katjivirue (l.), as well as Gondwana's CEO, Gys Joubert. Photo: Prostudio
We understand that some clients may prefer to speak directly with a real consultant. To accommodate this, we have included a "Connect to Consultant" button at the bottom of every response form from GECCO. By clicking this button, clients can easily connect with a Gondwana consultant.
We are committed to providing exceptional customer service and believe that GECCO will play a significant role in enhancing our clients' experiences. We welcome any feedback as we continue to refine and develop this innovative AI consultant.
GECCO's skills in detail
The chatbot can provide personalized recommendations based on customer preferences and interests, ensuring that their travel experience is tailored to their needs. It is trained to assist with booking availability and provide helpful information about travel destinations, accommodations, car rentals, transfers, and activities. GECCO can also answer frequently asked questions and provide solutions to common problems.
As part Gondwana's commitment to staying up-to-date with the latest travel policies, procedures, and trends, GECCO is continuously learning and evolving.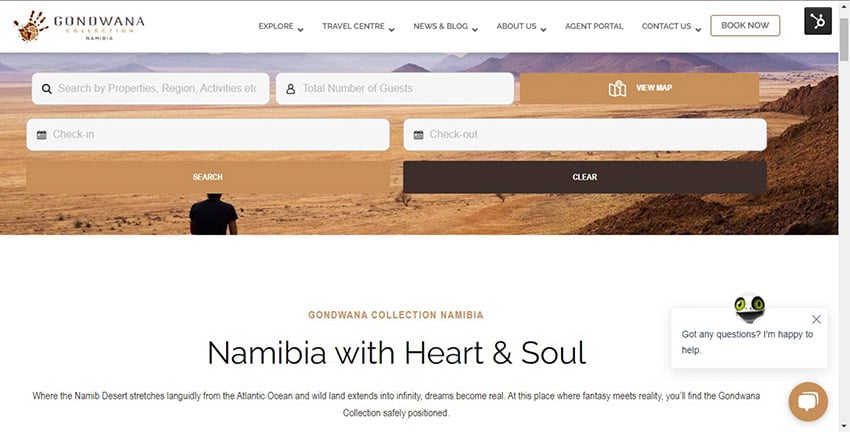 GECCO's messaging is designed to use clear and concise language that is easy for customers to understand. Making sure customers receive the information they need in a way that is easy to digest and comprehend.
GECCO has specific features and functionalities that make it an effective and efficient AI consultant.
One of the key features of GECCO is its integration with Gondwana's CRM system Hubspot. This integration enables consultants to monitor AI responses without switching systems, allowing them to seamlessly carry on a conversation with customers without asking for the same information. This integration also enables Gondwana to collect and analyse customer data to improve customer service.
GECCO uses advanced Natural Language Processing (NLP) algorithms to understand and interpret natural language queries from travellers. This means that GECCO can handle complex sentence structures and understand the context of the user's query, providing more accurate and relevant responses.
GECCO is also integrated with the various Gondwana booking systems, providing travellers with real-time information on availability and rates. This integration ensures that customers receive accurate and up-to-date information, allowing for more informed decision-making.
GECCO is available 24/7 to answer customers' queries and provide assistance at any time, ensuring that customers receive prompt and reliable service, regardless of the time of day.
GECCO's back-end design enables the team to collect feedback from users to improve its responses and provide better assistance in the future. GECCO's training is passive and supervised by our team to ensure that it continues to evolve and improve over time.
The Business Integration team is also in the process of developing an integrated API to offer the services of their AI Chat consultant to the industry, opening this automated chat functionality to all companies, big or small.
For more information about Gondwana Collection, please visit www.gondwana-collection.com