The Gondwana Collection Namibia's triple bottom line sustainability philosophy has been fundamental to the company's success and development. During the past years the sustainability efforts at the Gondwana lodges have been repeatedly acknowledged with the highest seal of quality awarded by the independent environmental initiative, Eco Awards Namibia.
"No reason to rest on our laurels", Gondwana's sustainability experts Quintin Hartung and Stephanie de Lange thought. To stimulate further improvements in social engagement and nature conservation at the lodges, they launched the in-house Go Green Award which was handed out for the first time (surprise!) at a recent Management Meeting at Damara Mopane Lodge.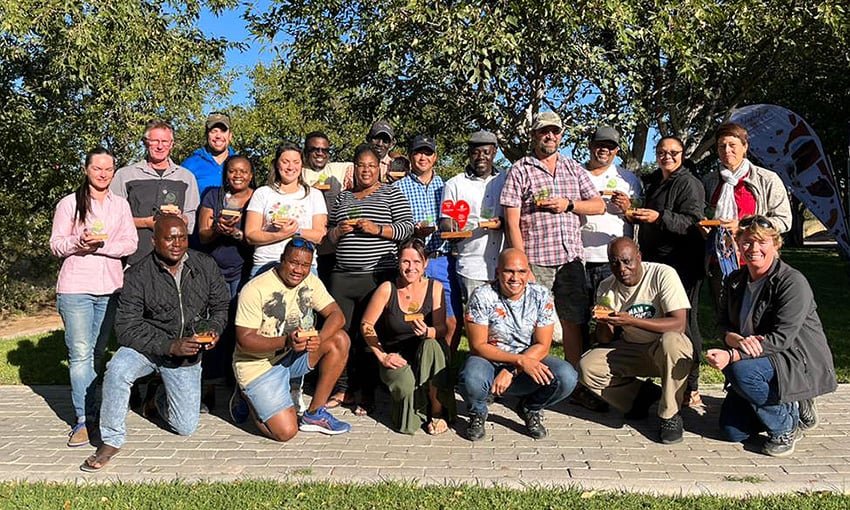 Gondwana's Lodge and Collection Managers received their Go Green Awards at a recent Management meeting at Damara Mopane Lodge. Photos: Gondwana Collection
Go Green Awards to stimulate new sustainable projects
The Go Green Awards factored in Eco Awards achievements and recognise additional initiatives that go beyond the usual, such as:
Have a functioning compost site

Send used kitchen oil to BEE

Biofuel Namibia

for recycling (refining into eco-diesel, eco-degreaser, a variety of eco-cleaning chemicals and more

Send used engine oil to Oiltech Namibia
Send e-waste to Namigreen for recycling

Operate a vegetable garden that supplies fresh vegetables to the kitchen

Social Projects: If in the last year the property had an ongoing relationship with a school, community or social project in its area

Tree planting: If in the last year the property participated in a tree-planting project in its area
The scores were tallied and each lodge was categorised according to how many points they scored. The categories of the Go Green Award are named after indigenous and symbolic Namibian animals:
Dune Lark (0-25%): Omarunga Epupa-Falls Camp
Gemsbok (26-50%): Palmwag Lodge & Camp and Canyon Village
Cheetah (51-75%): Kalahari Anib Lodge, Kalahari Farmhouse, The Delight Swakopmund, Damara Mopane Lodge, Etosha King Nehale, Etosha Safari Lodge, Etosha Safari Camp and Chobe River Camp
Black Rhino (76-100%): Namib Desert Lodge, Namib Dune Star Camp, Desert Whisper, The Desert Grace, Canyon Lodge, Canyon Roadhouse, Zambezi Mubala Lodge, Zambezi Mubala Camp, Namushasha River Lodge, Namushasha River Villa and Hakusembe River Lodge
The Go Green Awards acknowledge the spirit of sustainability practised by the different properties. Additionally, they showcase their individual achievements, and serve to prompt dialogue among the teams as well as guests in terms of sustainability accomplishments and areas which can still be improved on.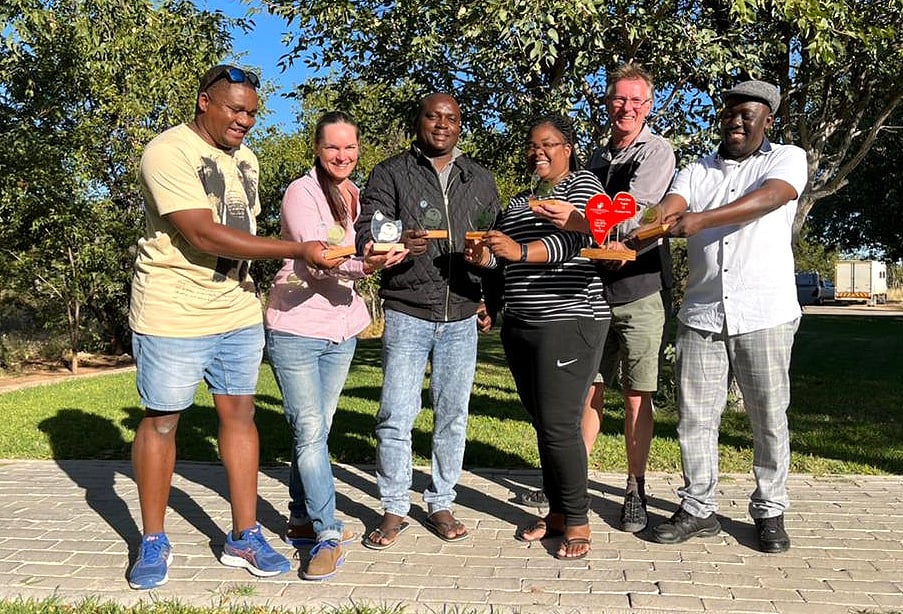 Nearly all the lodges of the Zambezi Collection received the highest Go Green quality seal, the Black Rhino, except Chobe River Camp (Cheetah). However, the latter received the Gondwana Care Trust award for attracting the most sponsors for the 2021 School Christmas project.
Environmentally friendly management of Gondwana lodges
Over the years Gondwana Collection Namibia has consistently maintained high sustainability standards and has continuously challenged the status quo. To assist in the continuous audit of the company's environmental practices, various lodges began to participate in the Eco Awards assessments to undergo independent audits more than 10 years ago.
Eco Awards Namibia is a sustainable tourism certification programme that was developed in the early 2000s in a co-operative initiative involving the private sector, non-government organisations (NGOs) and government organisations. It is a voluntary association with independent assessors, who visit the tourism establishments to inspect and grade them on various principles. The categories are:
Nature conservation

Energy and water management

Waste management

Building and landscaping

Management, human resources and team well-being

Guiding practices

Social responsibility

Legal compliance
When scores are tallied, the establishment's total score is translated into a Desert Flower rating, which ranges from 1 (being the lowest) to 5 (the highest). Recently, Eco Awards added a 6th rating, referred to as the'5 Green Flowers'. This rating is only given to establishments that score more than 90% average for the conservation, energy, water and waste management segments. Gondwana Collection Namibia was one of the first establishments to be awarded the 5 Green Flower ratings.
Below is a summary of Gondwana's seventeen assessments over the last two years and the scores the properties received:
5 Desert Flowers: Canyon Village, Canyon Lodge and Canyon Roadhouse, Etosha Safari Lodge and Etosha Safari Camp, Etosha King Nehale (first assessment), Hakusembe River Lodge (improved from a 4-Flower rating), Zambezi Mubala Lodge and Zambezi Mubala Camp (first assessments), Chobe River Camp (Improved from a 2-Flower rating)

5 Green Flowers:

Namib Desert Lodge, The Desert Grace (first assessment), Desert Whisper (first assessment) and Namib Dune Star Camp, T

he Delight Swakopmund, N

amushasha River Lodge and Namushasha River Villa (first assessment
The Eco Awards assessments take place on a three-year basis and serve as external confirmation of Gondwana's sustainability achievements, while the annual in-house Go Green Awards are intended to drive sustainability efforts in an innovative way.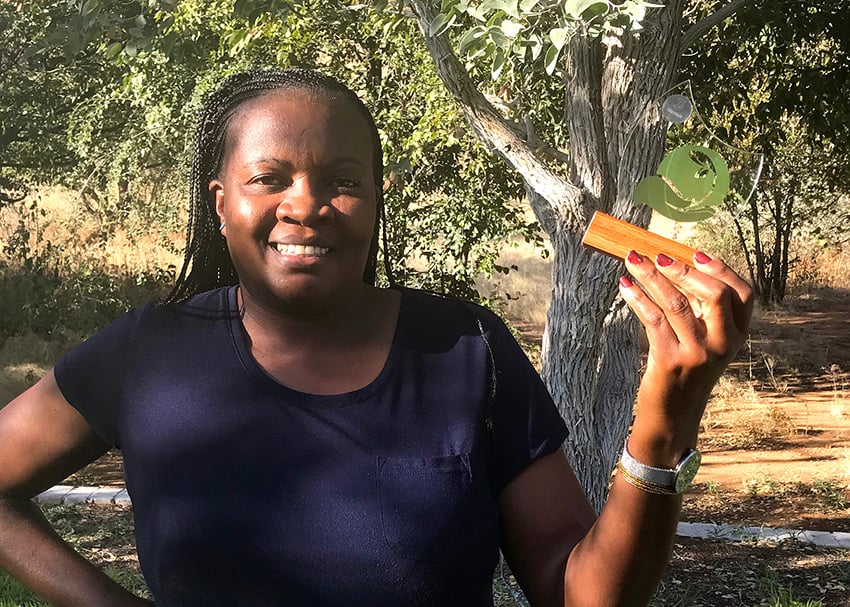 Etosha Collection Manager Agnes Iipumbu proudly presents the Go Green Cheetah Award for Etosha King Nehale and Etosha Safari Lodge & Camp.