"Heinrich Hafeni's experiences - from setting up his traditional restaurant to developing his township tour have inspired me a lot." This is what Ndinelao "Nela" Shikemeni, Brand Soul Manager of Gondwana Collection Namibia, said when asked what impressed her the most at the fourth Africa Youth in Tourism Innovation Summit (AYTIS).
Heinrich Hafeni was one of the panel speakers on how to find your own way as an innovative-minded entrepreneur. His Hafeni Traditional Restaurant in the Mondesa township (urban settlement) in Swakopmund is now one of the town's tourist attractions.
So is his township tour. It offers Namibia travellers a safe and exciting opportunity to get to know the everyday life of the not so wealthy majority of the population in the towns. As an umbrella for his ventures, the businessman has founded the Hafeni Afrika Tourism Group. Nela Shikemeni: "A successful start-up in tourism. Hafeni has fulfilled his dream. He is thus a shining example for many young Namibians working in tourism. Also for me."
This is how the young Gondwana executive describes what the AYTIS Youth Tourism Summit was all about. In 15 panel discussions, experts gave tips on planning, starting and expanding a business in the tourism sector. They also addressed issues of financing, marketing and quality assurance as well as the use of technology.
AYTIS is the only annual pan-African tourism event for young entrepreneurs: inside and start-ups. It was and is organised by Africa Tourism Partners and the United Nations World Tourism Organization (UNWTO). The organisers counted more than 400 participants present in person. Another 1,200 interested people followed the event virtually. The Youth Tourism Summit was also intended to help young Africans identify career opportunities and to involve the populations more broadly in the tourism business.
Gondwana involved in the summit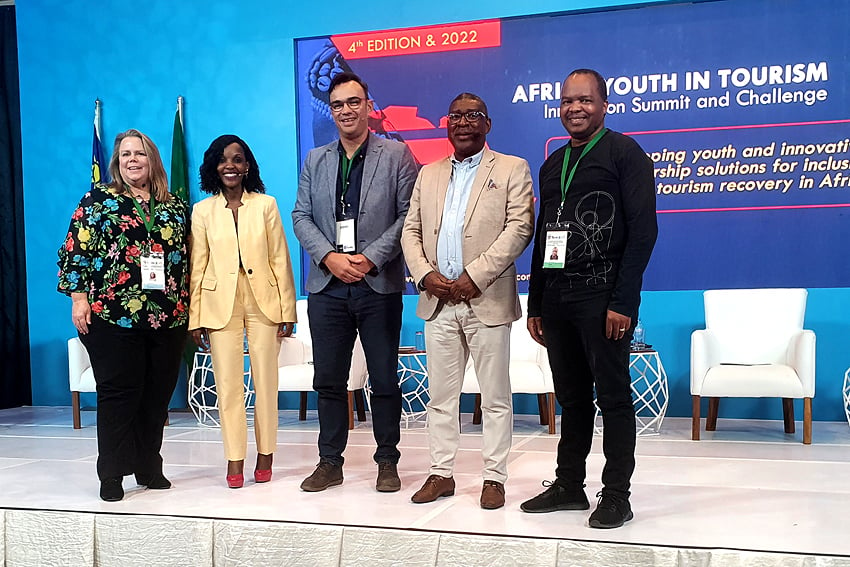 Gondwana's participation in the Youth Tourism Summit AYTIS in Windhoek is also important to the boss: Managing Director Gys Joubert (centre) as a speaker in a panel discussion on product quality in tourism. Photo: Sven-Eric Stender
Two goals to which Gondwana Collection Namibia is also committed. No wonder, therefore, that the group of companies was heavily involved at the summit. Even managing director Gys Joubert took time out. "Gondwana is part of the dialogue, part of the change, part of sustainable economic development and part of the efforts against youth unemployment in Namibia."
As a panel speaker on the topic of product quality in tourism, Joubert offered valuable suggestions. "When it comes to quality, one must always ask: what does a product cost and what does it offer? We should definitely not copy European-influenced ideas. It is important to be authentic. We need to focus on who we are and what we can offer." Joubert cited the rich diversity in Africa and also in Namibia as a big plus.
Besides Managing Director Gys Joubert and Brand Soul Manager Nela Shikemeni, four other staff members attended the summit. They were inspired, exchanged experiences and made contacts. Gondwana was also represented with a stand as a contact point for interested parties and as a platform for its products.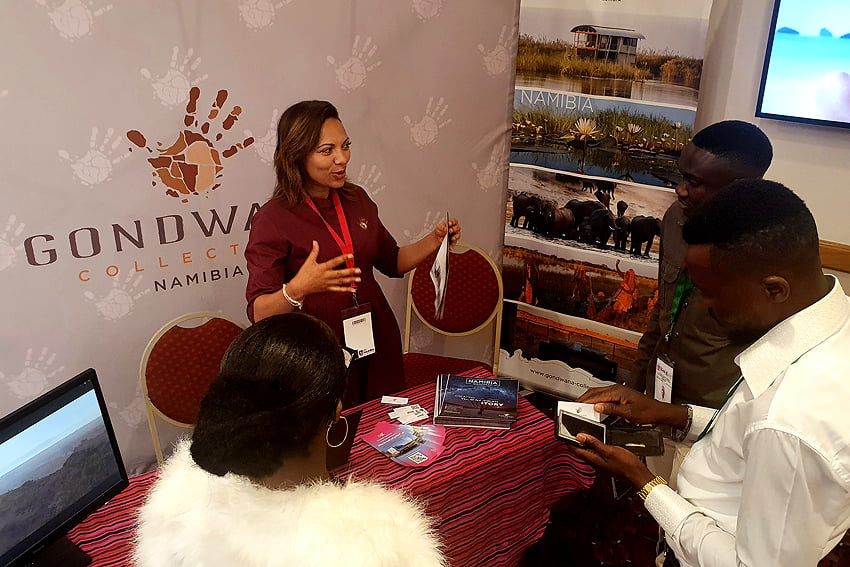 Sales Manager Lynn Strydom explains the various products of Gondwana Collection Namibia to summit participants from abroad. Photo: Sven-Eric Stender
Gondwana rewards best start-ups
An important part of the summit was a competition for young entrepreneurs. A top-class jury of leading representatives from the industry judged innovative ideas and concepts in the tourism business. The top three places went to Zimbabwe and South Africa.
But three winners were also selected within Namibia: Paulina Alfeus (Fredina Trading), Maria Shipapo (processing traditional food from forests in the Kavango regions) and Eino Kayoko (Stop & Rest).
A first-class chance to be noticed by potential investors. In addition, all three received attractive prizes. Gondwana Collection Namibia had contributed vouchers for its accommodation: two nights each for two persons with a total value of more than 28,000 Namibia dollars.
Eino Kayoko can choose from accommodations of the Experience & Comfort Collection (value: more than N$ 7,700). Maria Shipapo can look forward to accommodation from the Premium Collection (worth more than N$ 8,500). And Paulina Alfeus will be rewarded with a stay in accommodation of the Premium Plus Collection (worth more than N$ 12,500).
But no matter which category, the most important prize is probably the experience of a tourism product from the customer's point of view.
Sven-Eric Stender